Commentary
The Weekly Best for June 15
Originally Published:
June 15, 2010
By
Cam Martin
| Special to Page 2
Welcome to the Weekly Best, our tour of the top in sports, pop culture and freak flags.
Best hockey season ever: Just ended.
Best aspect to it: Canada versus the U.S. in the gold-medal game.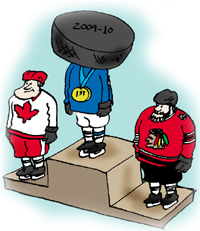 Best after that: Chicago winning its first Stanley Cup since 1961.
Best after that: Philadelphia losing a sixth straight time in trips to the Stanley Cup finals.
Best scenes in "Get Him to the Greek": All involved P. Diddy.
Best put it away: No one needed to see Jonah Hill's naked butt.
Best shorten it for the DVD director's cut: The film would have been better if it were a half hour shorter.
Best baseball player in Washington, D.C., history: Retired 83 years ago.
Best D.C. player since Walter Johnson: Could be Stephen Strasburg.
Best way to ease him into the majors: Having him face the Pirates and Indians in his first two starts.
Best news for millionaires: Your population is growing once again.
Best NHL ratings in 36 years: For Game 6 of the Stanley Cup finals.
Best Megan Fox movie: "How to Lose Friends & Alienate People."
Best time this year in the 100-meter dash: 9.82 seconds by Jamaica's Asafa Powell.
Best-looking cop on television: Missy Peregrym of the new ABC show "Rookie Blue."
Best take a moment to remember: The acting chops of Heather Locklear on "T.J. Hooker."
Best teachers: Those with the greatest need to learn.
Best enjoy the last week of spring: Summer arrives Monday.
Best bowling streak ever: 47 strikes in a row by a kegler in Pennsylvania.
Best option to play Cleopatra: Beyonce, Thandie Newton, Natalie Portman or Angelina Jolie?
Best Buy: Has launched a magazine for gaming enthusiasts called @Gamer.
Best kills on "Call of Duty": Are often uploaded to YouTube by proud players.
Best word for that: Pathetic.
Best Web traffic in the history of the Internet: Thanks to World Cup interest.
Best reason to call out sick Friday: The United States versus Slovenia at 10 a.m. ET.
Best soccer player in the world: Argentina's Lionel Messi, according to English soccer fans.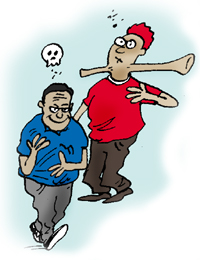 Best option for the world's vuvuzelas: Put them in a bonfire with the world's ThunderStix.
Best way to adapt to the unpredictable Jabulani soccer ball: Practice with an NFL football?
Best simile for the frequency of soccer goals: "Goals are like ketchup, when they come, they come all at once." -- Cristiano Ronaldo.
Best impersonation of Justin Bieber: Tom Brady.
Best prognostication: "We ain't coming back to L.A." -- Paul Pierce.
Best baseball umpire: Jim Joyce, according to a poll of MLB players.
Best estimates say: More than 12 million people worldwide are "modern slaves."
Best video of a Mexican wrestler decking a fan for trying to pull off his mask: Right here.
Best way to rejuvenate a bad-ass nickname: Vladimir Guerrero once again is playing like Vlad the Impaler.
Best use of $2.63 million: Buying a steak lunch with Warren Buffett?
Best-grossing movie in America: "The Karate Kid."
Best home plate collision: Adam Dunn de-cleating Carlos Santana.
Best take a breather: The Dodgers benched a slumping Matt Kemp.
Best U.S. Open finish: 12 under par by Tiger Woods at Pebble Beach 10 years ago.
Best call it a career: UFC president Dana White says Chuck Liddell will not fight again.
Best clutch player in the NBA: Certainly not Kobe Bryant, according to author and statistician David J. Berri.
Best place to be when the fit hit the shan at USC: Coaching the Seahawks.
Best destination for newly retired Isaac Bruce: The Pro Football Hall of Fame.
Best place to find Jets quarterback Mark Sanchez this past Sunday: Onstage at the Tony Awards.
Best believe his teammates give him grief: Sanchez said he has become a huge fan of musicals since moving to New York.
Best-known song by Jimmy Dean, who died Sunday: "Big Bad John."
Best finish by Dale Earnhardt Jr. in three months: Seventh at Michigan on Sunday.
Best threat to Jimmie Johnson's fifth straight NASCAR Sprint Cup title: Denny Hamlin.
Best team in NASCAR these days: Might be Joe Gibbs Racing and not Hendrick Motorsports.
Best story in the National League West: Still the first-place Padres.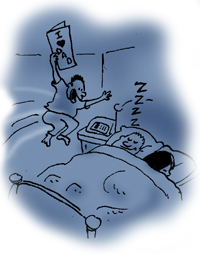 Best all-or-nothing slugger: Carlos Pena with his 15 home runs and .736 OPS.
Best record in the American League East: Now shared by the Yankees and Rays.
Best make him the early favorite for the American League Cy Young Award: Rays' David Price.
Best recognize the likelihood: That Jorge Posada and his 251 home runs will end up in Cooperstown.
Best backstop in baseball: Will feature two aquariums when the Marlins' new stadium opens in 2012.
Best player in his prime, A-Rod, David Ortiz or Miguel Cabrera: Cabrera, according to common teammate Johnny Damon.
Best remember your dad: Sunday is Father's Day.
Best old restaurants in America: According to Esquire.com.
Best running back named Adrian Peterson: Skipped the Vikings' mandatory minicamp.
Best Afro in mixed martial arts: Will hit the Octagon when Jamie Yager fights Rich Attonito in the finale of "The Ultimate Fighter" on Saturday.
Best man: Here's an interesting explanation of the origin of this wedding role.
Cam Martin is a contributor to Page 2. He previously worked for the Greenwich (Conn.) Time and The (Stamford, Conn.) Advocate, and has written online for CBS Sports and Comcast SportsNet New England. You can contact him at cdavidmartin@yahoo.com.