Commentary
The Weekly Best for June 22
Originally Published:
June 22, 2010
By
Cam Martin
| Special to Page 2
Welcome to the Weekly Best, our assessment of the pinnacle in sports, pop culture and Iron Maiden album art.
Best companions: Innocence and health.
Best riches: Ignorance of wealth.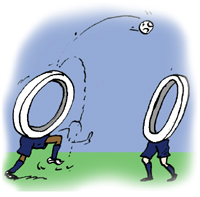 Best aspect of the World Cup: The lack of scoring.
Best reason for that: The tension of close games is exhilarating.
Best cure for the people who say the lack of scoring is boring: Go blow a vuvuzela.
Best character on "Entourage:" Johnny Drama.
Best after that: Ari Gold.
Best after that: Whomever Vince is "dating."
Best mark your calendar: "Entourage" premieres Sunday night at 10:30 p.m.
Best stop reading your press clippings: Darrelle Revis.
Best final round in U.S. Open history: Was not put together by Dustin Johnson.
Best prognostication: Slovenia players guaranteed they'd beat the United States.
Best look forward: To a three-team race in the American League East all summer.
Best coach in Michigan State basketball history: Said "No thanks" to the Cleveland Cavaliers.
Best time for LeBron James to show up at an Akron, Ohio, rally held in his honor: Apparently, after it's over.
Best way to spend breakfast: Watching Wimbledon.
Best expect him to tease us with a decent run: Andy Roddick.
Best check the Royal Box on Thursday: When Queen Elizabeth visits Wimbledon for the first time in 33 years.
Best-hitting team in baseball: Boston Red Sox.
Best right-handed hitter in Red Sox history: Manny Ramirez.
Best seats for Ramirez's return to Boston: Roger Clemens was in the front row atop the Green Monster.
Best time to buy low: On Raul Ibanez and his five home runs.
Best time to sell high: On Nick Swisher and his .293 batting average.
Best eight teams in college baseball: Make it to the College World Series.
Best reason this is confusing: Most people associate "World Series" with two teams.
Best drug for depression: Exercise?
Best soccer player to never win a World Cup: Johan Cruyff, Netherlands.
Best 2010 NBA draft: Won't belong to the Bobcats, Cavaliers or Nuggets, none of whom have any picks.
Best Pixar opening ever: "Toy Story 3," $103 million.
Best scenic summer drives: According to Forbes magazine.
Best stay behind and feed on the carcass of the Big 12: Right, Texas?
Best novel by the late Nobel Prize winner Jose Saramago: "Blindness."
Best running back in the NFL says: "I can't play for $550,000" -- Chris Johnson.
Best set aside the time: To watch the United States versus Algeria, Wednesday at 10 a.m. EST.
Best way to thwart a properly programmed DVR: An unscheduled presidential address to the nation.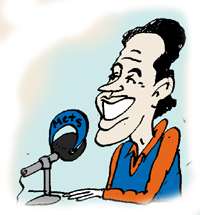 Best not criticize the Pirates on your Facebook page: Or you'll lose your job as a running pierogi.
Best way to assure Keith Hernandez will stay awake during Wednesday's Mets-Tigers game: His broadcast partner is Jerry Seinfeld.
Best get your fill of interleague play: It ends this week.
Best surprise among American League rookies: Brennan Boesch of the Tigers.
Best 7-foot-7 humanitarian in University of Bridgeport history: The late Manute Bol.
Best morale boost for Yankees opponents: Every time Joe Girardi brings in Chan Ho Park.
Best take All-Star voting privileges away from Rangers fans: Before Nelson Cruz is elected to start.
Best account yet of what it feels like to be a video gamer at a time when humanity is encountering a new form of storytelling: "Extra Lives: Why Video Games Matter" by Tom Bissell, according to the book's review in the New York Times.
Best World Cup uniforms: The Netherlands.
Best possible rules change in the NHL: The adoption of a head-hit rule.
Best-streaking team in baseball: The Rangers, winners of eight straight.
Best record in baseball: Belongs to the team with the highest team salary.
Best Lakers fans: Did not celebrate the team's championship by lighting cars on fire.
Best finish by a European at the U.S. Open in 40 years: Graeme McDowell, first place.
Best news about the first hurricane of the season: It was moving west away from Mexico.
Best host the NHL could get for its 2010 awards show: Apparently Jay Mohr, who reportedly hates hockey.
Best indications that Matt Hamill is a bad man: The mixed martial artist beat Keith Jardine while battling a broken hand, blurred vision and a staph infection.
Best place to rent a friend for $30 an hour: Rentafriend.com.
Best of my knowledge: "Friend" is not a euphemism for prostitute.
Best candidate to become the Brett Favre of the NBA: Allen Iverson.
Best think twice before you make this type of comparison: "Ya know, looking at the field right now [at the U.S. Open], I don't know who's leaking more oil: The field or British Petroleum." -- NBC golf announcer Johnny Miller.
Best baseball stadium food: According to Travel + Leisure.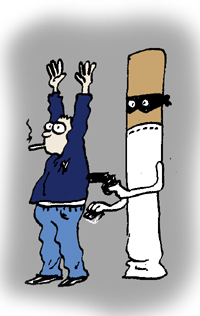 Best movie coming out Wednesday: Should be "Knight and Day" with Tom Cruise and Cameron Diaz.
Best Cruise-Diaz movie to date: "Vanilla Sky," according to a lot of people.
Best I can say for it, however: It's not as overrated as "Eternal Sunshine of the Spotless Mind."
Best prepare to shell out: $10 for a pack of cigarettes in New York City.
Best Major League Baseball team without a shutout this season: The Kansas City Royals.
Best news for 15-year-olds with singing chops: "American Idol" has dropped its age limit to 15.
Best way to understand Tiger Woods' impulsive actions: Perhaps take a class in "human abnormal behavior," as his wife is reportedly doing at Rollins College.
Cam Martin is a contributor to Page 2. He previously worked for the Greenwich (Conn.) Time and The (Stamford, Conn.) Advocate, and has written online for CBS Sports and Comcast SportsNet New England. You can contact him at cdavidmartin@yahoo.com.