Commentary
The Weekly Best for July 13
Originally Published:
July 13, 2010
By
Cam Martin
| Special to Page 2
Welcome to the Weekly Best, our look at the supreme in sports, pop culture and Easter Island attractions.
Best catfight in college football: Tennessee versus USC.
Best female sprinter in the world: Once again, Caster Semenya.
Best part of the MLB All-Star Game: The pregame introductions.
Best Kentucky basketball player in the early 1980s: The late Mel Turpin.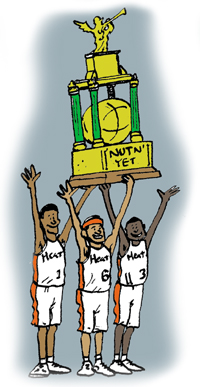 Best celebration by a team that's won nothing: The Heat's introduction of the Big Three.
Best silver lining for Cavaliers fans: LeBron can always opt out in four years and return to Cleveland.
Best time to hear what Jesse Jackson has to say: Before closing the book on any LeBron James-related issue.
Best team won the World Cup: Said the Dutch coach himself.
Best sport played with no hands: Will never shake the label that it's played by soft, overdramatic floppers.
Best excuse to earn a yellow card: Spain's Andres Iniesta scored the deciding goal in the World Cup final and then tore off his game jersey to reveal a T-shirt that read "Dani Jarque is always with us," in honor of the former Spanish defender who died of a heart attack in 2009.
Best week for U.S. stocks in a year: Was last week.
Bested by a 60-year-old in a boxing match: Jose Canseco.
Best excuse Canseco could summon afterwards: He said he didn't want to hurt the old guy.
Best way to have your coffin delivered to the funeral: In a motorcycle sidecar like Bob Probert.
Best white sprinter so far: France's Christophe Lemaitre became the first to run the 100-meter dash in under 10 seconds.
Best-grossing movie in America: "Despicable Me."
Best score of Mike Fisher's NHL career: Marrying Carrie Underwood.
Best find a new talent agent: Mel Gibson was dropped by William Morris Endeavor.
Best pitcher on the trade market: But Roy Oswalt's hefty contract could be a turn-off.
Best save your perfect game material: For a day when Roy Halladay is not the opposing pitcher.
Best compliment you can give a public-address announcer: People called the Yankees' late Bob Sheppard "the voice of God."
Best pitcher returning from Tommy John surgery: Edinson Volquez.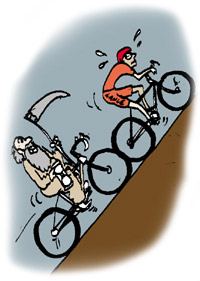 Best look in the mirror: Terrell Owens blames the media for his current unemployment.
Best cyclist in history: But Lance Armstrong is now a long shot to win his eighth Tour de France.
Best choice to replace an injured Justin Morneau in the All-Star Game: Joe Girardi thought it was Paul Konerko and not Kevin Youkilis.
Best foot forward: Major League Baseball will provide fashion and makeup experts to help the wives of All-Stars prepare for the red-carpet parade.
Best leave the World Cup trophy alone: Or get punked like this field-crasher.
Best person to build a youth football camp around: Camp Elite Sports thought it was Michael Vick.
Best term to remember when Vick doesn't show up for a scheduled appearance: "Caveat emptor."
Best left-handed quarterback in Atlanta Falcons history: Says probation officers wouldn't allow him to leave Pennsylvania to attend this camp because of an ongoing investigation about a shooting at his 30th birthday party.
Best winning streak in baseball: The White Sox have won eight in a row.
Best second-half division race: Won't necessarily be in the American League East.
Best four teams in the National League West: Are all within four games of first place -- and all within two in the wild-card chase.
Best New Artist: Won't be Lady Gaga, due to existing Grammy rules.
Best successor to Jimmy "The Greek" Snyder: Paul "The World Cup-Picking" Octopus.
Best pick a weekend for your fantasy football draft: The season will be here before you know it.
Best hope for the future of women's golf: And Michelle Wie didn't even make the cut at the U.S. Open.
Best time for the Twins to trade Delmon Young: Right now, says Minneapolis Star-Tribune columnist Jim Souhan.
Best way for the Yankees to protect their hitters against injury: Robinson Cano was removed from the Home Run Derby -- and replaced by Nick Swisher.
Best place to see Sunday's solar eclipse: Was supposedly Easter Island.
Best way to reach Easter Island: Was probably via Oceanic flight 815.
Best paragons of mediocrity: The Marlins' record at home and on the road is the same: 21-23.
Best grouping at this week's British Open: Includes Tiger Woods and the streaking Justin Rose.
Best heist films of the 2000s: In honor of the recent capture of the suspected "Barefoot Bandit."
Best the Rangers can expect of Cliff Lee: Was not on display when he lost to the Orioles in his Texas debut.
Best host of "The Tonight Show:" Conan O'Brien was nominated for an Emmy, while Jay Leno was snubbed.
Best example of why I stopped rooting for the Knicks: They're entertaining the possibility of bringing back Isiah Thomas.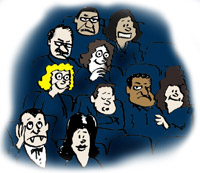 Best read that again: Seriously, Isiah freaking Thomas!
Best new show on Comedy Central: "Tosh.0"
Best hotel in the world: "Travel + Leisure" says it's located in India.
Best college linebacker prospect: And Mark Herzlich of Boston College had to beat cancer, too.
Best-hyped cornerback in the NFL: Darrelle Revis might miss training camp in a contract dispute.
Best thing about going to see the new "Twilight" movie: The looks on the faces of all the guys who also got dragged to the theater by their wives or girlfriends.
Best "Twilight" movie I've seen so far: Then again, I haven't seen the first two, or read any of the books.
Best I can guess about this wildly popular series: Bella has low self-esteem, Edward is a stalker and Jacob is allergic to cotton-blend shirts.
Cam Martin is a contributor to Page 2. He previously worked for the Greenwich (Conn.) Time and The (Stamford, Conn.) Advocate, and has written online for CBS Sports and Comcast SportsNet New England. You can contact him at cdavidmartin@yahoo.com.