Commentary
The Weekly Best for Aug. 17
Originally Published:
August 17, 2010
By
Cameron Martin
| Page 2
Welcome to the Weekly Best, our examination of the sublime in sports, pop culture and "Office Space."
Best of summer: Is long gone.
Best two sports months: Are yet to come.
Best things about September: Great weather, pennant races and the start of college and pro football.
Best things about October: The foliage, baseball playoffs and more college and pro football.
Best bet to win the Big East in football: Pitt.
Best name in college football coaching: Joker Phillips of Kentucky.
Best line on Lane Kiffin's résumé: His 12-21 career record as a head coach.
Best receiver on the Chargers: Vincent Jackson, who continues his holdout.
Best step up to fill the void: Malcom Floyd is now San Diego's No. 1 receiver.
Best receiver on the Raiders: Probably still tight end Zach Miller.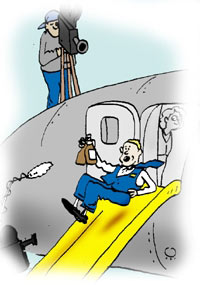 Best person to play JetBlue folk-hero flight attendant Steven Slater: The O-face guy from "Office Space."
Best season of his career: Is not being had by Jacoby Ellsbury.
Best means for creating great baseball rivalries: Seems to be bench-clearing brawls.
Best way for Fabio Capello to handle a fan favorite like David Beckham: With more tact.
Best run for cover: Lightning strikes during the Lions-Steelers game caused a 73-minute delay.
Best option for the Steelers until Ben Roethlisberger returns: Let's see what Dennis Dixon can do.
Best indication that the Northeast is weak in college football: The regional cover of the Sports Illustrated college football preview features Ohio State.
Best Braves position player since Dale Murphy: Chipper Jones.
Best rivalry in college football these days: Florida versus Alabama.
Best quarterback in the Big Ten: Might be Indiana's Ben Chappell.
Best major league pitcher with the worst luck: Zack Greinke of the Royals.
Best believe it: Boise State is No. 5 in the USA Today preseason coaches' poll.
Best rub that thing with a diaper: The rapper Birdman spent $2.1 million on a Bugatti Veyron.
Best leave your McNabb Redskins jersey at home: If you're visiting the Eagles' training camp.
Best-paid television actor: Charlie Sheen makes $1.25 million per episode for "Two and a Half Men."
Best action star who turned down an offer to be in "The Expendables": Jean-Claude Van Damme.
Best-selling video game in July: "NCAA Football 11"
Best week for the U.S. dollar in nearly two years: Last week.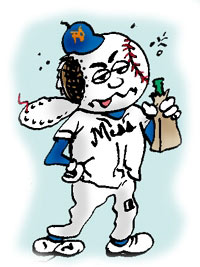 Best yearly spectacle: The annual implosion of the Mets.
Best sidekick in sports history: New Basketball Hall of Famer Scottie Pippen.
Best free throw shooter on the 1992 Dream Team: New Hall of Famer Christian Laettner, 18-for-20.
Best player in Buccaneers history: The recently retired Derrick Brooks.
Best 12 American golfers make the Ryder Cup team: And that has to include Tiger Woods, no?
Best to follow your heart: Glen Coffee quit the 49ers because he says his heart isn't into football and hasn't been since his college days at Alabama.
Best airline for pets: JetBlue, according to Petfinder.com.
Best 100-meter time this year: 9.78 seconds by Tyson Gay on Friday.
Best score by Mike Comrie of the Edmonton Oilers: Marrying Hilary Duff on Saturday.
Best win total by a North American jockey: Russell Baze just became the first to reach 11,000 wins.
Best sack specialist in the NFL between 2005 and 2007: But Shawne Merriman has a lot to prove in his contract year.
Best-grossing movie in America: "The Expendables."
Best light heavyweight fighter in the world: Jean Pascal, says Jean Pascal.
Best keep playing 'til someone wins: FIFA might ban ties in the World Cup.
Best track not to have a Sprint Cup date: That title no longer belongs to Kentucky Speedway, which will host next July.
Best of the collision between Tim Tebow and Bengals safety Kyries Hebert: Well, Tebow got the touchdown and Hebert got the wind knocked out of him.
Best choice between going for a no-hitter or protecting the long-term health of your pitcher: The Twins went with the latter and removed Kevin Slowey in his bid against the A's.
Best bet to play the same character in every movie: Michael Cera.
Best route for Mark Prior to take back to the majors: He says it's middle relief.
Best ego check for an NBA millionaire: Has to be getting cut from the USA Basketball team.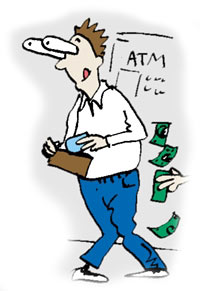 Best use of breasts: Two French women distracted a man at an ATM -- they bared their chests and swiped his cash.
Best quote from the original "Die Hard": "Come out to the coast, we'll get together, have a few laughs."
Best news for fans of John McClane: There reportedly will be a fifth installment starring Bruce Willis.
Best woman to marry if you're Chiefs wide receiver Chris Chambers: Apparently the woman who was once charged with stalking you.
Best ratings ever for "Jersey Shore": 5.5 million viewers watched last week's episode when Snooki propositioned Vinny with a two-word question.
Best to know the rules: Dustin Johnson.
Best team in the NFL: Obviously the Redskins, with their plus-25 point differential.
Best to earn that hatred by winning something and not just running your mouths: New York Jets.
Best career turnaround: Will Ferrell put "Land of the Lost" behind him and rocks it in "The Other Guys."
Best-known bell-ringer in literary history: But the real Quasimodo was actually a stone mason, new studies reveal.
Best adjust your fantasy draft rankings: With Fred Jackson and Marshawn Lynch out with injuries, rookie C.J. Spiller will get the rock in Buffalo.
Best place to find author Jonathan Franzen this week: On the cover of "Time" magazine, the first writer to land that spot since Stephen King in 2001.
Cam Martin is a contributor to Page 2. He previously worked for the Greenwich (Conn.) Time and The (Stamford, Conn.) Advocate, and has written online for CBS Sports and Comcast SportsNet New England. You can contact him at cdavidmartin@yahoo.com.