Commentary
The Weekly Best for Aug. 24
Originally Published:
August 24, 2010
By
Cameron Martin
| Page 2
Welcome to the Weekly Best, our look at the sublime in sports, pop culture and Chinese traffic jams.
Best decision by Roger Clemens: Asking to meet with Congress to clear his name.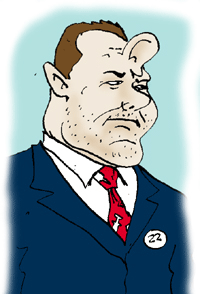 Best case of self-delusion: LeBron James says he could always return to Cleveland.
Best stadium between Yankee Stadium and Target Field: Target Field, according to ex-Twin Torii Hunter.
Best believe Tom Brady's not watching "Hard Knocks": "Honestly, I haven't turned it on. I hate the Jets, so I refuse to support that show," Brady said during his weekly appearance on WEEI.
Best cause for excitement among Orioles fans in years: Buck Showalter.
Best use of groveling: The Minnesota Vikings in their pursuit of Brett Favre.
Best thing for college football: If Notre Dame is a candidate for national champion once again.
Best following on Twitter: Lady Gaga just passed Britney Spears with more than 5.67 million followers.
Best one-liner at the world's biggest art festival: Judges at the Edinburgh Fringe Festival said it belonged to British comic Tom Vine for saying, "I've just been on a once-in-a-lifetime holiday. I'll tell you what: never again."
Best pitcher on the Giants: But Tim Lincecum has lost a career-worst four straight.
Best not to have blinked: Or you'd have missed Brett Favre in his one series versus the Niners.
Best counter to the prevalence of spread offenses in college football: Might be the 3-4 defense.
Best license plate on an ex-wife's car: Kenny Anderson's former first lady has one that reads "HISCASH."
Best place for a media member to wear a University of Florida hat: Not at an Arkansas football press conference.
Best player in Browns history: But Jim Brown says he won't attend his induction into the club's inaugural Ring of Honor.
Best sounds in sports: Are these, according to Tom Jones of the St. Petersburg Times.
Best-paid defensive player in NFL history: And Albert Haynesworth is historically lazy, too.
Best announcer in L.A. Dodgers history: And 82-year-old Vin Scully is coming back for another season.
Best team in college football: Alabama, according to polls taken before a single game has been played.
Best time to book an airline flight: Eight weeks before you travel -- and in the afternoon, says this economist.
Best burger: Five Guys, according to a Zagat survey.
Best sitcom on television: And "The Big Bang Theory" is moving to Thursdays this fall.
Best four countries to live in: Finland, Switzerland, Sweden and Austria, says Newsweek.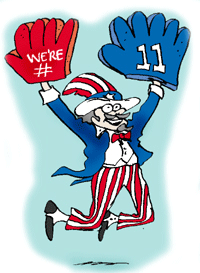 Best place to find the United States on that list: Ranked 11th.
Best stretch of Kyle Busch's career: He became the first NASCAR driver to win all three national touring events in the same weekend.
Best ERA in the American League: And Clay Buchholz's 2.26 ERA is helped considerably by 23 and 1/3 straight innings without allowing an earned run.
Best finish ever by an Indian-born golf player: Arjun Atwal won the Wyndham Championship and also became the first qualifier to win a PGA event since 1986.
Best-grossing movie in America: Still "The Expendables."
Best challenger: "Vampires Suck" finished second at the box office.
Best bet to derail the Cowboys' Super Bowl aspirations: Their porous offensive line.
Best traffic jam: This one in China started August 14th and is 62 miles long -- and growing.
Best ancillary benefit: The traffic jam has created a mini economy for merchants selling food and water to bogged-down motorists.
Best indication that people actually watch women's golf: A viewer called the LPGA and informed them that Hall of Famer Juli Inkster had illegally warmed up with a training club during Saturday's Safeway Classic, which led Inkster -- who was three shots off the lead -- to be disqualified.
Best old saw in summertime politics: The president vacations too much.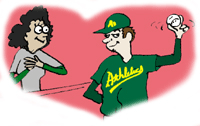 Best use of baseballs: An A's ball boy gave four to a female fan and earned himself a date.
Best boxer making his MMA debut: James Toney takes on Randy Couture in UFC 118.
Best stat to mention to A-Rod: Hey, the Yankees are now 12-1 without you in the lineup this year.
Best record in the National League West: And the Padres had the second-lowest Opening Day payroll in baseball.
Best indication that Pete Rose will never get it: The Reds wanted to honor the 25th anniversary of his becoming the all-time hit king on Sept. 11, 1985, but Rose said he has a prior commitment at a Kentucky casino.
Cam Martin is a contributor to Page 2. He previously worked for the Greenwich (Conn.) Time and The (Stamford, Conn.) Advocate, and has written online for CBS Sports and Comcast SportsNet New England. You can contact him at cdavidmartin@yahoo.com.