Commentary
Why do NFL's West Coast teams stink?
Originally Published:
September 17, 2010
By
Cam Martin
| Special to Page 2
Welcome back to the Page 2 Pregame Flyover, your source for quick assessments of every NFL game -- including those involving the ghastly teams of the Pacific time zone. Like you, we thought the Chargers were going to bring some much-needed respectability to that cadre from the left coast. But they remain winless, as do Oakland and San Francisco.
The only team from that time zone with a victory this season is Seattle -- by beating San Francisco. Yeah, it's become a sad fact of life in the NFL: West Coast teams are no longer good at football. It's been 16 years since one of them (the Niners) won a Super Bowl, and while the reasons for that are complex and a bit arcane, suffice to say they involve Norv Turner.
[+] Enlarge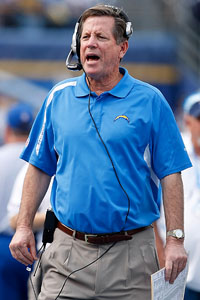 Jeff Gross/Getty ImagesNorv Turner has fingerprints on the Chargers, Raiders and 49ers, and all three teams are 0-1. Coincidence?
Now, before we pay homage to the NFL injury report -- and tell you which games are probably worth watching, which games are of questionable worth, which games are of doubtful worth and which games are worth less than your Curtis Dickey rookie card -- we humbly present ...
A suggested topic at your next NFL viewing party
The NFL faces the possibility of a lockout next season, a development that would undoubtedly harm its popularity among fans, many of whom would resent billionaire owners and millionaire players who couldn't compromise on how to deforest the NFL money tree. If the NFL does go on hiatus, fans will likely get their fix of aggressive sports from different quarters, including mixed martial arts and women's roller derby. When the NFL inevitably returns, the league will have to mend fences with their disgruntled patrons.
Below are some ways the league can do that, including slight rules changes to produce a surge in offense. After all, what saved baseball after its return from the 1994-95 strike? (Ya know, other than Cal Ripken Jr.?) It was the surge in home runs and offense, and the NFL should try to bottle the same type of lightning if it needs to recover from self-inflected wounds. To that end, here are some suggested tweaks.
Change: Flag football on the quarterback.
Consequence: If you told Tom Brady that defenders would no longer be allowed to hit him, he'd pirouette across the picket line with bells on.
Change: Allow wide receivers to use Stickum.
Consequence: One-handed catches that were once the sole province of defenders such as Lester "The Molester" Hayes would become commonplace once again. But we can't foresee a return to nicknames such as "The Molester," which apparently were acceptable in the late 1970s and early 1980s. A simpler, more innocent time, apparently.
Change: Make defensive ends count to "five Mississippi" before rushing the quarterback.
Consequence: Trent Edwards might have enough time to find an open receiver.
Change: Defenders will not be allowed to wear gloves, long-sleeve undershirts or turtlenecks in cold weather.
Consequence: Defenders will be induced to stay in motion in order to keep the blood flowing to their extremities. Taking plays off will have obvious physiological consequences, including cold and numbness. This will be known as The Albert Haynesworth Rule.
Change: Don't allow the defense to call timeouts or substitute players.
Consequence: Not only will defenders tire more easily, thus making it easier for the offense to score; but NFL games will be by shorter by several minutes, which is important to fans who have other things to do on Sundays.
Probable, Questionable, Doubtful and Out
Just as the NFL puts out an injury report on the likelihood that certain players will suit up each week (Probable, Questionable, Doubtful or Out), we're going to put out a viewing report on the likelihood that games will be worth watching. Like Bill Belichick's use of the NFL injury list, these designations are aboveboard and totally accurate.
"Probable" Games of the Week (75 percent chance these games will be worth watching): Baltimore at Cincinnati; Pittsburgh at Tennessee; Houston at Washington; New England at New York Jets; New York Giants at Indianapolis.
SPOTLIGHT PROBABLE: New England at NYJ.
[+] Enlarge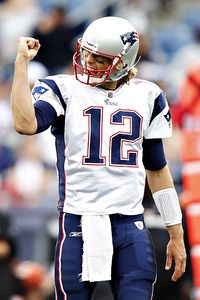 Greg M. Cooper/US PresswireApparently, Patriots fans no longer think Tom Brady is dreamy for four full quarters anymore.
Last week: The Patriots pummeled the Bengals so thoroughly in Foxborough that many New England fans left early, angering Tom Brady, who said Jets fans would never leave their home stadium with time remaining. "They're going to be loud the whole game. Communication is always an issue," he said.
This week: To test Brady's thesis, the Patriots will try to build a 73-0 halftime lead over the Jets at the Meadowlands.
"Questionable" Games of the Week (50 percent chance these games will be worth watching): Miami at Minnesota; Chicago at Dallas; Tampa Bay at Carolina; Philadelphia at Detroit.
SPOTLIGHT QUESTIONABLE: Miami at Minnesota.
Last week: Brett Favre looked rusty in the opening loss to the Saints and only seemed to establish a rapport with one receiver, tight end Visanthe Shiancoe.
This week: Favre has been playing hours of Madden 11 to catch up on all the practice he missed by skipping the preseason.
"Doubtful" Games of the Week (25 percent chance these games will be worth watching): Buffalo at Green Bay; Arizona at Atlanta; Seattle at Denver; Jacksonville at San Diego; New Orleans at San Francisco.
SPOTLIGHT DOUBTFUL: Jacksonville at San Diego.
Last week: Chargers fans sitting at home had to watch their team lose a rainy contest against the Chiefs on "Monday Night Football."
This week: Chargers fans sitting at home won't be able watch their team lose because the home opener against the Jaguars will be blacked out.
"Out" Games of the Week (100 percent chance these games will be watched by someone, but hopefully not by you): Kansas City at Cleveland; St. Louis at Oakland.
SPOTLIGHT OUT: Kansas City at Cleveland.
Have you ever been stuck at a dinner table between two smart people discussing topics that are way over your head? It's maddening. That's what watching the Chiefs-Browns game is going to be like, because on one side you have Eric Mangini, aka, Man-Genius; and on the other side, you have Charlie Weis, the offensive genius who mentored Brady Quinn and Jimmy Clausen. This game is going to be a chess match wrapped inside the proof of a Poincaré conjecture. It'll be compelling theater for about seven Mensa members, but not this hombre; I prefer my football to be genius-free.
Jake Locker Watch!
As the 2010 NFL season unfurls, success-starved teams will likely pine for the opportunity to put their taint on University of Washington quarterback Jake Locker, the presumptive No. 1 pick in next year's draft. From time to time in the Pregame Flyover, we'll spotlight one team as it rockets towards the top of the 2011 NFL draft board.
LOCKER SPOTLIGHT: Few teams combine a need at quarterback with the unquestionable ability to earn the No. 1 pick like the soon-to-be 0-2 San Francisco 49ers. Current starter Alex Smith has not met expectations and will never make fans forget the legendary Tim Rattay, who holds the franchise record for most completions in a game. Smith has been given every opportunity to succeed, not to mention an enviable arsenal of wide receivers, such as Arnaz Battle, Darrell Jackson and Antonio Bryant. Yet failure becomes him. If San Francisco's defense will cooperate (read: stop keeping the 49ers in most games), the team will be a prime contender to draft Locker with the No. 1 pick next spring.
Cam Martin is a contributor to Page 2. He previously worked for the Greenwich (Conn.) Time and The (Stamford, Conn.) Advocate, and has written online for CBS Sports and Comcast SportsNet New England. You can contact him at cdavidmartin@yahoo.com.