Commentary
The Jimmy Clausen era is here -- sweet!
Originally Published:
September 24, 2010
By
Cam Martin
| Special to Page 2
Welcome back to the Pregame Flyover, your source for aerial reconnaissance of each week's NFL games -- including those involving teams that played under a television blackout last week. We don't hold it against a team when its fans -- e.g., Chargers supporters -- live in a region with many attractive alternatives and choose not to attend games. Like Tampa Bay fans -- who will have their game against the Steelers blacked out locally on Sunday -- San Diegans apparently prefer attending a baseball game. Tampa and San Diego: baseball towns first; football towns second.
Now, before we get to the Week 3 matchups -- and discuss which games are probably worth watching, which games are of questionable worth, which games are of doubtful worth and which games should only be watched if your son plays for the Raiders or Cardinals -- we humbly present ...
A suggested topic for your next NFL viewing party
Are you ready for the Jimmy Clausen era in Carolina?
[+] Enlarge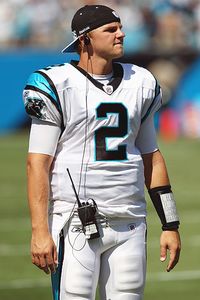 Streeter Lecka/Getty ImagesIs Jimmy Clausen listening to the coaches upstairs ... or Nickelback? Your guess is as good as ours.
Behold, it is descending. Thanks to his supposedly questionable attitude (and what one columnist called "his persnickety smirkness"), the former Notre Dame quarterback slid down the draft board in April like a fast-food pickle down a glass window. It was nearly a disservice to us all, but thankfully he landed with a team, Carolina, which had a quarterback with a tenuous hold on the starting gig. Matt Moore is now out, and this guy (seen here on the far right) is in.
Praise be. Imagine, though, if he'd been drafted by a quarterback-rich team like the Texans, who now have Matt Schaub (2009 NFL passing yardage leader), Matt Leinart (presumptive No. 1 pick in 2005 who wisely stayed in school) and Dan Orlovsky (who in 2004 was one of only 42 college quarterbacks named to the Davey O'Brien Award watch list). If Clausen had gone to Houston, he'd have been buried on the depth chart, and we'd have been cheated of the opportunity to witness an entertainer of the first rank.
This, after all, is the guy who arrived at the College Football Hall of Fame in South Bend, Ind., in a stretch Hummer limo to announce his decision to commit to Notre Dame. During that initial news conference, he flashed his high school championship bling and said he was joining the Fighting Irish to "try and get four national championship rings." Yup, Jimmy goes large, and if you don't like it, well, he'll probably give you plenty to dislike.
In some ways, Clausen reminds us of another great, misunderstood Jimmy, seen here. If Clausen is half as entertaining as that Jimmy, his career will be an unqualified success.
Probable, Questionable, Doubtful and Out
Just as the NFL puts out an injury report on the likelihood that certain players will suit up each week (probable, questionable, doubtful or out), we put out a viewing report on the likelihood that games will be worth watching. Because let's face it, you can't watch them all.
Probable Games of the Week (75 percent chance these games will be worth watching): Dallas at Houston; Atlanta at New Orleans; New York Jets at Miami; Green Bay at Chicago.
SPOTLIGHT PROBABLE: Dallas at Houston.
I am not a fan of an East Coast football team: Last week, some readers accused me of having an East Coast bias after I mentioned that the four teams in the Pacific time zone -- Chargers, 49ers, Raiders, Seahawks -- have been consistently mediocre in the past 15 years.
[+] Enlarge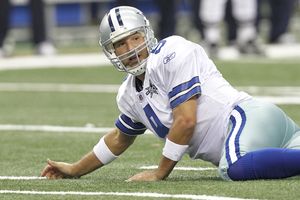 AP Photo/Tim SharpTony Romo seemingly tries to crawl to escape
the media scrutiny of the Cowboys' 0-2 start.
I was alarmed by the possibility that readers think I'm a fan of some East Coast team such as the Patriots, Giants, Eagles or Redskins -- or even the Cowboys, a southwest team playing in the NFC East. Good heavens, no. In fact, I'd like to point out that the NFC East is the most consistently overrated division in professional sports, more likely to be mediocre than the province of a Super Bowl participant.
Consider this: The Giants are the only NFC East team to win a Super Bowl since the 1996 season. The AFC North has won three since then. The AFC East has won three. The NFC South has won two. The AFC West has won two, and the AFC South, NFC North, NFC West and NFC East have won one each. If it weren't for David Tyree's helmet, the NFC East would be the only division in football not to have won a single Super Bowl during the lifetimes of current high school freshmen. So the next time someone pooh-poohs your beloved NFC West, remind them that the Rams have as many Super Bowl wins since 1996 as the Cowboys, Redskins, Eagles and Giants combined.
See, no East Coast bias here. By the way, how did Jerry Jones allow this Cowboys-Texans game to be played in Reliant Stadium? Didn't he build Cowboys Stadium specifically to host big Texas events like this? How could he let a little thing like the NFL scheduling policy get in his way? His influence is obviously as overrated as the NFC East.
Questionable Games of the Week (50 percent chance these games will be worth watching): San Francisco at Kansas City; Cincinnati at Carolina; Cleveland at Baltimore; Pittsburgh at Tampa Bay; Tennessee at New York Giants; Philadelphia at Jacksonville; Indianapolis at Denver; San Diego at Seattle.
SPOTLIGHT QUESTIONABLE: Pittsburgh at Tampa Bay.
What to look for in this game: Two first-place, undefeated teams.
What not to look for in this game: Quarterbacks who'll be playing in the 2011 Pro Bowl.
If Tampa wins, it's because: Antwaan Randle El is under center for the Steelers in the fourth quarter.
If Pittsburgh wins, it's because: Tampa's vaunted wide receivers have been held in check.
Doubtful Games of the Week (25 percent chance these games will be worth watching): Detroit at Minnesota; Washington at St. Louis; Buffalo at New England.
SPOTLIGHT DOUBTFUL: Detroit at Minnesota.
What to expect from Vikings fans: Patience. Sure, the team is 0-2 and a loss to Detroit would undoubtedly harm their team's playoff chances, but Minnesota fans recognize the Vikings aren't built to win this season. How could they be? Their No. 1 receiver is Visanthe Shiancoe.
What to expect from Lions fans: Hopefully a better understanding of the proper use of apostrophes in their signage.
Out Games of the Week (100 percent chance this game will be watched by someone, but hopefully not by you): Oakland at Arizona.
SPOTLIGHT OUT: Going out on a limb with the Oakland-Arizona game here.
The Raiders are better than the Rams: Through two weeks, half of the NFL's 32 teams are 1-1, while eight teams are 2-0 and eight teams are 0-2. The Raiders are not 0-2, thanks largely (which is to say, completely) to fact they played a Rams team led by a callow quarterback in Sam Bradford. They will not be so fortunate this week, as the grizzled Derek Anderson -- a veteran of as many Pro Bowls as Eli Manning and Matt Leinart combined -- leads the Cardinals.
If you're a Cards fan, perhaps you: Bought tickets months ago in hopes of running into Matt Leinart at a Phoenix-area bar after the game.
If you're a Cards fan, perhaps you: Should know that Leinart will probably be at a Houston-area bar after the game between the Cowboys and Texans.
Cam Martin is a contributor to Page 2. He previously worked for the Greenwich (Conn.) Time and The (Stamford, Conn.) Advocate, and has written online for CBS Sports and Comcast SportsNet New England. You can contact him at cdavidmartin@yahoo.com.