Commentary
First-timers still have Super Bowl shot
Originally Published:
December 17, 2010
By
Cam Martin
| Special to Page 2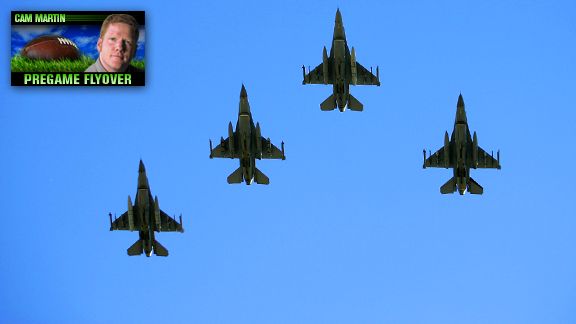 AP Photo
This is your Pregame Flyover for Week 15, that point in the NFL season when teams scratch and claw for a playoff spot and Panthers fans hope Jimmy Clausen doesn't do something stupid, like ruin their shot at the No. 1 pick. Before we get to the enticing slate of games -- and tell you which games will probably be worth watching, which games will be of questionable worth, which games will be of doubtful worth, and which game will feature the best two franchises in Ohio -- let's look at teams that have never demonstrated championship mettle.
Five teams still have a shot to be first-time Super Bowl champions.
The NFL touts itself as a paradigm of parity, yet 14 teams -- nearly half the league -- have never won the Super Bowl, a topic we first explored in Week 7 and Week 8 as we charted the 2010 narratives that would allow those teams (seven in the AFC, seven in the NFC) to become a first-time champion this season. Well, with three weeks left in the season, the dream has ended for more than half of them, with the Chargers, Jaguars, Eagles, Falcons and Seahawks the only title virgins still in the playoff picture; the Bills, Bengals, Browns, Cardinals, Vikings, Lions, Panthers, Titans and Texans are all finished. What, the Titans, Cardinals and Texans are not technically eliminated? Well, don't tell their fans; it's not polite to give people false hope, particularly around the holidays.
To assure a first-time champion in 2010, there are a limited number of possible Super Bowl matchups. They are Chargers-Eagles, Chargers-Falcons, Chargers-Seahawks, Jaguars-Eagles, Jaguars-Falcons and Jaguars-Seahawks. Safe to say the Jaguars-Seahawks game would be the lowest-rated Super Bowl in history. And that the last two minutes of the Chargers-Eagles game would become a case study among NFL coaches for years to come, regardless of who has the ball last. The Jaguars-Eagles game would be the first Super Bowl to feature two African-American starting quarterbacks, raising the odds that one of them will be asked how long he has been a black quarterback. The Chargers-Seahawks game would be the second-lowest rated Super Bowl in history. And the Chargers-Falcons game would probably be the best matchup of all. You know, on paper, where the Chargers have won multiple Super Bowls.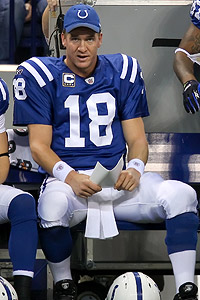 Icon SMICan we start the countdown to when Peyton Manning could break Brett Favre's record now?
Who's going to replace Brett Favre in our heads, hearts and hates?
He's a future first-ballot Hall of Fame quarterback who has won a Super Bowl and lost a Super Bowl. He has won multiple MVP awards and attracted a lot of mainstream fans for his aw-shucks demeanor. He is also a fierce competitor whose toughness has allowed him to play in an impressive number of consecutive games, some of which turn for the worse when he throws pick-sixes to the other team. He is, of course, Peyton Manning, who holds the active streak for consecutive starts by a quarterback (205; 92 behind Brett Favre's record) after the Minnesota quarterback missed last week's game. If Manning starts every game over the next six years, he'll catch Favre's most cherished record. Will the lead-up to that record be filled with unequivocal admiration from fans and pundits alike? Will Manning be wearing a different uniform if and when it happens? If Manning is playing for the Patriots at that point, it's difficult to see Colts fans rooting him on without reservation. Impossible, you say? Right. And Brett Favre's spending his last season in the NFL answering questions about sexting his playbook to a former Jets employee was impossible, too.
Probable, Questionable, Doubtful and Out
Just as the NFL puts out an injury report on the likelihood that certain players will suit up each week (Probable, Questionable, Doubtful or Out), we put out a viewing report on the likelihood that games will be worth watching. Because, let's face it, you can't watch them all.
"Probable" Games of the Week: (75 percent chance these games will be worth watching) Kansas City at St. Louis; New Orleans at Baltimore; Jacksonville at Indianapolis; Philadelphia at New York Giants; New York Jets at Pittsburgh.
SPOTLIGHT PROBABLE: New York Jets at Pittsburgh.
Perhaps we need more spotlights. Given the surplus of great matchups with playoff implications this week, we really couldn't go wrong in selecting any number of the above games as the "spotlight probable." Kansas City at St. Louis is a matchup of two first-place teams from the same neighborhood; New Orleans at Baltimore is a possible Super Bowl preview (even if the Baltimore Sun does not think so); Jacksonville at Indianapolis might bring an end to the Colts' AFC South prospects; and the Eagles at Giants is always a matchup of two teams from the most overrated division in football. But we really want to pull up a chair to see if the big-talk Jets can continue their late-season plunge towards, well, their usual level. We enjoy Rex Ryan and his unfiltered confidence, because it's how we'd like to act if we were a head coach with a lot of weight to throw around. And yet it seems like an act ill-suited to the Jets, a star-crossed franchise whose own fans always wait for the other shoe to drop -- kind of like Red Sox fans pre-2004. Yet maybe that's what it'll take for the Jets to overcome their years of futility -- a season that started with unprecedented promise, dipped close to the brink of disaster, and was resurrected with a stunning turn of events like the Red Sox versus the Yankees in 2004. Or maybe it just takes Mark Brunell at quarterback. One or the other.
Steelers special-teams players can breathe easy. Sal Alosi, the Jets' strength and conditioning coach, was suspended for tripping the Dolphins Nolan Carroll last week and will not be standing on the sidelines waiting to brainstorm this week. If someone else on the Jets' staff decides to carry on in his spirit, they will of course be acting on their own without the knowledge or instruction of Rex Ryan and other coaches.
James Harrison is streaking! Harrison was not fined for any illegal hits during Sunday's game against the Bengals, and that gives him a two-game streak without a fine. Harrison, who was fined for hits after Weeks 2, 6, 8 and 12, can tie his season-best fine-less streak (three games) if he can make it through the Jets game without separating anyone from his torso.
The Steelers' offensive line is on pace: To be as bad or worse than the last time they won a Super Bowl.
---
"Questionable" Games of the Week: (50 percent chance these games will be worth watching) Houston at Tennessee; Atlanta at Seattle; Green Bay at New England.
SPOTLIGHT QUESTIONABLE: Atlanta at Seattle.
This is a battle of: Two first-place teams, only one of which is under .500.
What happened to the 12th Man? Once upon a time the Seahawks were a feared opponent in Seattle, where Qwest Field was known as a raucous venue that made it difficult for visiting teams to communicate. But two of the past three visiting teams have scored more than 40 points, and people want to know what happened to the 12th Man on coach Pete Carroll's watch. Has the team stopped paying him? Have team boosters turned their back on him? Seattle can't compete with only 11 players, they need a full dozen, so somebody better figure this out quick and make that 12th Man happy.
Matchup to watch: Falcons defensive end John Abraham (11 sacks) versus Seahawks rookie left tackle Russell Okung.
Another matchup to watch: Matt Hasselbeck versus his tendency to throw the ball to the other team.
A cheat sheet scouting report: Roddy White leads the NFL in receiving yards, Michael Turner is fourth in rushing, and the Seahawks allow the second-most yards per game in the league.
Seattle's past three victories: Were over Max Hall, Derek Anderson and Jimmy Clausen, none of whom will probably be playing in Hawaii the week before the Super Bowl.
---
"Doubtful" Games of the Week: (25 percent chance these games will be worth watching) Buffalo at Miami; Washington at Dallas; Detroit at Tampa Bay; Denver at Oakland; Chicago at Minnesota.
SPOTLIGHT DOUBTFUL: Buffalo at Miami.
Misery loves company. Buffalo is 0-3 in the AFC East, but its past three games are against Miami, New England and the Jets. With three wins on the season, the Bills have pretty much blown their opportunity for the No. 1 pick, so they might as well refocus their energy: New England has already clinched a playoff spot, but the seasons of Miami and New York are still there to be ruined.
The Dolphins would get stage fright during the Christmas pageant. After 14 weeks, certain things have become clear in Miami: They have a stout defense (fifth in the league), a mediocre passing game (17th in the league), a mediocre running game (20th in the league), and they get stage fright playing at home in front of familiar faces (as evidenced by their 1-5 record at home and 6-1 record on the road). If the Dolphins can sneak into the playoffs, they might join the 2005 Steelers and the 2007 Giants as the only teams to win three road playoff games. If, however, some long-shot scenario emerges where Miami gets to play a home playoff game, they're obviously doomed.
Channing Crowder thinks his running back is an old man. After Jets strength and conditioning coach Sal Alosi tripped the Dolphins' Nolan Carroll on Sunday, Channing Crowder commented, "I wish they'd tripped me. I'd have broken that old man's leg." Old man? Alosi is 33 years old, i.e., the same age as the Dolphins' best running back, Ricky Williams.
---
"Out" Games of the Week: (100 percent chance these games will be watched by someone, but hopefully not by you) Cleveland at Cincinnati; Arizona at Carolina.
SPOTLIGHT OUT: Cleveland at Cincinnati.
This is a more interesting game than Arizona versus Carolina? Not necessarily. But either the Cardinals or the Panthers have been involved in the "out" game nearly every week this season, and we're running out of nice things to say about the Cardinals' punting unit.
The Bengals' coaching staff is apparently the culprit in Cincinnati. Terrell Owens says a large portion of the Bengals' problems this season can be attributed to the coaching staff. They, of course, were chirping in Carson Palmer's ear during the Steelers game last week, exhorting their quarterback, "Throw it to Polamalu, throw it to Polamalu."
Losing to the Bills is apparently a catastrophe. Considering how competitive the Browns have remained throughout this season, even as a parade of quarterbacks -- Jake Delhomme, Seneca Wallace and Colt McCoy -- have robbed them of any continuity, it's still highly probable that Mike Holmgren will replace Eric Mangini as head coach after the season. That's if you listen to this Cleveland writer or this Cleveland writer, among others. Come on, a close loss to the Bills exposed the Browns? Buffalo has won three of its past five games and should have beaten Pittsburgh, too. The Bills aren't exactly the Bengals, people.
Go to the vault! If Cincinnati falls behind in this game and Bengals fans get a little antsy, the commentator should take the opportunity to run this video of former Bengals coach Sam Wyche, who once chided disruptive Bengals fans by taking to the public address system and reminding them, "You don't live in Cleveland."
Cam Martin is a contributor to Page 2. He previously worked for the Greenwich (Conn.) Time and The (Stamford, Conn.) Advocate, and has written online for CBS Sports and Comcast SportsNet New England. You can contact him at cdavidmartin@yahoo.com or follow him on Twitter: @CameronDMartin.