Commentary
A 'Madden' movie? Yes, please
Originally Published:
December 24, 2010
By
Cam Martin
| Special to Page 2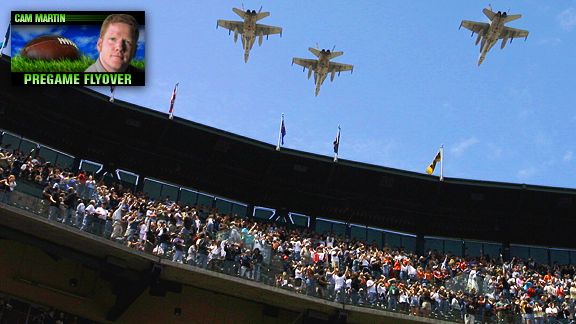 AP Photo
This is your Pregame Flyover for Week 16 of the NFL season, when many games take on a playoff atmosphere. The biggest matchup has to be Green Bay versus New York, in which we get to witness whether Tom Coughlin is a master motivator or simply a meanie who channeled Craig T. Nelson in "All the Right Moves" by decimating the confidence of his repentant rookie punter. "Come on, Dodge. Let's hear a good cry, all right." But before we get to the full schedule of games -- and discuss what other matchups are probably worth watching, which games are of questionable worth, which are of doubtful worth and which is being played on Christmas -- we discuss ...
A movie about the Madden curse? Yes, please.
Golf has its iconic comedy film ("Caddyshack") and so does hockey ("Slap Shot"). Baseball has several by our reckoning, including "Major League" and "The Bad News Bears." But football, the most popular sport in America, is woefully lacking in iconic send-ups. Sure, "The Longest Yard" is funny (the first one, that is) and so is "The Waterboy." But is either of them quoted with the same frequency as the aforementioned classics? No. Not even close. Given that, when we see that people are considering the possibility of making a movie about the so-called Madden curse, we can easily overlook the fact that curses are for soft-minded people (usually from Boston or Chicago) and look at the potential for comedic gold. After all, if inane plot elements were enough to kill the hilarity of a movie, you think anyone would have made a golf movie featuring a dancing gopher?
According to The Wrap, "Electronic Arts is developing 'Madden Curse,' a sports comedy that incorporates the infamous jinx, believed to strike NFL players who appear on the cover of EA's popular 'Madden' video game with injury or poor performance. The story will follow a former Madden video game champion who is forced out of retirement just as he finds himself on the corner of the game's cover -- and subject to the curse."
A former video game champion who is forced out of retirement? OK, who came to mind immediately? For me, it was Will Ferrell, which doesn't make him the best choice; he was simply the person who popped into my head first, thanks no doubt to his history in sports comedies. But Ferrell might be too old for the role. Moreover, his comedic window may have closed, i.e., people are kind of sick of him. Given that, what about Aziz Ansari? He's young and relatively unknown by the masses, yet still has a lot of fans. Tell me his Randy character (known best from "Funny People" with Adam Sandler) couldn't morph easily into a smack-talking gamer. Yup, take Randy -- who used to get all the ladies because of his game-playing skills (it's Randy, mind you) -- put a curse on him and let him drop one-liners that Madden players will be quoting for years. If you sprinkle in some arcane drug references, some gratuitous sex, some funny cameos from former Madden cover boys such as Ray Lewis and Daunte Culpepper and, well, you've got yourself a cult classic. Then again, if you make some egregious errors in casting and writing, you could inadvertently create a contemporary version of "The Wizard" with Fred Savage. But hey, nothing ventured, nothing gained.
Ryan Leaf will pen, not pencil, three books
Ryan Leaf, the biggest bust in NFL history until JaMarcus Russell had his countenance committed to marbled ham, has signed a deal to write one two three books. The works will be published by Crimson Oak Publishing, a Pullman, Wash.-based firm that specializes in books about "hope, possibility and determination." The first book will focus on Leaf's life, the second on his football career, and the third on his addiction to painkillers. Brett Favre is no doubt intrigued by this development, as a 297-book series with Crimson Oak Publishing now seems feasible.
The Falcons on the bus in the Play 60 commercial
Oddly enough, this commercial has not yet worn out its welcome. I think we can attribute that to the priceless cameo from Falcons owner Arthur Blank, who tries to bob his head just like his players and coaches, feigning rhythm, then looks around sheepishly like someone who's just gotten busted while singing in his car. Never fails to get me.
Probable, Questionable, Doubtful and Out
Just as the NFL puts out an injury report on the likelihood that certain players will suit up each week (listing them as probable, questionable, doubtful or out), we put out a viewing report on the likelihood that games will be worth watching. Because let's face it, you can't watch them all.
"Probable" Games of the Week (75 percent chance these games will be worth watching): New York Jets at Chicago; San Francisco at St. Louis; New York Giants at Green Bay; New Orleans at Atlanta.
Spotlight probably: New York Giants at Green Bay Packers.
Eli manning up. After the Giants' memorable implosion against the Philadelphia Eagles, the Giants' soft-spoken, childlike quarterback asked head coach Tom Coughlin if he could call a players-only meeting. With Coughlin out of the room, Manning reportedly told players to forget about the Eagles game and to focus on what still needed to be accomplished to make their season successful. He also invited everyone to his parents' house to watch the Santa Tracker on Christmas Eve.
If the playoffs started today: The Giants would face the Eagles in the divisional round, and New York hasn't beaten Philadelphia in its past six tries. Is such a streak important? Not really. The Eagles haven't won a Super Bowl in their last 44 tries.
All the makings of a playoff game. If Green Bay wins its last two games, they're in the playoffs. If the Giants win this game, they're in. If the Giants lose another 21-point lead with eight minutes left, Tom Coughlin will be back playing the washboard (far left here) in Emmett Otter's jug band.
Aaron Rodgers learned at someone else's knee. The Packers' starting quarterback, who missed last week's game versus the Patriots with a concussion, was cleared to play this week -- news that was announced Tuesday, more than half a week before the game. Nothing like taking the drama out of it, Aaron. A certain quarterback who shall remain nameless would have milked that cow for a few more news cycles.
---
"Questionable" Games of the Week (50 percent chance these games will be worth watching): New England at Buffalo; Washington at Jacksonville; Tennessee at Kansas City; Indianapolis at Oakland; Minnesota at Philadelphia.
Spotlight questionable: Indianapolis Colts at Oakland Raiders.
This will obviously be a very emotional game for: Jeff George, former quarterback of both teams.
Another game with a playoff atmosphere. If the Colts win out, they'll win the AFC South. If the Raiders win out, they still have a shot to win the AFC West. Consequently, this game in Oakland will definitely have a playoff atmosphere. Young Raiders fans should ask their elders (those who remember 2002 and earlier) how to act in such environments.
A matchup of extremes: The Raiders are second in the league in rushing, while the Colts are first in the league in passing and last in the league in rushing. But which team is first in the heart of Jeff George? That might be the deciding factor.
Coach of the Year candidates. Colts president Bill Polian doesn't get to vote for Coach of the Year, but he says he'd throw his vote to (surprise) Colts head coach Jim Caldwell. It's a nice gesture for Polian to show public support for his head coach, who has had to deal with an NFL-high 17 players being placed on injured reserve. But come on, could you ever envision a team executive saying, "No, my coach does not deserve to be considered for NFL Coach of the Year"? Ya know, besides Al Davis?
---
"Doubtful" Games of the Week (25 percent chance these games will be worth watching): Detroit at Miami; Baltimore at Cleveland; San Diego at Cincinnati; Houston at Denver; Seattle at Tampa Bay.
Spotlight doubtful: San Diego Chargers at Cincinnati Bengals.
Streaks to keep. In order for San Diego to win its fifth straight AFC West title, the Chargers (8-6) need to win their next two games (Denver next week) and Kansas City has to lose once. In order for the Bengals to finish with three wins or more for the eighth straight year, they don't have to do anything for the rest of the year and probably won't.
Will the Chargers franchise Jackson? The NFL franchise tag might be the biggest paradox in sports. You tag a player to designate that he's essential to your team, guarantee that he'll be paid at minimum the average of the top five players at his position for one year, and this invariably ticks off the player to no end. They, of course, want to shop around for a long-term contract with more guaranteed money. That's what Vincent Jackson wants to do; that's why he sat out more than half this season trying to convince the Chargers to give him a long-term deal. But San Diego has been deterred by his off-the-field record (including two DUIs) and isn't prepared to commit to him long-term. Instead ESPN's Adam Schefter said they might just "franchise" him for 2011. There's something quite beautiful and broken about this relationship. If Gabriel Byrne returns for another season of "In Treatment," they should devote one of the plot lines to characters based on Jackson and Chargers general manager A.J. Smith, i.e., "Lord of No Rings."
Two games left to defend his crown. Marvin Lewis has the San Diego and Baltimore games to prove he's as good a coach this season as last season, when he won the 2009 NFL Coach of the Year award.
Flexed out. This game was initially scheduled for Sunday night, but NBC flexed it out in favor of the Eagles and Vikings and one last shot to see Brett Favre get pummeled on national television.
---
"Out" Games of the Week (100 percent chance this game will be watched by someone, but hopefully not by you): Dallas at Arizona.
Spotlight out: Dallas Cowboys at Arizona Cardinals.
A great game (if this were last Christmas). Last season, before Kurt Warner took his twinkle toes into retirement and left the Cardinals as a stinking carapace, this would have been a phenomenal Christmas Day matchup. It would have featured star power at quarterback (Warner and Tony Romo), a plethora of game-changers for the fantasy playoffs (including both quarterbacks, Larry Fitzgerald and Anquan Boldin for the Cardinals, Marion Barber and Jason Witten for the Cowboys) and two teams with big postseason aspirations. Fast forward one year and we get a Christmas night game that will primarily be interesting to people who have Fitzgerald and Witten on their fantasy rosters -- and that's about it. Both of these teams are out of the playoffs, and fans attending the game won't even be able to watch it on Dallas' big overhead video screen -- because the game's in Arizona. Congratulations, Kurt Warner, you helped ruin everyone's Christmas. I hope you're happy.
Jason Garrett is quite the interim. In his six games as head coach of the Cowboys, Dallas is 4-2 and has scored 33, 35, 27, 38, 27 and 33 points. Those figures look impressive on a resume, which of course Garrett will be revising this offseason when Jerry Jones replaces him as head coach. Jones, it's widely known, distrusts redheads like Garrett and will replace him with a non-ginger at the earliest opportunity.
Cam Martin is a contributor to Page 2. He previously worked for the Greenwich (Conn.) Time and The (Stamford, Conn.) Advocate, and has written online for CBS Sports and Comcast SportsNet New England. You can contact him at cdavidmartin@yahoo.com or follow him on Twitter: @CameronDMartin.