Commentary
Get your college hoops highlights here
Originally Published:
December 14, 2009
By
Cam Martin
| Special to Page 2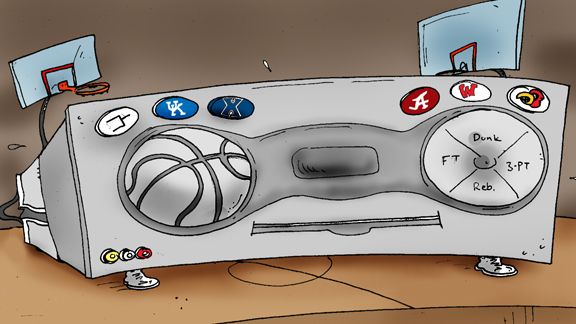 Kurt Snibbe/ESPN.com
Welcome to the first installment of the College Hoops DVR, where -- depending on whim -- we'll look backward or forward or just let things play, always in quick succession.
REW: During an appearance on "Pardon the Interruption" on Wednesday, Kentucky coach John Calipari gushed about freshman phenom John Wall, saying the point guard hasn't missed a single class or tutorial this semester. The NCAA forbids us from giving presents to students, but I think we all can agree that John Wall deserves a medal.
STOP: Alabama (6-3) lost by just eight points to No. 5 Purdue on Saturday, so Alabama school officials have given students the rest of the semester off.
REW: Adding a new chapter to the crosstown rivalry, Xavier bested Cincinnati in a double-overtime thriller Sunday, the first double-OT game in a series that dates back to 1928. The Bearcats came into the contest ranked No. 19 in the nation and seemed poised to knock off the Musketeers for the first time in three years, but head coach Brian Kelly abandoned the team before the second overtime and Cincinnati never recovered.
REW: Georgetown beat Washington in the John Wooden Classic on Saturday, a game played at the Honda Center, home of the Anaheim Ducks. Afterward, Wooden, 99, skated to center ice and presented the Hoyas with a ceremonial trophy.
FF: Former Minnesota basketball player Royce White, who was suspended after pleading guilty to shoplifting and disorderly conduct, posted a three-minute "documentary preview" on YouTube last week, which showed him shooting baskets and lifting weights. No game footage was included, because White got suspended before he ever played a game for the Golden Gophers. Scouts say he might have a future in prison.
REW: After his team's three-point loss to Kentucky on Wednesday, UConn coach Jim Calhoun finally caved and agreed to give one dime back to the state of Connecticut.
REW: After losing 15 straight to the Wisconsin Badgers, the Phoenix of Wisconsin-Green Bay finally beat their in-state rivals, who had just entered the national rankings with a victory over Duke. Winning coach Tod Kowalczyk said, "A lot of our guys think they should be playing for [Wisconsin], and they want to prove them wrong." Meanwhile, Wisconsin-Green Bay students celebrated by rushing the court a second too early, and had to be herded back to their seats, proving once again that they didn't deserve admission to the main Wisconsin campus.
PLAY: With Saturday's defeat of Marquette, Wisconsin coach Bo Ryan earned his 200th career win, placing him only 702 behind Division I leader Bobby Knight.
PLAY: Through 10 games, Providence led the nation in rebounding with 45.8 per game -- helped largely by their 44.1 field goal shooting percentage, which leaves a lot of balls bouncing around.
PAUSE: Louisville is off to a mediocre start at 5-3, but it does lead the nation in alleged extortion plots.
PLAY: Bryant University's Papa Lo, a 6-foot-9 sophomore from Senegal, is 10th in the nation with 2.9 blocks per game -- which is higher than his points per game average (1.9) and higher than Bryant's winning percentage (.000).
PLAY: Preseason All-American Cole Aldrich was averaging only 10 field goal attempts per game through Kansas' first seven games, leading to speculation that he doesn't understand the goal of basketball.
REW: UNLV's loss to Kansas State was played on a neutral court in Las Vegas (Orleans Arena) because the Runnin' Rebels' home court, the Thomas & Mack Center, was being used for the Wrangler National Finals Rodeo. Former UNLV coach Jerry Tarkanian commented, "I always suspected the Professional Rodeo Cowboys Association was a criminal front for the NCAA."
STOP: For the first time in four tries, No. 22 Butler beat a ranked team this season, holding off No. 13 Ohio State 74-66 on Saturday. With the victory, Butler earned its conference's automatic bid to the NCAA tournament. The Horizon League regular season has been canceled.
PLAY:: Binghamton University is giving interim men's basketball coach Mark Macon a raise. Acting athletic director James Norris said Macon has been granted an increase on his $57,651 salary, but declined to say the amount. Macon took over the team in mid-October when coach Kevin Broadus was placed on paid leave from his $230,000-a-year post after starting point guard Emanuel "Tiki" Mayben was arrested on drug charges and five teammates were dismissed for unspecified violations. Norris, the athletic director, said players will not be getting raises.
Legend
REW: A look back at a recent sporting development
PAUSE: Where things are on hold
PLAY: Where things are ongoing
STOP: Where things have come to an end
FF: A look ahead at a possible sporting development
Cam Martin is a contributor to Page 2. He previously worked for the Greenwich (Conn.) Time and The (Stamford, Conn.) Advocate, and has written online for CBS Sports and Comcast SportsNet New England. You can contact him at cdavidmartin@yahoo.com.