Single page view
By Kenny Mayne
Special to ESPN.com
Editor's note: ESPN television anchor Kenny Mayne went to the Live 8 concert in Philadelphia last weekend on a mission to meet Stevie Wonder. The following is his report.
I violated my grandmother's admonition to chew each steak bite 30 times. I ate that 12-ounce ribeye like a dog. Because Stevie Wonder was waiting. Stevie just didn't know this yet.
It was Friday, July 1. My camera crew had been hired while the steaks were on the grill. My plane trip was booked just after I cut up the children's meat. I had 75 minutes to make the last flight to Philadelphia. I live 35 minutes from the airport. And I hadn't packed yet. What did Gra-Mayne know? She hadn't lived long enough to hear "Journey Through the Secret Life of Plants."
The hastened departure would make sense to any Stevie Wonder fan. And even more sense to one who is playing in the "Legends-Celebrities Softball Game" at All-Star week in Detroit, Stevie's hometown. Shareholders might differ with the plan my boss had rubber-stamped -- but I was commissioned to fly to Philadelphia to try to secure Live 8 media credentials (which had been cut off due to overcapacity) with the hope of somehow getting Wonder to tape a greeting to be used in our softball game broadcast on ESPN. Even with media credentials, lightning would have to strike for us to get Stevie to come to the media tent after his performance at Live 8. And lightning would have to strike again for me to convince his people that Stevie should give an endorsement of our meaningless game.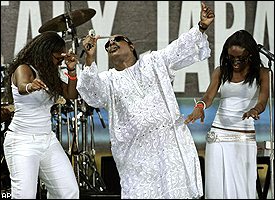 Stevie Wonder was one of the biggest stars at the Live 8 show in Philadelphia.
But it was worth a shot.
*****
"But what I'd like to know, is could a place like this exist so beautiful? Or do we have to take our wings and fly away to the vision in our mind?"
-- Stevie Wonder, "Visions"
It was 5:45 a.m., and it seemed like as good a time as any to wake up on Saturday morning. The credentials office opened at 6 a.m. I was told there might be passes for me and my crew if some others were turned back. I was the third man in line. I acted like I belonged. I'll never know if they accidentally pulled my name from the waiting list, or if the man in charge had just shown some mercy and validated my Live 8 existence. But by 6:15, I had three media passes. I called the crew at 7 a.m. and told them to meet me at my hotel.
I was feeling some amount of shame for trying to use Stevie's presence at Live 8 for my own personal gain. But I rationalized that I'd already donated money to refugees in Sudan and had advocated for Africa when I had the chance to meet some of President Bush and Senator Kerry's people during the election.
Now that I could live with myself, I did everything possible to upgrade my privileges at Live 8.
By 10:30 a.m., I was backstage. Thank God for the good men of the Teamsters. If not for them, the stage in Philadelphia used to implore the G8 leaders to stand up and take action never would have been built. And I wouldn't have been standing on it. With my pass that now said "crew" and my metallic wristband that said to any security guard that I belong, I was getting closer to Stevie.
Kenny
Mayne
SEARCHING FOR STEVIE