Commentary
College hoops marathon postscript
Originally Published:
November 18, 2009
By
Howard Megdal
| Special to Page 2
Editor's note: New York-based writer Howard Megdal monitored all 24-plus hours of ESPN's College Hoops Tip-Off Marathon for Page 2. Here's his all-encompassing roundup:
Is there such a thing as too much college basketball?
On Tuesday, I answered that existential question, and the answer is a resounding "NO!"
Despite 24-plus hours of consecutive hardwood coverage -- indeed, 39 consecutive hours without so much as resting my eyes -- I sat transfixed as No. 1 Kansas and Memphis concluded with a wild finish. I needed sleep, but I wanted hoops.
In other words, basketball didn't fail to keep my interest. Rather, the human body's physical limits failed to keep my eyes open. This shouldn't come as a surprise to anyone who truly loves the sport.
No days in sports measure up to the first Thursday and Friday of the NCAA tournament. When I leave the Big East quarterfinals at Madison Square Garden after the fourth game, I am sad there isn't a fifth game. Years ago, I covered a high school tournament in Trenton, N.J., which featured six games in a row -- while Georgetown-UCLA played on the press box TV -- and I left wishing for a seventh.
Well, now I've lived through the marathon -- more than 90,000 seconds of it -- and I'm here to tell you: I'm ready for more.
The marathon was actually perfectly tailored to my basketball tastes. It opened at midnight ET with a clear underdog to root for in Cal State Fullerton, which upset UCLA in a double-overtime thriller. This provided a keynote for the day and a reminder of just how unpredictable college basketball can be.
[+] Enlarge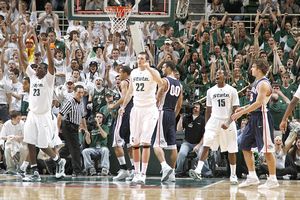 AP Photo/Al GoldisMichigan State outlasted Gonzaga in one of the highlights of ESPN's College Hoops Tip-Off Marathon.
Despite the theatrics, the Titans and Bruins did hoist some absolute bricks, so the silky shooting of Saint Mary's gently cleansed the palate. Hawaii-Northern Colorado came next, with the Bears making the jump from Division II. At 6 a.m., I got to enjoy a battle of college teams from my native New Jersey, followed by a gradual increase in talent which led to my beloved Georgetown Hoyas playing at 4 p.m., Duke at 6 p.m., and a pair of classics at 8 and 10.
You couldn't get a better story arc scripting a Hollywood movie.
Only twice during the marathon did my interest start to flag. During the Monmouth-Saint Peter's game, it was apparent that Monmouth simply wasn't ready to play. Whether it was the early tipoff or simply the overwhelming Peacocks defense, it was difficult to watch a team shoot 18 percent for a half and 20 percent for a game. Somewhere, former Hawks forward Alex Blackwell was shedding a single tear.
The other time came during the Duke-Charlotte game, when I was hoping for a miraculous upset. The Blue Devils, of course, listened to the man saying "Do you believe in miracles?!?" and calmly put him in a headlock with a 101-59 victory.
Neither instance was too much basketball. Had there been another game worth watching, I'd have simply switched to it. The game opposite Duke's blowout victory game was Pitt-Binghamton, which was a less attractive matchup with much of the Binghamton team either no longer enrolled or awaiting trial.
Indeed, I can even confirm that, during halftime of Gonzaga-Michigan State, I found myself checking out the final minutes of a competitive Connecticut-Hofstra battle.
Still, there was a downside to the marathon: having to listen to concern and well-intentioned wishes from family and friends. Any number of people suggested that not sleeping for 39 hours straight was a strain on my physical and mental health, while others reminded me, painfully, of just how little time remained in the marathon.
"Just six hours left!" they taunted, leaving me to ponder a life after midnight, in which college basketball simply represented the overwhelming majority of what I thought about and watched, rather than its entirety.
When the Kansas-Memphis thriller ended, I made the long walk to my bedroom, where my wife was waiting. She is a woman of many talents, but she simply doesn't break down the 1-3-1 defense like Doris Burke. Nor does she yell out "Man-to-man!" like Bill Raftery.
Although she intended to soothe, her words -- "Now you can sleep!" -- were merely salt in my basketball-less wounds. Where were her trivia questions culled from the ESPN College Basketball Encyclopedia?
She did, at least, impersonate Dick Vitale when I told her I wanted to watch the ESPN's Thursday doubleheader and then see my alma mater, Bard, in a season-opening tournament on Saturday.
"You can't be serious!" she said. But I could tell. That Vitale exuberance just wasn't in her voice. Nice try, wife of mine.
Howard Megdal is the editor-in-chief of The Perpetual Post and writes for numerous other outlets. His book, "The Baseball Talmud," is now available.