Commentary
Time for the NFL Pregame Ritual
Updated:
September 19, 2009, 9:00 PM ET
By
Toby Mergler
| Special to Page 2
Welcome back to the Pregame Ritual. Week 1 of the NFL season was extremely enjoyable. Thanks to several thrilling last-second comebacks and electrifying performances, we were provided a welcome reprieve from the all-Kanye all-the-time news coverage. We can't believe we didn't see one story about his hair. Were those crop circles? We hope not. He might be the last person we want communicating with aliens on our behalf. They'd never get a word in.
Here's a look at Sunday's action.
Three key games to watch
[+] Enlarge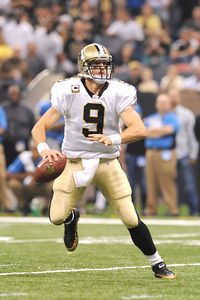 Al Messerschmidt/Getty ImagesA defense that goes from Jake to Drew is in for one rude awakening.
New Orleans at Philadelphia (1 p.m. ET)
OK, serious question here. Has there ever been a bigger swing in the quality of quarterback play a defense faced in consecutive weeks? In the season opener, the Eagles' D feasted on Jake Delhomme, who played so poorly he should have requested a police escort off the field to keep from being attacked by his own teammates (Steve Smith appeared particularly sucker-punchy). Now they face Drew Brees, who was so incredibly good last week he made my tongue-in-cheek prediction about his touchdown pace look actually prophetic.
Philly resembled world-beaters last weekend, but we won't really know anything about the Eagles' potential until after they've faced a team whose quarterback doesn't look like he's starring in "Eight Yards Out," a remake of the Chicago Black Sox movie in which this time it's a QB who's intentionally throwing games by repeatedly short-arming sideline routes resulting in surefire pick-6's.
Baltimore at San Diego (4:15 p.m.)
Another question. Has an entire team ever attempted to defect domestically before? If you lived in Baltimore and visited San Diego, wouldn't you be tempted to try to get asylum so you don't have to go back? After seeing both "The Wire" and "Anchorman," would you blame them for at least trying?
As for the game, these teams are very similar. Both feature goofy young QBs (Flacco, Rivers) who appear to be the real thing. Both feature former stud running backs (McGahee, Tomlinson) who can't be counted upon to stay on the field and are being pushed by standout youngsters. And both feature star defenders (Lewis, Merriman) whose collective history reminds us all that you absolutely, positively do not want to be out with them after midnight under any circumstances. Should make for a fun game to watch.
New York Giants at Dallas (8:20 p.m.)
Despite the quality of these two teams and the longstanding rivalry between them, the "official" unveiling of Cowboys Stadium is going to be the story Sunday night. From what we hear, it's a marvelous place and it guarantees a packed house, as Jerry Jones' ego will fill any and all cracks left between people. What we really like about it is anything seems possible with that stadium. If it lifted from the ground, started spinning and blasted off into outer space, we don't think we'd even bat an eye. We do know this though: If the quality of play on the field matches the spectacle off it, NFL Films will be selling DVDs of this game by Tuesday morning.
Play we'd like to see today
[+] Enlarge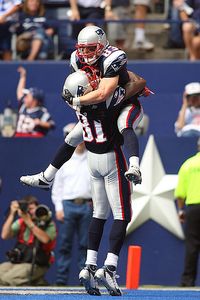 Tim Umphrey/Getty ImagesKnowing how their coach feels about the Jets, a Randy flip to Wes is probably on the table this weekend.
Randy Moss and Wes Welker are both tremendous weapons individually, but we'd like to see them combined like Voltron to form an unstoppable force. Line them up on opposite sides of the field, have Moss run the deep cross and Welker run a shallower cross. Hit Moss on the deep route, then have him utilize his no-look skills to pitch to Welker going the opposite direction. Automatic six. If they could somehow work it out so Moss was airborne and passed it to Welker before he hit the ground, we'd have to be injected with a weapons-grade tranquilizer to calm us down.
Fine, I'll ask
Five questions about today's New England-New York Jets game:
• Does Rex Ryan's contract have a clause requiring him to make lame attempts at keeping this rivalry going?
• In order to keep his edge, does Belichick still visualize Mangini on the other sideline like Henry Winkler did with the heads of babies in "The Waterboy?"
• Would it be worth Mark Sanchez's while to try and out-Brady Brady by showing up to any pregame press conference carrying a baby goat?
• Is it a bad sign that if you do a Google image search for Thomas Jones, there are as many pictures of him out at clubs as there are playing football?
• Can Tom Brady now use his knee to predict whether there's going to be bad weather?
Storyline we care about
Hank Baskett signing with Indy
We like this move for Indy, as Peyton can make any veteran wide receiver look good, especially when they aren't half-bad to begin with. But it's not the football ramifications of this move we care about. We assume Kendra will be coming to Indy with her husband and you know what that means: FISH OUTTA WATER!!!! Oh man, Season 2 of "Kendra" is going to be so good now. How will this coastal girl adapt to the Midwest? Will she make several dumb mistakes about the local geography and culture? Will the locals be skeptical of her before she wins them over? Will she be able to find anyone in Indianapolis that does home installation of stripper poles? We can't wait to find out!
Storyline we don't care about
STREAK FOR THE CASH PICK
If you haven't played ESPN.com's Streak for the Cash yet, you should give it a shot. It's free to play, and you could win $1 million. But beware: It's addictive.
Since it's a known fact that a football column must include some sort of pick or the universe folds in on itself, here is this week's selection:
New England over New York Jets: Strip away all the other noise surrounding this game and it still features a QB matchup between one guy who has more Super Bowl rings than the other has career starts. Brady beating Sanchez is going to be the best bet on the board for several years to come.
-- Toby Mergler
Jaguars might draft Tim Tebow
We know Jacksonville is Tebow's home town, but let's not get carried away with the LeBron James comparison. LeBron was tagged as a surefire superstar from the time he was 15; Tebow can't even make it onto Mel Kiper's big board as a senior. Not really the same thing. Besides, Jacksonville has a decent chance to win nine games this year; we shouldn't be hearing draft talk out of their camp in Week 2. It's not like they're the Lions, who should be scouting high school juniors right now for when they hold the first pick in 2014.
Patrick Swayze's pep talk
We are huge fans of Patrick Swayze's action movies and were incredibly saddened by his recent passing. In a small attempt to pay tribute, we'll relay some of his words of wisdom in this space in an effort to fire up a particular player or team.
"It's basic dog psychology, if you scare them and get them peeing down their leg, they submit. But if you project weakness, that promotes violence, and that's how people get hurt."
-- Bodhi, "Point Break"
The entire Texans offense should listen to The Bodhi after their timid performance last week. They have all the weapons to be scary good, but instead just came off as scared. They need to come out and smack a physical Titans team in the mouth, or their season might be lost.
Most important fantasy players
Jay Cutler: As the heir apparent to the "gunslinger" title, was Cutler required to do his Favre impression in Lambeau? It would sure explain all the poor decisions and interceptions. Cutler had better do an imitation of his Denver self this week or he'll be on a lot of fantasy waiver wires Monday morning.
Mike Bell: It seems this journeyman running back is poised to steal carries from Pierre Thomas, who was already sharing touches with Reggie Bush. If the trend continues, everyone else will be stealing the buy-ins of all of Thomas' owners.
Chad Ochocinco: After an electric Week 1 performance, all eyes are exactly where he wants them -- on him. If he keeps it up, in his honor we may have to learn how to say "fantasy championship" incorrectly in Spanish.
Fred Jackson: One of the best values on draft day because he was guaranteed to start three games (which is more than you can say for Derrick Ward) while Marshawn Lynch served his suspension. Jackson shined in the Bills opener. With a strong follow-up, Jackson might free Beast Mode up to spend as much time as he wants at Applebee's.
Enjoy the games, everyone.
Toby Mergler is a freelance writer based in Washington, D.C., who has previously written for MLB.com, Fanball and the Virginia Law Weekly. He can be reached at tobymergler@gmail.com.
MOST SENT STORIES ON ESPN.COM