Commentary
NFL Pregame Ritual (Week 10)
Originally Published:
November 13, 2009
By
Toby Mergler
| Special to Page 2
Welcome back to the Pregame Ritual. This intro was originally longer, but we made the mistake of asking Jay Cutler to hand it in for us and it was intercepted along the way.
Here is a look at Sunday's action.
Three key games to watch
Cincinnati at Pittsburgh (1 p.m. ET)
Chad Ochocinco continued to make headlines this week for his off-the-field antics as he attempted to send mustard to the Steelers before Sunday's game. Why mustard? According to his Twitter account, because "they'll never ketchup when we play on Sunday." Oh boy, food puns! Here are some other gifts Ocho's opponents can expect to receive in the near future:
• Radishes (because the Bengals can't be beats!)
• Ice cream (because covering him is going to be a rocky road!)
• Aluminum wrap (because he is going to foil their game plan!)
• Mushrooms (to remind everyone he's a fun guy!)
• A delivery truck full of cashews (because he is going to drive them nuts!)
Dallas at Green Bay (4:15 p.m. ET)
Green Bay's loss on Sunday to the previously winless Buccaneers was already bad, but Tampa Bay's choice of uniforms made it even worse. No one likes to get beat up by someone significantly smaller than you, but it's even worse when the weakling kicking your butt is dressed like a clown. Now, instead of being 5-3 and tied atop the wild-card standings, the Packers are 4-4 and on the verge of watching their season slip away. Sunday's home game against the Cowboys has a last-stand feeling to it. Maybe not in a Custer, definitely dead kind of way. But at least in an "X-Men 3", it-looks-like-this-is-it-but-there-is-a-chance-they-might-be-back way. Aaron Rodgers has been abused so much this year, he might actually prefer the Custer route at this point.
New England at Indianapolis (8:20 p.m. ET)
Every year, this game represents a dream matchup for most NFL fans. Not to us, though. Our dream game features the offenses of these two teams, but the defenses of the Titans and the Lions. Both the Colts and Pats have solid defenses, but neither is particularly exciting. We'd rather Tom Brady and Peyton Manning go up against squads that offer as little resistance as Peyton displays whenever his agent presents him with any commercial opportunity. It would be a tremendous amount of fun to watch them try to reach the over when the line resembles a decent bowling score. But until the NFL allows two franchises to join forces in the football version of tag-team wrestling, we'll just have to settle for watching this still-awesome game.
Play Signs we'd like to see today
For this week, we are taking off our offensive-coordinator cap and donning our sign-coordinator smock. Here are a few signs we'd like to see Redskins fans holding at FedEx Field on Sunday afternoon, but given owner Dan Snyder's establishment of a fun-free zone around the stadium, we know we are as likely to see these slogans displayed as we are actually seeing a Skins fan smile at today's game.
• Cerrato 4 President! At Least Then He'd Be Everyone's Problem
• Please Confiscate My Season Tickets Instead
• In Snyder We Trust (just to see if it's taken away)
• I'd Rather Be Sleeping
• I Call the Square Dance at the County Fair. Can I Coach the D?
Fine, I'll ask
Five questions about Sunday's Atlanta-Carolina game:
• Every time Carolina wins a game, shouldn't they get credited for 1.5 victories due to the degree of difficulty created by starting Jake Delhomme?
• Will new PETA poster boy Tony Gonzalez throw blood on the pigskin?
• Is any receiver in the league more skilled at pushing off than Roddy White?
• If DeAngelo Williams is limited today, will the Red Zone Channel even monitor this game when the Panthers have the ball?
• Is this group of Falcons' fans raising money for charity or to hire Mike Smith as their own personal protection?
Storyline we care about
Larry Johnson released by Kansas City
There is a tremendous level of satisfaction gained in watching former fantasy football overlords suddenly fall apart. After all, 90 percent or more of owners in any given league don't own studs like Johnson and for many years they were forced to listen to the fortunate few who did have LJ gloat while they quietly fumed and cut the winner's checks. So there is a perverse pleasure present here stemming from watching a former tormenter fall from grace so fast. It really is amazing how quickly it happens. One day the Johnsons and Shaun Alexanders of the world are saviors and the next they are being run out of town by all possible means short of pitchforks and torches. They are kind of like gunfighters in the Old West. Best in the world one minute, dead the next. Not a whole lot in between.
Storyline we don't care about
Jamal Lewis thinks Mangini is overworking players
This story is ridiculous. How can Mangini be accused of overworking his players when he allows them to take Sunday off every week? Besides, Lewis is retiring at the end of the season. He should be trying to leave it all out on the field. And since he's not really good enough to play a significant role in games anymore, the practice field will have to suffice.
Patrick Swayze's pep talk
Swayze's action movies were undeniably awesome, and his recent passing was incredibly sad. In a small attempt to pay tribute, we'll relay some of his words of wisdom in this space each week in an effort to fire up a particular player or team.
"The gods have not made it easy being a human being. That's why it feels so wonderful to beat the odds."
-- Max Lowe, "City of Joy"
The above quote might as well have been written about Cincinnati Bengals fans. After a decade of torture, it's wonderful they are getting to enjoy such an unexpected ride. The Bengals have already matched or exceeded the win total many experts predicted for them and just completed a season sweep against the Ravens. If they can beat the Steelers on Sunday, the Browns will be the only thing standing between the Bengals and an undefeated division record and, most likely, a home game in the playoffs. Their fans shouldn't make plans to attend the game quite yet, but for only the second time in 18 years, they shouldn't plan to do something else with their January weekends, either.
Most important fantasy players
Drew Brees: Brees absolutely hammers bad secondaries, and the Rams certainly qualify. If Brees comes anywhere near equaling his performance from Week 1's Lions game, he'll be the biggest One Man Gang seen since this guy ruled the WWF.
Chris Johnson: Speaking of great players against bad D's, Johnson is going to wreck shop against the Bills on Sunday. Johnson has been running so well, LenDale White should go ahead and start drinking tequila again. If he's not going to play, he might as well enjoy himself.
Tim Hightower: Hightower has been one of the most underrated players in fantasy in the season's first half and has delivered double-digit points in five out of eight games so far this year. Every week, people think he's going to lose his job to Beanie Wells, but it's not happening anytime soon as it may get Kurt Warner killed. Wells is currently as unlikely to pick up a blitz as Turtle of "Entourage" is to pick up a check.
Ladell Betts: Even though Clinton Portis has been ruled out for Sunday's game, Betts' owners need to temper their expectations, as he's running behind the worst line in the league. The Skins continued their new quixotic habit of recruiting people who were completely out of football to come back and fill crucial positions on the team by recently signing Levi Jones, who will start at left tackle on Sunday. Apparently, Anthony Munoz told them he had to wash his hair.
Enjoy Week 10, everyone.
Toby Mergler is a freelance writer based in Washington, D.C., who has previously written for MLB.com, Fanball and the Virginia Law Weekly. He can be reached at tobymergler@gmail.com.
NFL WEEK 10 PREVIEW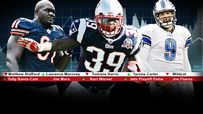 FINAL WORD
PICKS
POWER RANKINGS
PATRIOTS VS. COLTS
HOT READ: Dallas Clark
MIDSEASON REPORT
MNF: Ravens at Browns (8:30 ET)
COLUMNS/BLOG POSTS
FANTASY
SCOUTS INC.
PAGE 2
MOST SENT STORIES ON ESPN.COM