Commentary
Final Fantasy: Week 17 Pregame Ritual
Originally Published:
December 30, 2009
By
Toby Mergler
| Page 2
Welcome back to the Pregame Ritual. Congrats to all of you who just won fantasy football titles. To those who didn't, good luck dealing with your e-mail this week. Might as well add your friends' names to your spam filter right now.
Here is a look at this week's action. (All games are Sunday.)
Three key games to watch
New England at Houston (1 p.m. ET)
Here's a question: If the Houston Texans actually manage to squeak into the playoffs, do they become a more or less trendy preseason favorite next season? I say less trendy. Although, for whatever reason, people really want to see this team break through. If they finish the season 9-7 with a four-game winning streak, then all bets are off. We'll see the first Houston-to-Super Bowl pick in early February, which is appropriate since the franchise seems to be living out "Groundhog Day" each season.
Personally, I don't see it. Entertainment does not beget greatness. It's like expecting John Grisham to suddenly turn into F. Scott Fitzgerald. Sometimes, things are what they are.
Philadelphia at Dallas (4:15 p.m. ET)
[+] Enlarge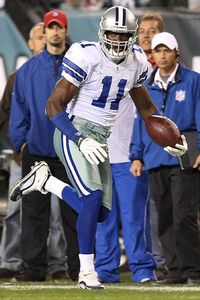 Al Bello/Getty Images'Whatever you're talking about, it's not my fault. Unless it's good. In that case, yeah, it was me.'
A little more than two weeks ago, DeMarcus Ware was strapped to a gurney and carted off the field. Told to take it easy and sit out a few weeks, he refused. Instead, he asserted his dominance over both the New Orleans Saints and Washington Redskins and led the Cowboys back to the playoffs.
On a separate note, Roy Williams finally admitted his struggles are his own fault. Roy, Roy, Roy! What are you doing? The Cowboys' top receiver is supposed to be a controversial rebel (a la Michael Irvin, Terrell Owens, Terry Glenn). Don't go all conformist on us now. Just because everyone blames you, doesn't mean you should stop looking for scapegoats.
Cincinnati at New York Jets (8:20 p.m. ET)
Jets fans are great. How many other teams' fans are reached for comment about an opposing team's star player trash-talking?
The best part is that Ed Anzalone, the fan in question, refers to himself by his alter ego: "If he thinks he can rock the house like Fireman Ed does, power to him." Does that qualify as the fourth-person? Anzalone will surely be on hand Sunday night to try to help the Jets ride a wave of good luck into the playoffs. Here's hoping he can still get the crowd worked up without the aid of spirit juice.
Play we'd like to see
Any late-game passes from Tom Brady, Peyton Manning, Drew Brees, Phillip Rivers, Chad Palmer, Kurt Warner or Aaron Rodgers would be an extremely welcome sight. With so many excellent quarterbacks likely to sit out Sunday's action, we could see the quality of play dip to pure, button-mashing "Madden" levels.
There's another reason to shelve the talk about moving to an 18-game schedule. Let's focus on finding a way to get in 16 good ones first before expanding the problem.
Fine, I'll ask
Five questions about Sunday's Pittsburgh-Miami game:
1. With only five AFC teams eliminated from playoff contention, how is this the only game in which both teams are guaranteed to play hard?
2. Would you have ever guessed the Miami Dolphins had the second-highest payroll in the league?
3. Did Ben Roethlisberger ride his motorcycle around super angstily in response to his Pro Bowl snub? Can we get our hands on that video?
4. Doesn't Lex Hilliard sound like the name of a person you might find on a pay channel after dark?
5. Does LaMarr Woodley really think there's a conspiracy to keep a team that lost to the Kansas City Chiefs, Oakland Raiders and Cleveland Browns out of the playoffs?
Storyline we care about
[+] Enlarge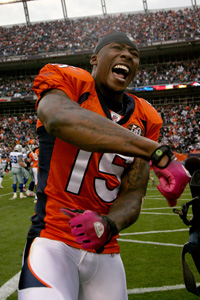 Doug Pensinger/Getty Images After the year he's had, Brandon Marshall might not be so happy if he's forced to stay in Denver.
Free-agent status at risk for 212 players.
If teams think they mail it in this weeked and act like the offseason has already begun, then so can we. Expect stories like this to dominate the post-Super Bowl NFL landscape. It's pretty amazing the quality of players affected. Elvis Dumarvil and DeMeco Ryans are both entering their primes and could anchor high-caliber defenses. Pro Bowl guards Logan Mankins and Jahri Evans both could do the same for a team's offensive line.
The real player to watch here is Brandon Marshall, whose stellar play this season has helped erase the memories of the extreme temper tantrums he threw last summer. Stripped of his leverage, we could be in for more of the same this offseason if negotiations turn contentious again . It's exciting to think how far he may take it this time. Perhaps he'll wear spiked gloves, so any ball thrown to him is instantly flattened and ruined.
Oh, and you gotta feel bad for Jason Campbell, who has been forced to adapt to a new scheme virtually every season since starting high school, and now can't even get into free agency without a system changing on him.
Storyline we don't care about
I just can't get excited about the Pro Bowl. What if instead of staging it before the Super Bowl, they actually moved it to a later month? By that time, we're so starved for football again, we'd ravenously watch 100 guys try not to get hurt. Otherwise, we'll just continue arguing about who got snubbed while completely ignoring the game itself.
Patrick Swayze's pep talk
Swayze's action movies were undeniably awesome, and his recent passing was incredibly sad. In a small attempt to pay tribute, we'll relay some of his words of wisdom in this space each week in an effort to fire up a particular player or team.
"Look at it! It's a once-in-a-lifetime opportunity, man! Let me go out there and let me get one wave, just one wave before you take me in. I mean, come on man, where am I gonna go?" -- Bodhi, "Point Break"
While fans may hate watching the backups play in Week 17, it is an important chance for the little guys to display their talents and perhaps parlay that into more playing time, more money or both. Of course, not everyone seizes the moment. Poor Curtis Painter clearly wasn't ready and has been the punchline of many jokes this week. If the Indianapolis Colts backup QB doesn't show signs of improvement Sunday, Peyton Manning may have to spend the bye week dressed in bubble wrap to make sure he doesn't get hurt.
Most important fantasy players
With so many studs likely sitting out, it'll be the second- and third-tier players who most likely decide many fantasy outcomes. Seems silly, no?
Jay Cutler: With so many marquee signal-callers holding the clipboard this weekend, even a guy with more picks than touchdowns can suddenly become a hot commodity. And Cutler is playing the Lions, who don't feature Ndamukong Suh quite yet.
Devin Aromashodu: You can either Google him or ask a Minnesota Vikings fan to find out who he is. Your choice.
Arian Foster: If you are willing to start Foster, chances are you also like seven-team parlays, shaky tech stocks and Russian roulette.
Enjoy Week 17, everyone. If it's the last for your favorite team, at least you get to find an excuse to root for a winning side starting next week.
Toby Mergler is a freelance writer based in Washington, D.C., who has previously written for MLB.com, Fanball and the Virginia Law Weekly. He can be reached at tobymergler@gmail.com.