Commentary
Best (and worst) in fantasy sports
Originally Published:
December 30, 2009
By
Toby Mergler
| Page 2
It's that time of year when auld acquaintances are remembered, cups of kindness are taken and look-back recap columns such as this one are soon put on ice for another 11 months. In that vein, Page 2 has some hardware to hand out for the year's best and worst from America's favorite time-waster. No, not college bowl games or Brett Favre press conferences. I mean, of course, fantasy sports.
"Why Does It Say Paper Jam When There Is No Paper Jam?" Award
Winner: Kurt Warner's reversed TD pass
[+] Enlarge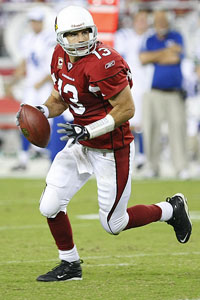 Rick Scuteri/US PresswireThe fate of 5,000 matchups rested in Kurt Warner's hands.
Frustrated folks summoning their inner "Office Space" and banging on the copy machine were actually justified this year when Warner's backward throw to Anquan Boldin was ruled a rush rather than a reception several days after the fact. Stripping Warner of the passing TD changed the result in about 5,000 ESPN fantasy playoff matchups and almost certainly led to the destruction of inanimate objects worldwide.
Runners-up: Anyone who lost a head-to-head two months later due to the suspended Nationals-Astros game; Tiger Woods owners in fantasy golf keeper leagues.
Bridesmaid Award
Winner: Tom Brady
With consecutive stinkers in Weeks 14 and 15, Brady most likely cost all his owners a chance at the finals. But his gem in Week 16 (267 yards passing, 4 TDs) was enough to single-handedly win most players their consolation games. Close enough to be near the bride, but no honeymoon.
Runner-up: None. There are rules against getting too close to Brady, you know.
"Modern Family" Award for Best Debut
Winner: Bobby Ryan
Just like the cool dad in television's best new show, Anaheim's Ryan was a breakout star this year, pouring in 25 goals during a 44-game stretch last season. This feat alone secured his spot as Southern California's best hockey player, overtaking Kenan Thompson, of course. No word on whether he's perfected the knuckle puck yet.
Runners-up: Tyreke Evans, Steve Mason, Joey Logano, Percy Harvin
"Transylmania" Award for Worst Debut
Winner: Matt Wieters
This ill-conceived and poorly timed spoof shattered the record for lowest-grossing wide release ever this past weekend, averaging less than $275 in ticket sales per theater. This means each screening had about three people in it, which is still more than the total number of fantasy owners in the world who were happy they invested a relatively high pick in Matt Wieters. There are surely better seasons ahead, but his much-hyped debut turned out to be a huge flop.
Runners-up: Michael Beasley, Donald Brown
Oldie But Goodie Award
Winner: Tom Watson
The legendary golfer defied Father Time to come within a few agonizing inches of winning this year's British Open, making him one of the most valuable single-week pickups in recent fantasy golf history. If you had the foresight to use Watson during the British Open, you almost certainly won the week, unless that means you were also crazy enough to start Seve Ballesteros, Fuzzy Zoeller and Chubbs Peterson.
Runners-up: Shaquille O'Neal (last season), Trevor Hoffman, Brett Favre
Britney Spears Comeback Award
Winner: Cedric Benson
There were plenty of fantasy resurrections in 2009, but no one came back as strong or as unexpectedly as Benson. Spears is actually a fair comparison for the former stud-turned-dud-turned-stud-again. When he first came into the league, he was very attractive to fantasy owners. Then a seemingly endless string of subpar seasons damaged his appeal. But now reborn, in Cincinnati of all places, he's as sexy as ever to fantasy owners.
Runners-up: Justin Verlander, Jeff Gordon, Ricky Williams
Out Of Nowhere Award
Winner: Paul Millsap
Hardcore fantasy owners are expected to know every player like Rex Ryan knows every bakery in the tri-state area that delivers after midnight. More casual participants, though, often get to experience the best part of fantasy sports: when someone you've never heard of suddenly becomes a force, a brilliant pickup that rescues your season. These guys often swing leagues, since cheap, big production is more valuable than just getting what you expected from your first-round pick. Millsap was this guy. A complete unknown until he started routinely throwing up 18-point, 11-rebound nights for the Jazz, his play made him the hottest no-name commodity in Utah since Urban Meyer.
Runners-up: Miles Austin, Jerome Harrison, Garrett Jones, Claude Kane, Scott Clemmensen (Bonus: Which one did I just make up?)
"What The Bleep!%&@?" Award
Winner: DeSean Jackson's 30-point explosion in Week 14
There are several moments in each fantasy year that cause even in the most straight-laced, silver-tongued owner to curse a blue streak even if women or children are around. It's like when Jack Bauer foils one plot and thinks he's done for the day. Except, of course, Jack always comes out on top. No such luck most likely for those who faced Jackson.
Runners-up: MJD's kneel-down, Matt Forte's sudden inability to score at the goal line, that sinking feeling that set in after you said, "I'll take Garrett Atkins."
[+] Enlarge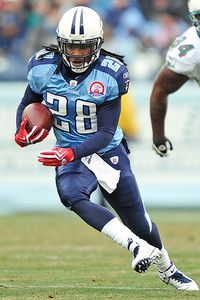 Don McPeak/US PresswireChris Johnson is so good, he might just be a vampire.
Game of the Year Award
Winner: Tigers-Twins one-game playoff
This bonus game caused a stampede as players dropped the Albert Pujols and Johan Santanas of the world to pick up guys like Ryan Raburn and Matt Guerrier in hopes of one more RBI or strikeout to win the title. It's like a playoff basketball game decided by opposing fans playing a game of H-O-R-S-E. But it sure makes for an exciting conclusion.
Runners-up: Vikings-Bears (Week 16), Suns-Warriors combining for 284 points, Colts-Patriots
"Twilight" Award for Fantasy Player of the Year
Winner: Chris Johnson
One day (hopefully soon) tweens will wake up and "Twilight" will join the Atkins diet, venetian-blind sunglasses and New Kids on the Block on the list of confusingly dumb fads. Until then, though, this silly movie franchise is the current undisputed dominant force in the fantasy genre. Things aren't as clear-cut in the fantasy sports world; each runner-up makes a compelling case for this award. But since football is still king among all fantasy sports, and Johnson -- with his dreadlocks and superhuman speed -- might actually be a vampire, he takes home this year's big prize.
Runners-up: Albert Pujols, LeBron James, Jimmie Johnson, Evgeni Malkin, Mark Reynolds
Toby Mergler is a freelance writer based in Washington, D.C., who has previously written for MLB.com, Fanball and the Virginia Law Weekly. He can be reached at tobymergler@gmail.com.