By Jeff Merron
Page 2 staff
Our heads are spinning. We thought Anna liked us, and only us. (Is it the Mona Lisa smile in the pages of the SIsi?) But just in the past few days, the former Page 2 girl has been linked to Derek Jeter, Marky Mark, and (we find this hard to stomach) barfly Mickey Rourke.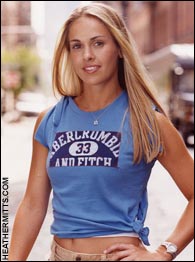 If you're sick of this picture, well, something's wrong with you.
Anna, please don't take it personally. You have to admit that our "Hottest Female Athlete of '04," Heather Mitts, is sexy. And plenty of Page 2's readers (18.7 percent, to be exact) still think you're tops.
On to the really hot stuff. We need it. Still three more weeks of winter.
Take another hike, buddy
In the UK, the "Naked Rambler," Steve Gough, is practically a household name. But the man celebrated, scorned, and repeatedly jailed while on a 1,000-mile nude hike across Scotland is no longer wanted in his own household.
His wife left him two years ago when she could no longer take his behavior. He did everything "starkers," including everyday errands like renting movies at Blockbuster, getting his caffeine fix at Starbucks, and so on. In the process, he offended and embarrassed many people, including his wife's parents and their children.
But the naked jaunt was the last straw.
"Put your clothes back on or you will never see your kids again," she said to him through the Scottish Daily Record. "He has deserted his children and left behind emotional wreckage which has been devastating. And all this simply because he refuses to compromise his belief in the right to go naked wherever he wants."
Athletes rule "Melbourne's Sexiest" list
We're shocked, shocked! that a respectable media outlet (The Age, Melbourne's major daily) would use sex to sell its product. But there's no doubt that's what was going on when the paper unveiled its 25 sexiest list on Valentine's Day.
Athletes on the list, with excerpts from The Age's commentary:
Matt Welsh, swimmer: "Great sportsmanship is sexy."
Grant Wharington, 2003 Sydney-to-Hobart yacht race winner: "Looks like something from an aftershave commercial."
Sam Newman, ex-footballer, TV sports host: "Despite the fact that he's almost 60, he's still pulling the birds." Also, his house features "a massive mural of Pamela Anderson."
Collingwood Football Club: "Sure, the AFL season is a great sporting event. It's also a major perve-fest. While some men are discussing goal-kicking averages, the rest of us are arguing over which player has the cutest butt."
And you thought "Playmakers" was hot stuff
It's a new season for the British soap, "Footballers' Wives," and the sex scenes are racier than ever. For example, Conrad Gates (Ben Price), a Beckham-like soccer star, joined the mile-high club in a recent episode with Tanya Laslett (Zoe Lucker), a nasty female character.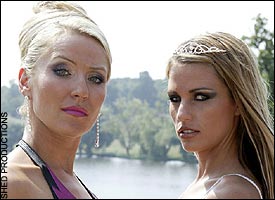 Here's two reasons to learn the game of soccer.
"I'd only been on set less than two weeks. This was one of the first scenes I'd done with Zoe. It was on a very hot day in the middle of July. We were totally naked -- and more than the plane's windows were steaming up!" Price told The Sun, a British tabloid.
Conrad also has some affection for one of his teammates, who he kissed on-screen. "It was the first time I have had to kiss a man on TV, but as an actor you just see it as part of the job. You are playing a role at the end of the day."
Italy's sexy ref, over the hill?
Recently, Pierluigi Collina was voted best soccer referee in the world for the sixth year in a row. And -- we didn't know, couldn't imagine -- he is considered one of the sexiest men in Italy.
A recent profile in the Irish Times provides the details: Collina is so famous in Italy that he has an agent, is the new male model for watchmaker Lorenz, strutted down the catwalk during Milan's fashion week, and, according to a survey, is considered to be "erotic" by 41 percent of women.
But soon, the 43-year-old might be forced to hang up his adidas cleats (yep, the ref plugs a shoe), because he'll soon turn 45, the retirement age for Italian referees. He could get special permission to continue beyond then, but it's not a given. "The day I will stop refereeing -- and I hope it is far away-- will be a shocking day," said Collina. But -- this went unsaid -- it would free up more time for fashion shoots and music video appearances (see George Michael's "Shoot the Dog".)
Sexy Matilda waltzes between two gigs
Amy Taylor, who garnered fame for her provocative poses for the 1999 Matildas calendar (the Matildas are Australia's women's soccer team) and in magazines like Inside Sport and Ralph, is back on the national team.
Taylor, 24, had taken some time off from the game in 2003, but came back recently and made the team that will compete for an Olympic spot. She missed the 2000 games as the 19th woman -- the alternate.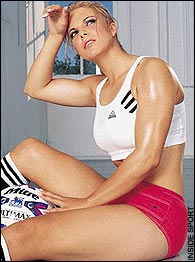 We're hoping Australia's women's team makes the Olympics.
Taylor is now paying more attention to soccer than to her modeling gigs, but she hasn't given up the fleshy forums. "I hope people now come to watch the football," she told the Gold Coast (Australia) Bulletin. "As for what I do, that's a little bit of my life outside soccer. It's really a separate issue and I don't like them to cross paths too much these days."
Which means, we suppose, no more strategically-placed soccer balls in those pictorials. Dig it.
Maybe if we Tivo the couch, we'll remember
Hallmark, in an apparent effort to create some new theme cards, recently surveyed Canadians and found that 12 percent of couples have sex while watching hockey on the tube.
But some of the fans were so distracted they couldn't even answer the nooky question on the survey with a simple yes or no.
"Interestingly, about 10 percent (of those couples) were probably so wrapped up in the play that they were not sure if they'd actually made love or not while the hockey game was on," said a Hallmark mouthpiece.
The badminton babe
Who is Gail Emms? According to a press release received by the Express, a British tabloid, she's a 21-year-old badminton player who wants to "sex up" her sport.
Except she's not, exactly. "Oh-my-God," she said to the Express. "I'm 26 and I never said that."
OK. But Emms, who along with doubles partner Nathan Robertson has a good shot at gold in Athens, is trying to make the sport a bit more appealing to spectators. "I have tried my best to make it more glamorous. I make no apology for being the first to wear short skirts and dresses -- I'm quite an extrovert, and there was no image on court. Maybe now image is not the most important thing for me -- results are -- but it is important for badminton in general as much as for myself."
Are you listening, NBC? You've got 225 1/2 hours of Olympics coverage slated for this summer. How about a half-hour of Gail?
Apparently, "Don't go rob a bank" should be in the handbook
The University of Minnesota football team wanted Lydon Murtha bad. Real bad. But the high school senior won't be a Gopher next year -- or ever. Two words, apparently, sum up the reason: strip club. The St. Paul Pioneer Press reported that on a trip to the university, the 17-year-old lineman was taken to Déjà Vu, a nightclub (motto: "Ladies Dance Until They're Nude") that caters to the under-21, can't-drink-legally set.
"I'm not into that kind of stuff," Murtha told Brian Hamilton of the Pioneer Press. That's why he'll be a Cornhusker next year.
Minnesota AD Joel Maturi told Hamilton that there was no written policy against taking recruits to strip clubs, and that he didn't think there needed to be. "That'd be like saying, 'Don't go rob a bank'."
Precisely.
Can a gay porn star be accepted in pro sports?
While the debate continues about when and how the first active major leaguer will "come out," we've already been treated to the first unveiling of a gay porn minor leaguer: Kazuhito Tadano, a minor-league relief pitcher who could make the Indians this season.
Tadano admitted making a gay porn video while a college student, saying he did it for the money. "I'm not gay. I want to clear that fact up right now," he said in a press conference.
Noted.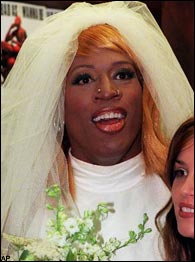 Rodman's seen better days.
We haven't screened the video, so we can't tell you if Tadano started or came on in relief.
Because The Worm knows what it's like to be a woman ...
Three-and-a-half months of sobriety doesn't mean Dennis Rodman has got anything against pills, reported the New York Post's Page Six at the end of January. Rodman, who recently stopped (drinking? doing drugs? who knows?) in an effort to return to the NBA, is now pitching a sex enhancement pill for women. The "herbal therapy," called EnjoyRX, "helps both physical and mental reasons women do not desire sex," according to the company's Web site.
Yeah, but it's Boone's Farm Strawberry Hill, vintage November
Houston's strip clubs did bang-up biz during the week before the Super Bowl, reported Andrew Guy Jr. in the Houston Chronicle.
Guy, who obviously wore down some shoe leather covering the story, wrote that most clubs -- there are 50 in Houston proper -- were packed all week, even though some were raising cover prices by 250 percent. The strippers were raking in the dollar bills and violating the city's "3-foot rule" (that's as close as dancers can legally get to patrons) on a regular basis, because there simply weren't enough cops to enforce the law.
Since most patrons probably paid a couple grand for tickets to the big game, they probably didn't mind the price of getting close, personal attention in the VIP room -- which you can enter at Centerfolds, for example, if you're willing to pay $175 for a bottle of wine.
But you let us photo Mr. Whipple's butt!
Oh, how America's cheerleaders have fallen. The Dallas Cowboys Cheerleaders, the icons of All-American girl-next-door sex appeal, were reduced to shilling for ... gulp ... Charmin Ultra in Houston before the Super Bowl.
They danced to the Charmin jingle on a stage in front of fancy bathrooms placed on a street corner in downtown Houston. And they had a security guard, whose main function was to prevent amateur photographers from taking snapshots of their lovely rear ends.
Mark Roberts crushed by Janet's breast
The famous serial streaker executed his perfect plan flawlessly, getting onto the Reliant Stadium field just before the Super Bowl's second half kickoff and dancing almost naked ... and almost nobody noticed.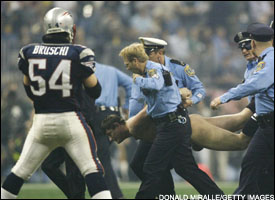 Now, this is good, old-fashioned nudity ... streaking at halftime!
"The guy was lining up to take the kick. He just looked totally confused," Roberts told the (UK) Scotsman.
"I was there, naked, apart from a plastic American football over my nether regions held on with Sellotape, doing a Riverdance in the middle of the Super Bowl, and nobody was coming after me.
"The two teams were looking at each other, trying to work out what was going on, so I started to Moonwalk.
"Then I started doing crazy body poses -- and that's when the whole of the Houston police department came chasing on the field."
Roberts also expressed disappointment about the halftime "wardrobe malfunction" that preceded his performance. Janet Jackson "took my thunder," he said. "If she hadn't done that, I would have been front-page material."
Hands-on coaching? Multiple orgasms? Sign us up.
Gymbox in London (where "anything goes") recently started offering a regime called "The Shag Workout," which, reports Ananova.com, is designed to "increase the frequency, intensity and quality" of customer's orgasms.
The Tantric-based workouts are said to build endurance, improve technique, and boost confidence, and have been so successful that some clients have reached orgasm at the gym. "Once inhibitions have been lowered and specific muscles targeted, 25 percent of women participants in the test classes have reported experiencing the elusive and much-sought-after multiple orgasm for the first time in their lives," said a Gymbox spokesperson.
The creator of the workout added, "There is now a proven, embarrassment-free way to improve your sex life through hands-on coaching."
The tangled web of Dodge and scantily clad women
OK. We've finally got the basics figured out.
Dodge, the original sponsor of the Lingerie Bowl, backed out of that venture because, it said, it was receiving too many complaints from dealers and female customers.
A few weeks later, though, you could find Dodge ads in the Sports Illustrated swimsuit issue, which features, as you probably know, half-nude models -- and some wearing nothing but body paint and a smile. Guess they didn't get any complaints about that.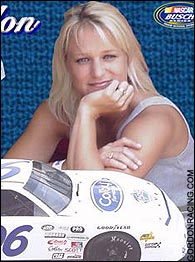 Things that make you go vrooom.
But Dodge still isn't safe from the lingerie police. Here's why: Vassarette, a lingerie company, is the major sponsor of Tina Gordon, who drives in the NASCAR Craftsman Truck Series. "Tina Gordon gives new meaning to the term 'hot wheels'" says Vassarette's e-zine. "Maybe we don't know what's under the hood, but we do know what's underneath it all."
We know what's under the hood. So does Dodge. Because Tina Gordon races a Dodge truck.
Will we be able to handle the buildup to the Big Game?
Horizon Productions, which produced the Lingerie Bowl, said it was so successful that the company has formed the "Lingerie Football League."
It's a league in name only. In fact, the "League" has a three-game schedule in 2005. The L.A. Dream will face the Dallas Desire in one game. The New York Euphoria tackles the Chicago Passion in another. The two winners advance to the "Lingerie Bowl."
It's a fan's obligation ...
Heidelberg United, a Melbourne soccer team in dire financial straits, raised some ready cash recently by obtaining sponsorship from a local brothel, which has also thrown its, umm, resources behind a netball team, auto racers, and kickboxers.
Heidelberg's president told Reuters that the deal is on the up-and-up. "It's a straight-out cash deal," he said. "There are no additional services offered, or asked for."
While players for the cash-strapped team may not be able to afford Gotham City's services ($187 an hour, U.S., and an additional $23 for "fantasies," according to one source), the team recently asked fans to "support the girls who support us."
Bagger Trans
Mianne Bagger will become the first transsexual to compete for a national women's golf title when she goes up against Karrie Webb, Laura Davies, and other world-class players in next month's Australian Open.
Bagger has won the South Australian women's amateur championship three times since becoming a female in 1995. As a male, she had a four handicap, reports the Sydney Morning Herald.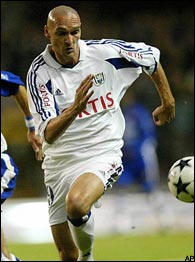 Ivica Mornar enjoying the chase.
No word from the Vijay Singh camp yet on this latest development in golf's gender skirmishes.
Only beauty queens need apply
It's only been a few weeks since Portsmouth FC purchased Croatian striker Ivica Mornar from a Belgian squad for £400,000. But the bachelor and former hubby of 1993 'Miss Croatia' Fani Capalija says he's got no interest whatsoever in the scores of Portsmouth females who want to get to know him off the pitch.
According to Ananova, Mornar told Story, a Croatian magazine, "When I find someone else, she has to be a Croatian. I would never settle down with a foreigner."
Apparently, the list of eligibles is even more exclusive -- his woman must be a Croatian beauty pageant winner. Word has it that he's hooked up with Nina Slamic, a cosmetology school grad and ... Miss Croatia 2002.
And if you just got back from Bora Bora ...
We'll give you some handy-dandy links to stories on the Super Bowl halftime horror show, the Colorado sex/recruiting scandal, and the Julius Erving sex tape.
And don't forget Page 2's latest hottest -- Heather Mitts and Tom Brady.