By Jeff Merron
Page 2
Think Lynn Swann's celeb status and name recognition would give him a huge boost in his bid for governor of Pennsylvania? Maybe. But maybe not. You've heard all about the athletes-turned-politicians who win -- Jim Ryun, Jim Bunning, Jack Kemp, Bill Bradley. But being a former big-name sports celebrity is no guarantee of success in the political arena.
For example: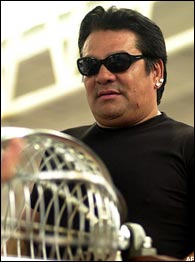 Roberto Duran should have studied up on the Panama Canal.
Four-time boxing champ Roberto "No Mas" Duran lost his 1994 bid for a national assembly seat in Panama -- possibly because he wouldn't debate opponents and rarely gave interviews, possibly because he was clueless. The Dallas Morning News reported that he responded to a question about the future of the Panama Canal -- a huge issue in that country, because the canal would be transferred from the U.S. to Panama in 1999 -- by saying, "I don't know much about those things."
Former Chiefs quarterback Bob Kenney (R), who'd been a Missouri state senator, was soundly beaten in the 1996 race for that state's Lieutenant Governor position. In 2000, he started to run again for the same position, raised more money than any other candidate, then withdrew long before the election.
NASCAR legend Richard Petty (R) tried to become North Carolina's secretary of state in 1996. He relied almost completely on name recognition (95 percent of the state's voters knew of him, a remarkable number). Campaigning only a couple of days a week, he was defeated by a 54-to-45-percent margin by Elaine Marshall, who few had given a chance to win.
Former Texas A&M star Edd Hargett (R) ran for Texas's First District Congressional open seat in a special 1985 election. Despite raising about $1.5 million (a large amount back then), he lost by a narrow margin to Democrat Jim Chapman. Hargett probably lost some labor votes: The local Lone Star steel plant had recently closed, yet he said, "I don't know what trade policies have to do with east Texas."
Former Bulls great Bob Love, a three-time All Star, had the backing of Michael Jordan, Muhammad Ali, Bulls owner Jerry Reinsdorf, and many other luminaries when he ran for alderman in Chicago in 2003. Despite the great support, he couldn't defeat the incumbent. Love, who overcame a debilitating stuttering problem and homelessness after his NBA career ended, and became the Bulls' community relations director and a frequent motivational speaker, said at the time that he might run for office again: "I've been knocked down a lot of times, but I get up."
Also losing in that 2003 Chicago race: five-time Olympian and two-time silver medalist Willye White.
Former Patriots and 49ers tight end Russ Francis, a three-time Pro Bowl selection who caught five passes for 60 yards in San Francisco's Super Bowl XIX victory, ran for a Honolulu City Council seat in 1998, and lost. The Republican upped the ante two years later, challenging Democratic incumbent Patsy Mink in a 2000 congressional race. He got hammered, losing by almost a 2-to-1 margin. Last we heard, he was running his own business, Patriot Aviation, in Hastings, Nebraska.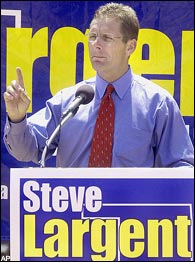 Steve Largent couldn't make the leap from representative to governor.
Hall of Fame receiver Steve Largent resigned his House seat to run for governor of Oklahoma in 2002. His losing campaign was deemed one of the worst of the year by Roll Call's Stuart Rothenberg. Largent, Rothenberg wrote, "was a prohibitive favorite. He turned down offers of help from other Oklahoma Republicans. Turns out he needed plenty of it, especially after he uttered an obscenity in an interview that was caught on videotape."

Largent, elected four times to the House, raised much more money than any of his opponents, but lost to Democrat Brad Henry by a few thousand votes. Two possible difference makers: 1) Henry was endorsed by former Sooners head coach Barry Switzer, who also actively campaigned for the candidate; and 2) a big get-out-the-vote drive on Indian reservations.

Largent is now the CEO of the Cellular Telecommunications & Internet Association, a D.C. lobbying group.
Apparently, Oklahomans have always been skeptical of famous footballers running for high office. During Bud Wilkinson's 17-year reign as head coach of the University of Oklahoma, he led the Sooners to three national titles. He retired after the 1963 season and tried to parlay his fame into a Senate seat, going so far as to legally change his first name from Charles to Bud to make the ballot choices all the more clear. He won the Republican primary by an overwhelming margin. But then he pledged support for Barry Goldwater, his party's ultra-conservative presidential candidate. As a result, he lost the support of many more mainstream Republicans. He lost a very tight race to Democrat Fred Harris.

Jeff Merron is a staff writer for ESPN.com. This story originally ran in July of 2004.