By Jeff Merron
Page 2
Whatever Jose Canseco's reputation is, he may or may not be telling the truth in "Juiced." Vague accusations and unverifiable assertions abound. But once in a while, Canseco writes things that can be factually checked.
So is the book, as Canseco's attorney, Robert Saunooke, told Mike and Mike on ESPN radio, "100 percent" accurate. Is Jose a "very reliable" and "very credible" writer?
Let's have a look ...
On his rookie season (1986):
We went to Detroit ... Walt Terrell gave me a good pitch to hit. I took a big swing and hit a home run to center field that ended up in the Tiger Stadium upper deck. They told me afterward that I had already hit a home run in every AL ballpark as a rookie.
-- p. 65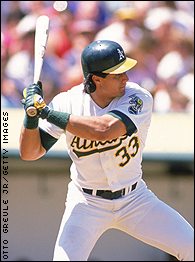 Jose Canseco back in his heyday with the A's.
Canseco didn't hit a home run in Detroit in 1986. Or in Kansas City, for that matter. So what "they" told him about hitting a homer in every ballpark as a rookie was wrong, even if you take into account his 1985 September callup.
According to Retrosheet, Jose went 4-for-8 (three singles and a triple) in three games against Terrell in 1986. That monster shot? Canseco is probably remembering Mark McGwire's first major league homer, a colossal 450-foot blast off Terrell in Detroit on August 25.
* * * * *

On Bret Boone:
I remember one day during 2001 spring training, when I was with the Anaheim Angels in a game against the Seattle Mariners, Bret Boone's new team. I hit a double, and when I got out there to second base I got a good look at Boone. I couldn't believe my eyes. He was enormous. "Oh my God," I said to him. "What have you been doing?"

"Shhh," he said. "Don't tell anybody." Whispers like that were a sign that you were part of the club ...
-- p. 264
This conversation almost certainly didn't take place.
The Mariners and Angels played five spring training games in 2001.
On Friday, March 2, the Angels beat the Mariners, 5-2. Jose went 0-for-2 as a DH, and did not reach base.
On Friday, March 9, the Mariners beat the Angels, 8-3. Canseco struck out twice in two at-bats. Boone did not play.
On Sunday, March 11, the Angels beat the Mariners, 5-4. Neither Canseco or Boone played.
On Monday, March 12, a Mariners split-squad beat an Angels split squad, 4-2. Canseco did not play.
On Tuesday, March 27, the Mariners beat the Angels, 15-2. Canseco did not play.
In spring training 2001, Canseco hit only one double in 39 at bats. He did not steal a base.
* * * * *

On the 2000 Subway Series against the Mets:
In Game 6, though, I was sitting there on the Yankee bench on a cold night at Shea Stadium ... But all of a sudden, Torre called down to me. "Canseco, you're hitting." ...

I went up to the plate to pinch-hit for David Cone, and it was bad. Three strikes and you're out.
-- pp. 232-233
As Rob Neyer pointed out, there was no Game 6 of the 2000 World Series.
Canseco batted for Cone in Game 4, and it was an important at-bat in a close game. The Yankees led 3-2 with two on and two out when Jose did strike out looking, on a 2-2 pitch.
That's a detail most players wouldn't want to be fuzzy about.
* * * * *

On breaking through to the majors:
I was very aware that baseball was closed to a young Latino like me ... Many talented young athletes were playing street baseball in Cuba, Puerto Rico, the Domincan Republic, and many other Latin American countries, but the barriers to breaking into the major leagues were almost impossible for most to get around.
-- p. 39
Here's how "closed" baseball was in 1982, the year which he is writing about: 29 Puerto Ricans and 33 Dominicans played in the majors that season. That's 62 players -- I stopped counting after that -- breaking the "impossible" barriers.
Among those 62: Jose Cruz, two-time All-Star; Sixto Lezcano, 1979 Gold Glover; Willie Hernandez, the 1984 AL MVP and Cy Young Award winner.
* * * * *

More on his rookie season:
I was glad to get back to Oakland after the All-Star break ... I started the second half going 0-for-40 ... it was the worst slump of my life.
-- p. 64
Canseco did have an 0-for-40 run that began on Aug. 8, 108 games into the season, but coming back from the All-Star break, he went 2-for-4 in his first game, and 7-for-37 in the first 10 games following the break.