Single page view
By Jeff Merron
Page 2
Aggressive. Insatiable. Feisty. Intense. Ripping for a brawl.
And good ballplayers, to boot.
That's what it takes to make our All-Testosterone baseball team. How did the hormone get there? We don't care. But for sure, it's evident in abundance in these all-time greats.
Catcher: Thurman Munson
"Munson's not moody, he's just mean," said Sparky Lyle in 1978. "When you're moody, you're nice sometimes."
But Munson was a leader, and he did have friends, so Sparky must have been overstating things a bit. Still, Munson knew he would never be Mr. Congeniality (and to his credit, he wasn't afraid to take on Mr. October).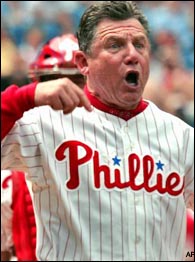 Bowa had several testosterone rages during his managing days with the Phillies.
When he was named Yankees captain in 1976, he said, "I'll be a terrible captain. I'm too belligerent. I cuss and swear at people. I yell at umpires, and maybe I'm a little too tough at home. I don't sign autographs like I should and I haven't always been very good with writers."
First base: Mark McGwire
We know about the andro. We don't even want to think about McGwire and Jose Canseco squeezed together in a Coliseum stall, pants to the knees. But we know Big Mac got Mackier, and he was no girly-man. When he played a soldier in "The Nutcracker" for the Oakland Ballet in 1990, he said, "This is not ballet dancing, OK? Let's get that straight. This isn't ballet. We're soldiers marching around."
Who's going to argue?
Second base: Pete Rose
The hustle. The brawls. The shameless lying. Insatiable appetites for money, sex and base hits.
And he's not shy about the way he's built. After bumping umpire Dave Pallone in 1988, Rose got a 30-day suspension and a $10K fine. "I didn't care that he was gay. I cared that he made a h-------- call at first base that cost me a g------ ballgame," he told Playboy in 2000. He ended his summary of the scuffle with, "I should have killed the son of a b----."
Rose had a reputation for having a girl in every port during his playing days (he even scouted possible expansion cities, according to lore). After divorcing his first wife, whom he was married to for 16 years, he said, "Hey, just give her a million bucks and tell her to hit the road."
Shortstop: Larry Bowa
Bowa, a five-time All-Star with the Phillies in the 1970s, was a Hoover at short and willed his way into becoming a decent hitter. Here's what Don Zimmer, then a third-base coach with the Cubs, had to say about him in 1985: "[Bowa's] the most selfish player I have ever known ... the most negative man I've ever been around." As a player, he yelled at teammates and umpires nonstop; later, as manager, he yelled at his team and umpires nonstop. Feisty? That term wasn't strong enough for Bowa.
When he became manager of the Las Vegas Stars in 1986, one radio station regularly took the instrumental portion of The Knack's "My Sharona" and substituted in these lyrics:
You're No. 10
Ooohhh, You Are The Baseball Coach, Larry Bowa!
Ya Got A Temper, Now It's Heating Up
Ooohhh, Ya Got A Temper Now, Larry Bowa!
Ooohhh, Ya Always Get Tossed Out, You Get a Fine
Ooohhh, Ya Always Get Tossed Out, Larry Bowa!