Single page view
By Jeff Merron
Page 2
We could have busted out this list with Pam Anderson, Don Cherry and Michael J. Fox, our favorite Canadians ever. We even once had a real Canuck give us a list of the greatest Canadians of all time.
But in honor of Steve Nash winning the NBA MVP Award, let's stick to Canada's best sports exports, non-hockey variety.
10. Jamaal Magloire (Toronto, Ontario)
The 6-foot-11-inch Hornets center missed most of this season due to injury, but was named to the 2004 Eastern Conference All-Star team, becoming only the second Canadian hoops All-Star ever. How'd he do? In just 21 minutes of action against the league's best, he scored 19 points and pulled down eight rebounds.
9. Jacques Villeneuve (St-Jean-Sur-Richelieu, Québec)
It's a family thing for Jacques: his first major event in North American was the Grand Prix de Trois-Rivieres in Quebec, where he raced against his uncle Jacques and finished third. His father, Gilles, had been a Formula One driver who died when Jacques was 11. In 1994, Villeneuve finished second in the Indy 500 and was named IndyCar Rookie of the Year. In '95, he won the 500 and the IndyCar driving championship. Mission accomplished, so he became a Formula One driver, and took that title in 1997.
8. Mike Weir (Sarnia, Ontario)
The 2003 Masters champ is a class act: check out his official Web site and the congrats he sends out to countryman Nash. Canadian roots stand out even as he achieves success on the mostly-U.S. PGA tour: his first PGA title came in the 1999 Air Canada Championship, the first time a Canadian won on home turf since 1954. He's picked up six other titles since and was Canada's Male Athlete of the Year in 2001, 2002 and 2003.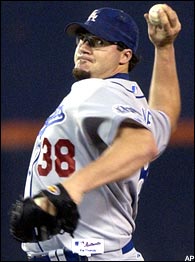 Gagne was untouchable in 2003: 1.20 ERA, 55-for-55 in saves, and 137 K's in 82 innings.
7. Eric Gagne (Montreal, Quebec)
Gagne didn't learn English until he got to college, but le strikeout had to be part of his vocabulary. Among his honors: Cy Young Award in 2003 with one of the greatest relief seasons of all time, and a three-time All-Star (2002, 2003, 2004). Among his numbers: 152 saves for the Dodgers, including a record 84 straight.
6. Mike Vanderjagt (Oakville, Ontario)
Vanderjagt is the most accurate field-goal kicker in NFL history, holds the record of 42 straight without a miss, and is the Colts' all-time leading scorer. In 2003, he notched an incredible perfect season, (37-37 FGs, 46-46 PATs), becoming only the fourth kicker in NFL history to achieve the feat (and he was the most prolific – only the 35-35 Gary Anderson comes close).
5. Larry Walker (Maple Ridge, BC)
Walker has won three NL batting titles, was named the 1997 MVP, and is a five-time All-Star, which is all just a fancy way to say he's the second-greatest Canadian major leaguer ever. Bonus point: a former goaltender, he used to be teammates with Cam Neely. Double bonus: began his career with the Expos, a team that used to play in Canada. Weird fact: Parents Larry and Marry named their sons Gary, Carey, Barry, and Larry.
4. Steve Nash (Victoria, BC)
Hair Canada is mega-cool, and we're not just band-waggers when we say that. He played for a Blue Devils team we can root for (that would be the St. Michael's University School Blue Devils, which, Canadian-like, is a high school team), and averaged a triple-double his senior year. But nobody noticed – not even the Duke Blue Devils, who were among the many teams who ignored the highlight reel his coach sent.