By Jeff Merron
Page 2
Marcus Vick seems to be taking his place in a long line of early self-destructors. Some athletes who do everything they can to inhibit their own careers manage to bounce back -- often because their incredible talent ensures they'll get plenty of second, third and fourth chances. Others? Not so fortunate. Will Vick the Younger bounce back? Part of it depends on the outcome of his current case, of course. But part of it will just be good old mojo. Let's have a look at some priors.
Randy Moss
You might think we're referring to Moss' 2002 arrest for pushing a police officer with his car, an incident that landed him in jail for two days. (He later pleaded guilty to misdemeanor charges of careless driving and obstructing traffic.) We're really thinking back to 1998, when Moss should have been one of the top picks in the NFL draft. But the Marshall University star had a rep -- Notre Dame pulled a scholarship offer after he was convicted of pummeling a high school classmate, Florida State said goodbye after a positive marijuana test, and Moss was charged with domestic battery while at Marshall. So he slid, and slid, and slid in the draft, with the Bengals passing on him
twice
before the Vikings took a chance on him with the 21st pick. Moss went on to win Rookie of the Year honors for Minnesota. Art Schlichter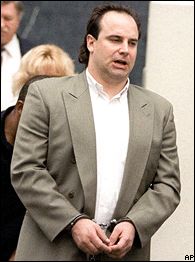 AP
A gambling problem handcuffed Art Schlichter's pro career.
Drafted No. 4 overall by the Colts in the 1982 draft, Schlichter -- a star QB and four-year starter at Ohio State who had been named to the All-America team in 1979 -- seemed golden. The unintentionally ironic title of his 1981 biography was "Straight Arrow." But Schlichter gambled away his $350K signing bonus, was suspended by NFL commish Pete Rozelle for betting on NFL games, and was given his walking papers after the 1985 season. He resurfaced later as an Arena Football League player and confessed, to the likes of Phil Donahue, his problems with compulsive gambling. Apparently, he never got to Step 2 of the 12-step recovery program. His prison-uniform collection is far into the double digits, as he's served time for theft, fraud, money laundering and so on. Schlichter played in a total of 13 NFL games, passing for 1,006 yards.
Josh Hamilton
In 1999, Hamilton began his career as a can't-miss outfield prospect who'd been drafted No. 1 overall (ahead of Josh Beckett) by the Tampa Bay Devil Rays, who gave him a $3.96 million bonus to sign. His progress up baseball's food chain, though, was slower than expected; and by 2004, after the first of a series of failed drug tests, it stopped altogether. He was suspended for 30 days in February 2004 and then flagged at least two more tests while he was under suspension. As the drug violations mounted, so did the suspensions. MLB eventually barred him from the game for the entire 2005 season. Lawrence Phillips
In 1995, Phillips, a star junior running back at Nebraska, pleaded guilty to misdemeanor trespassing and assault after he dragged and hit an ex-girlfriend, according to police reports. Phillips was suspended for three months, then came back to lead Nebraska over Florida for the national title, rushing for 165 yards and scoring three TDs. That first incident, though, was just the beginning. A truncated chronology:
January 1996:
Announces he'll forgo his senior year and enter the NFL draft.
June 1996:
Charged with drunken driving in Los Angeles; later pleads no contest.
February 1997:
Arrested for disorderly conduct at a party in Omaha; eventually serves 23 days of a 30-day jail sentence.
November 1997:
Rams put him on waivers the day after he misses practice.
December 1997:
Signs with Dolphins... Etc., Etc., Etc. Phillips' career ended in 1999; he'd played in 35 games for the Rams, Dolphins and 49ers over the course of four seasons, gaining just 1,453 yards. Allen Iverson
While a high school junior, Iverson was convicted on three felony accounts after a bowling-alley brawl -- a conviction that was later overturned. After his rookie season in the NBA, he was arrested again, this time for carrying a gun and possession of marijuana. He pleaded no contest on a concealed weapons charge. In July 2002, just a few months after being named NBA MVP, he allegedly entered a cousin's apartment with a gun after a domestic dispute and threatened two men along the way. He was arrested on 14 charges, including assault. The charges were later dropped.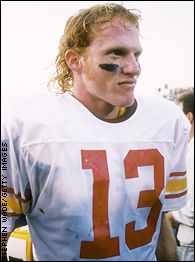 Getty Image
Marinovich liked all things recreational, if you catch our drift.
Todd Marinovich
Marinovich's QB career path started in the womb; he self-imploded anyway. After a tremendous high school career, he went to USC and led the team to the Rose Bowl his freshman year. But drug charges and suspensions from the team marred his college career. The Raiders nevertheless selected him in the first round of the 1991 draft, but he played only eight games for Oakland in '91 and '92 before getting the boot for even more drug charges. He later played in the CFL as his personal problems -- including a sexual-assault charge -- continued.
Tonya Harding
Harding had potential. She won two U.S. Figure Skating Championships, scored a first for American women by landing a triple axel in competition, and seemed destined for greatness. Shortly after what turned out to be her career peak in 1991, though, she hit the skids, skating poorly during the next two years. But that was just the prelude to her role in the knee-bashing of competitor Nancy Kerrigan during the 1994 U.S. Championships. The plot, set in motion by her husband, Jeff Gillooly, proved effective in the short run. Harding won the Olympic Trials. But the attack on Kerrigan was quickly traced back to the Harding household, and she admitted to helping cover it up. She managed to avoid being kicked off the U.S. Olympic team by threatening legal action and went to Lillehammer. There, she finished eighth after breaking a shoelace during competition. Kerrigan won silver. Harding went on to a series of arrests and various sports-career moves, including boxing. Matt Harrington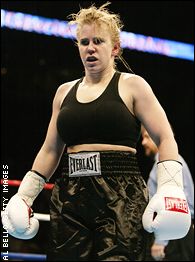 Getty Image
At least Tonya Harding found something to fall back on.
Say who? The Colorado Rockies plucked the California high school pitching wunderkind with the seventh pick in the 2000 amateur draft. Harrington might have gone even higher, but teams weren't thrilled to hear he'd demand at least a $4 million signing bonus. He turned down a Rockies offer that topped that by at least $500K, waited another year, then turned down $1.25 million to sign with the Padres. He was drafted three more times, sliding lower and lower and lower; and by 2004, according to ESPN.com's Jerry Crasnick, Harrington was "washed up" and working at Target in the offseason.
Maurice Clarett
After the running back led Ohio State to the 2002 national title, he was suspended for breaking NCAA rules and falsely reporting the contents of a theft from a car. Clarett then tried to jump to the NFL, mounting a legal challenge to allow him to enter the draft early. He lost that case; and then, when he became eligible in 2005, he was selected in the third round by the Broncos despite 40-yard-dash times of 4.72 and 4.82 at the scouting combine -- just a l i t t l e slow. The stopwatches didn't lie: The Broncos cut the underperformer in camp. Just over a week ago, he was arrested and charged with aggravated robbery, accused of robbing two people at gunpoint in an alley. Greg "Toe" Nash
In January 2001, Nash established himself as a bona fide classic phenom when ESPN's Peter Gammons told
his story
. We all double-checked our calendars -- nope, it wasn't a Sidd Finch-style April Fool's prank. Toe came out of the swamps, hunted down by a scout named Benny Latino. "I couldn't believe what I saw," Latino said. "He hit one homer from the right side, about 380 feet. He hit one from the left side more than 400 feet. He pitched and was throwing in the 90s and blowing people away. He was 'The Natural.'" Tampa signed Toe, who got his start hitting bottle caps with a broom handle (true). In his first minor-league season, in the Appalachian League, Toe hit .240 with eight HRs and 29 RBI in just 47 games -- not great, but not shabby for an unpolished apple. But the 6-foot-6 teenager went far, far astray, getting arrested five times within a year. Then, as a 19-year-old, he was arrested, charged and convicted for raping a 15-year-old girl. He served eight months in prison, was picked up by the Reds and then cut when he violated parole.