After two and a half days in Harbin, it was off to QiQihar, a three-hour train trip away. It almost didn't happen. Airhead that I can be, I left my bag with my passport back at the arena, but when we returned it was gone. We immediately called the U.S. Embassy, whose representative informed me that it would take about 10 days to replace the document. While I contemplated that, I received a phone call from the arena to tell me that a skating instructor had found my bag and had it safely stowed away. Whew!
QiQihar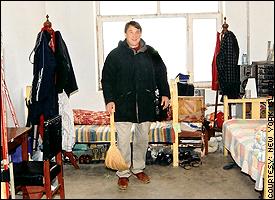 But some of the players' living quarters leave quite a bit to be desired.
I awoke in QiQihar to a howling snowstorm that would have shuttered Garden City Long Island for days, but it seemed to hardly faze the hearty residents of this city. At about 6 a.m., there were thousands of residents pedaling precariously through the snow to get to work. And after an interesting breakfast including duck eggs, I got a look at the pride and joy of the hockey community here, the recently completed 4,500-seat arena. As you enter, you pass through a marble-floored foyer with two 6-foot urns set on either side of a championship trophy. The first thing you notice as you enter the hall is its roof. It sports three enormous glass panels that allow enough light into the building to play or practice in the daytime without so much as turning on a light. The meeting rooms were paneled in cherry and could serve as the boardroom of a major corporation. Even the referee's room was wonderfully designed, with a tea table and service in the middle of the room. The skate-sharpening room gave me a chuckle. It was designated as the "Whet the knife room." All in all, this was a great venue.
The members of the QiQihar Leopards held a practice for me. It was at a similar level to what I witnessed in Harbin. The players still impressed me with their work ethic, and the coaches seemed to have a good handle on how to run a practice. During the course of the day, I was able to spend time with the coaches and players. The coaches asked tons of questions, and the players were courageously honest. In a private meeting, they confided that they would like more than one day a week at home. Having had a chance to see their dorm rooms, with bare cement floors and three or four people to a room, I could sympathize. Their biggest concern, however, was what they would be doing in their post-hockey careers. Sadly, they had seen some of their retired players suffer in the transition to the real world. I raised some of these issues with Mr. Yu Gui Fu, the vice director of the sports office of the city, and he was appreciative of the information. I just hope practice time hasn't been moved to some ungodly hour after their complaints. I found it a little ironic that this NHL GM was pushing for labor rights on this side of the planet!
Beijing
The QiQihar to Beijing overnight train bears no resemblance to the Orient Express. Fourteen hours in a 7-by-8 sleeper car with my interpreter and two strangers! All I know is Mike Picker, our senior VP of operations, was pleased with this arrangement. Not only had I opted for the cheaper way to get to Beijing, but I saved a night's hotel room fee as well.
Mike
Milbury
HOCKEY DAYS IN CHINA