By Alysse Minkoff
Page 2
SAN ANTONIO -- Approximately 550 miles separate the men's and the women's Final Four(s). So we wondered: Is it possible that Husky fans might be crazy enough to witness the history possible in one Division I school winning both national basketball championships in the same season?
Who would have enough spunk, stupidity, ready cash and NoDoz to attend not one but two Final Fours in the same week.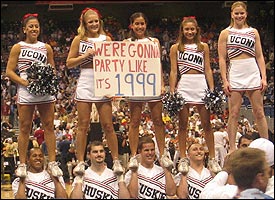 There's been much to cheer in recent years.
Page 2 combed the bars on the River Walk in San Antonio, where the UConn men beat Georgia Tech 82-73 on Monday night. Scoured the River Center Mall. And finally, trekked up and down the treacherous stairs of the Alamo Dome itself, in search of that greatness.
We found it. And there is good news and bad news: There were a few people ready, willing and able to pull the stunt off. The not so good news: Most of them were over fifty. Come to think of it, maybe that's not bad news after all.
Michael and Paul Polo (father and son) have followed the Huskies since the late '80s. We begin with their story.
"We started here in San Antonio," said Michael. "We stayed for the Final Four; and then the next morning, we flew to New Orleans at seven. Got there around noonish. Got our tickets and went to the (women's semifinal) game that night. When was that? Friday night?"
Clearly, sleep deprivation was taking its toll. The women's semifinals were played on Sunday.
"It was late. Then we went out to Bourbon Street. We only got about four hours of sleep. We left for the airport at 5 in the morning, and here we are on the River Walk! We've been hanging here. We hit a few pep rallies."
Paul is quick to add, "The food is definitely better at the pep rallies in New Orleans."
There were other, more important, factors to consider. Ever-practical Michael offers, "The booze prices are the same. Went to Pat O'Brien's there, but not here. We went to Howl at the Moon here, and in New Orleans, too. The better one is here. Honestly, I like San Antonio better than New Orleans. Way too many drunk people in New Orleans. But we had to do it. It was a once-in-a-lifetime event."
Another stroll down River Walk, and I run into "Big Red," a really loud fan who always starts the crowd cheering "U-C-O-N-N!" He gives me the cell-phone number of a Joe Manchetti, another Huskie-maniac who is on the road somewhere between New Orleans and San Antonio.
"I flew on Friday from Hartford to Baton Rouge, and drove to San Antonio," said Joe. "Took me about seven hours. We were tired. After the Saturday games, we walked back to the hotel -- for about a mile. I took a shower and a power nap for a few hours. Totally forgot about Daylight Savings Time.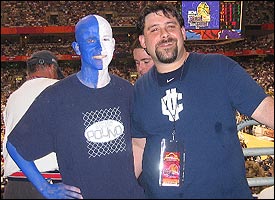 No rest for Dale Nossel and Joe Menchetti.
"Got up at four in the morning and was gone by 4:45. Made a stop at a gas station just over the border and took a half-hour nap, and got in about 1:30 in the afternoon. Got to the games. Went back to our hotel, which was a dump; and woke up at 9:30 on Monday morning, not sure where I was. Hit the road by 10:15."
He is just getting started.
"Thank God I had a good night's sleep. And I had UConn freshman Dale Nossel as my designated driver, so I could kick back and read the paper. We'll get there around six, and I'm still not sure if we're leaving tonight or tomorrow morning. "San Antonio is a hell of a lot more fun than New Orleans. River Walk is just great. I'd really like to see the Alamo. And by the way, River Walk is so much better than Bourbon Street -- it doesn't smell."
Joe takes a beat.
"I'm going to put about 2,700 miles on this rental car. I'd better have unlimited mileage on my rental contract. Probably not the best moment to realize this."
There were a few who thought the double-dip trip was a good idea, but lacked the necessary gumption to try it. Henry Lesinski (UConn '78), in San Antonio with his posse, was quick to admit to his wimpiness.
"I was going to hire a Town Car to take us back and forth," he says. "But let's think about it for a moment: Five guys. Two days. No showers. And then I decided, 'Let's go get drunk instead'."
Good idea.
Die-hards Joe and Joan Segal decided it would be smarter to fly into New Orleans first.
"We figured the women would make it," said Joe. "We weren't counting on the men. It was easy to get flights, but hard to get hotels. We love Southwest Airlines."
On Friday night, this dynamic duo flew to New Orleans. On Saturday morning, they flew to San Antonio and saw both games.
"We were exhausted," sighs Joan. "On Sunday morning, we flew to New Orleans. Watched the women play both games, and then we celebrated at Café du Monde in the French Quarter."
"We didn't get back until 1:30 in the morning," says Joe.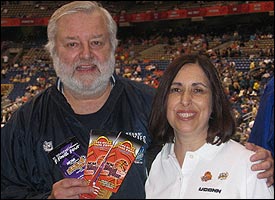 Joe can put up with his wife's vanity as long as the trip to New Orleans isn't in vain.
"And I had to get up at 6:30 and wash my hair," says Joan.
Joe rolls his eyes in a way that only a happily-married man can when his wife is being ridiculous.
"We're staying in Austin tonight," Joe moans.
Technical note: Austin is a little more than an hour away.
"And we're flying to New Orleans, and we go home on Wednesday."
Good thing the Segals have a massive amount of frequent flier miles. They're keeping the cost of this adventure to well under three grand.
"We also like River Walk much better than Bourbon Street," says Joan, the one with the clean hair. Three other couples, all great friends, are sharing the adventure.
Al and Donna Feir, self-described "psycho" UConn fans, also had the New Orleans trip planned well in advance. However, six flights in six days has left Donna a bit disoriented.
"I walked up to the ticket counter this morning," she says when I encounter the couple in the Alamodome. "And when the agent asked me where I was going, I said, 'New Orleans'."
Al adds, "There was one problem with that. She was in New Orleans."
"I just told her I'd be telling the agent in San Antonio the same thing tomorrow morning," says Donna Feir. "This is history. How could we possibly miss it? We couldn't get a flight out of here tomorrow, so we're driving to Austin."
Oh dear.
"We're too old for Bourbon Street," says Al.
Mr. Six-Flights-in-Six-Days is too old for a Hurricane and a lap dance? I think not.
"This has cost us about three grand," Al says. "Plus hot dogs."
And then Donna points out something that should have been painfully obvious to me.
"I know there aren't a lot of students here," she says. "It's a long way, and classes are in session. But look at where they put the kids."
She points up. UConn's students are smushed under a balcony behind the basket, while the school's donors and alumni have seats on the floor. No other team in the men's Final Four arranged its seat allocation like that.
Not cool.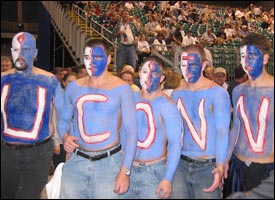 How'd these guys manage to find San Antonio?
"It really should be about the kids," says Donna as she points to the sea of yellow-clad Georgia Tech fans that started the championship game at courtside. "It's really a shame. And it gives Tech an unfair advantage."
So where were the kids? I ask five fellows whose body paint spells out U-C-O-N-N if they know of any students who managed to make it to both games. They don't.
Kathy and Rich Ramondetta, though, have made the trek back and forth by plane.
"The kids can't afford it," says Kathy. "We really need to get more kids involved, and more kids on the floor, like Duke."
"I wouldn't mind moving back if it meant the kids could sit closer," Rich offers.
Eventually, I find freshman Dale Nossel -- Joe Manchetti's wing-man who has driven back and forth between San Antonio and New Orleans. He's covered from head to toe in some serious body paint.
"I left Storrs on Thursday," he says. "Spent the night in Houston and then drove to San Antonio. Then chilled on Friday and Saturday. I spent the first game in the bathroom putting on the paint, and celebrated all night long and caught a ride to Houston. Totally forgot about Daylight Savings time, and went to bed at two. It was really three. Left for New Orleans at noon and got to the games by around 6. I spent the second half of the Tennessee game putting on my paint."
Of course. What else would a UConn student do when the Lady Vols are on the court?
"I shaved my head again," he laughs. "Left at around 10 this morning and we got here around 5:30. Got into the Dome around 7:15, which gave me about an hour to do my paint."
Dale might be a freshman, but he's got his A-Game together. He had always planned to go to both Final Fours, even if he was unsure of his road-trip readiness.
"I'm not worn out so far," he smiles.
Life's good when you're a freshman and can live on pizza. His budget: around $1,900, including tickets, airfare, hotel and the occasional slice of pizza.
"Can't eat during the games," he says.
By Tuesday afternoon, Dale and Joe will be back on the road, heading to New Orleans to watch the UConn women try to make history. And, oh yes, they want to be back in Storrs in time for the rallies. Both of them.
That bit of history won't happen. UConn's men's team scheduled it's welcome-home rally for Tuesday afternoon in the school's Gampel Pavilion -- hours before tip-off in New Orleans.
When not searching for her sixth man, Alysse Minkoff has written for ESPN 360, Ladies Home Journal and Cigar Aficionado, and can be reached at AGirlReporter@aol.com.