By Brian Murphy
Special to Page 2
Here at The Hangover, we love math.
I can do math. I got 610 on my math SAT -- which in 1985, was cool. I was legit. Nowadays, if a kid doesn't score 800 on his math SAT, his parents slow-roast him over an open flame with an apple stuck in his mouth and the words "NO IVY LEAGUE FOR YOU" written in Sharpie ink across his distended belly. Poor kid. Yo, Bucky: 610 is good by me.
So this week's Hangover is a math word problem. It goes like this:
If the New England Patriots go 4-0 to start the season, and the New England Patriots have won 18 straight games (regular season and post-season) to tie an NFL record, what is the Patriots' 2004 projected record?
I got this one down cold. I am projecting New England to go 16-0 in the regular season. I am also projecting the Pats to go 3-0 in the post-season. That math projects to a New England Super Bowl title.
In fact, that math projects to the Pats NEVER LOSING, EVER AGAIN.
I told you: I got 610 on my math SAT. I'm legit.
This claim of legitimacy, of course, flies in the face of you outraged e-mailers who pounced on a math mistake made in The Hangover last week. Because I am sometimes just a barely-functioning moron, I calculated that teams which start 0-3 have a 0.56-percent chance of making the playoffs.
In fact, those teams have a 1.78-percent chance of making the playoffs.
It was late. I might or might not have been imbibing, as far as you know. And, naturally, there's also a reason I didn't score 800 on the math SAT.
Woe is the man who makes a math error at The Hangover. The Math Police pulled me over, made me spread 'em against the Car of Credibility and frisked me until they found my malfunctioning calculator tucked into my right sock. When I saw the blinking e-mails in my rear-view, I tried to ingest the calculator. But that only works in movies like "Midnight Express."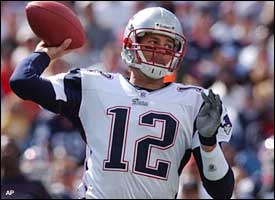 It's official, the Pats will never lose again
I got crushed by you guys.
Anyway, apologies.
Can't we all get along?
What, a weekly discussion of Meat Sweats isn't enough to buy some goodwill around here? (That's right, you sickos. More Meat Sweat conversation to be found below.)
Besides, I've got more math for you.
Terrell Owens caught eight balls for 110 yards and a TD in Philly's win at Chicago. That gives T.O. six TDs through four games. SAT Question: How many sit-ups will T.O. do before the Eagles win the Super Bowl?
OK. He did six on Sunday in Chicago. He has six TDs. If he keeps up this pace, he will catch 24 TDs, an all-time NFL record which will break Jerry Rice's 1987 mark of 22 TD catches in one year.
My math says: Not only will T.O. do 24 sit-ups before the Eagles win the Super Bowl, but the Eagles, at 4-0, will go 16-0 in the regular season, 3-0 in the post-season and, as stated, win the Super Bowl.
In fact, my math has projected the Philadelphia Eagles NEVER LOSING, EVER AGAIN.
My math is so good, it reminds me of one of my Favorite All-time NFL Quotes, sent on by reader Tim Taormino from Baltimore, who remembered ESPN's own Joe Theismann saying: "A genius is somebody like Norman Einstein."
(And yes, your favorite quotes can be found below, too. What, you think I forget who drives the bus around here? It's you. All you, and remember, page2murphy@yahoo.com is your ticket to international Internet fame.)
You wonder why my math is bad. I follow a sport where Week Four means eight teams, after tonight, have only played three games.
Nobody told me I had to factor the bye week into my SAT answers.
We move on, to more Hangover Mumblings:
Players we love, Week Four
Emmitt Smith, Troy Polamalu, Reche Caldwell.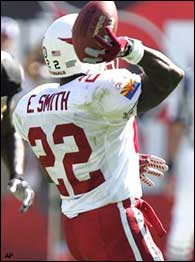 Emmitt is the best QB the Cards have seen in years.
Emmitt! Emmitt! Wherefore hast thou been, Emmitt?
Was it me, or did Emmitt's dynamite effort in Arizona's win over the Saints seem like something from an alternate reality, a Bizarro world where Emmitt Smith, one of the greatest running backs ever, comes back to Earth in an Arizona Cardinals jersey, proceeds to throw a TD pass, run for another TD and lead the Cardinals -- the
Cardinals!
-- to victory?
Or am I having more "Meat Hallucinations" after another Sunday of protein overload?
As for Polamalu, his TD return of a Carson Palmer interception to seal the Steelers' win over Cincy was significant for two reasons:
1. He put himself in the lead for Runback/Run of the Year.
2. He called to the forefront a major issue -- excessive hair spilling out of NFL helmets. It's a THING now, this Hair Issue. Cruise your DirecTV dial and you'll see Cousin It-like locks spilling out of every game: Oakland's Ray Buchanan, Green Bay's Mike McKenzie, Houston's Jamie Sharper, Polamalu. The list goes on. That's not even to mention David Carr in Houston, who had that creepy pact with his Dad not to cut his hair until the Texans won two straight.
In Carr's case, it's cool. Yeah, trying to make a statement and all. Hey, Houston: I am so devoted to you, I will pander to you with the hair thing.
For Carr pere? Not so cool. A quick crowd shot showed Papa Carr developing a disturbing mullet, which in no way, shape or form screamed "I'm a Texan fan till the end!" Instead, it screamed: "I am currently sporting a fierce mullet! Check it out. How bad is my mullet? Don't I look like a guy on the back of a muni bus?"
When your kid makes millions, you do wacky things.
As for Caldwell, whoa, doctor! Did you see his one-hand snag and 58-yard TD run in San Diego's big win over the Titans? I was immediately cast back to the days of John (J.J.) Jefferson, perhaps the most spectacular receiver who ever lived. J.J. made more eye-popping catches than any receiver I've ever seen, which might have accounted for why J.J. wore goggles -- to catch his own popped eyes.
Best Goggle-Wearing NFL Player Ever: John Jefferson? I submit this to you, dear reader.
Immediately re-considering Polamalu's runback
On second thought, Polamalu's runback might not have even been the best TD run of the day.
The Raiders' Amos Zereoue broke a 55-yard scoring trot against Houston that featured not one, not two, not three, not four, but five cutbacks.
The cutback! The Lost Art of the Cutback! You watch an NFL Sunday, you don't see many cutbacks. And you never see five in one dashing, breath-taking run that ends in paydirt. I had the under at 3.5 on Zereoue Cutbacks on the Vegas line. I lost.
Zereoue and Polamalu -- tied for the lead in Runback/Run of the Year.
I do believe that might be the first time in the history of the English language that those particular words have been strung together in consecutive fashion.
Ricky Williams/THC Watch
Never fear. We got another dose, so to speak, of that magic confluence between our Sunday heroes and the world of narcotics when word broke late on Saturday that Baltimore's Jamal Lewis is "near a plea agreement with federal prosecutors" to serve jail-time in the off-season.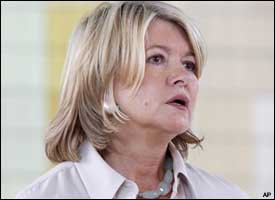 Wonder if Jamal will call Martha Stewart for advice.
There you go, fathers of America. When tucking your kid into bed tonight, on his NFL Helmet sheets, point to the Ravens headgear and say: "Look, Joey. That's a Ravens helmet. And if things go well, Jamal Lewis will cop a plea with federal prosecutors!"
And little Joey drifts off, dreaming of cutbacks with a cop car in pursuit.
Your quotes
Speaking of the Baltimore Ravens ... as expected, my bright and literate readership responded in kind when we wondered what your favorite all-time NFL quotes are. Ryan Mikkelson from North Dakota said that it's never been any more poetic for him than when Baltimore's Ray Lewis, on MTV's "Cribs," showed off his closet, resplendent with fur, and told the camera: "Deez is my minks."
On a more traditional note, many of you cast votes for John McKay's infamous "I'm all for it" when asked about his players' execution. Almost as many thought I picked the wrong Jim Mora quote last week. You all preferred his famous "PLAYOFFS?" rant. Fair enough.
Shannon Sharpe has his fans, lisp and all. Caitlin Smith from Brockton, Mass. enjoyed Shannon's CBS proclamation: "If I tell you grass is going to turn to cheese, you better start hustling crackers," uttered after he did well prognosticating. Patrick Sickels remembered Sharpe's in-game bark, picked up by NFL Films: "Someone call the National Guard, 'cause we are killing the Patriots!"
There was, of course, reader Tim Baker, who conjured up Joe Namath's epic, "I could care less if the team is strug-gl-ing" in Namath's put-it-in-a-time-capsule interview with Suzy Kolber. (Side note: The wife and I still use variances of Namath's elongated "strug-gl-ing" enunciation in everyday conversation. And last March, after closing time in an Arizona bar during spring training, one of my pals sneaked a bottle of Coors Light out in his pants, unearthed it from his jeans on the street and shouted: "I could care less if the beer is SMUG-GL-LING!" Anyway ... )
Matt from N.Y. recalled Ricky Watters' legendary "For who? For what?" -- a little splash of existentialism at the Vet.
But my favorite for creativity has to go to James Norman, who went Tennesee (Titans) Williams on us and wrote, "It's more of a stage direction than quote, but ... . 'Dick Vermeil: (cries)'"
Now, that's quality material. You can hang at The Hangover anytime, Jimmy.
Al Davis Watch
After whiffing again on a Big Al sighting -- and for or money, I even watched the Raiders-Texans game! -- I come to you, Hangover denizens. I ask you to wear a bracelet from now on that features the initials: WDAW?
What Did Al Wear?
Thankfully, many of you reported on the black leather outfit from the Gruden Bowl game. Al is 2-0 in the black leather now -- which doesn't tell half the story. He also took part in the game-day promotion for the release of the "Star Wars Trilogy DVD," and a passionate reader emailed me a link of Al shaking hands with a guy in full Darth Vader costume. No, not a "Black Hole" denizen half-assing it. This guy was full-on Darth Vader. Could have been James Earl Jones inside the suit, for all I know. Al was shaking his hand with what appeared to be total sincerity. It's a photo on par with the Elvis/Nixon/Handshake/White House pic, for sheer classic status.
Or, you know, the storming of Iwo Jima.
In fact, if you go to this link and click on the 9/26/04 gallery, and then click on Photo No 5, I believe your day will be made.
Since the Raiders lost in Houston, I'm guessing Al went with the white leather. Perhaps it's that simple: He wears white on the road, black at home. I hope not. That would kill one of my favorite Hangover items.
Philly, of course
Speaking of favorite Hangover items, the Philly crew continues to make itself heard. You know the deal: For sheer humor and passion, blended with unspeakable heartache, I consider Philadelphia to be the greatest sports city in America.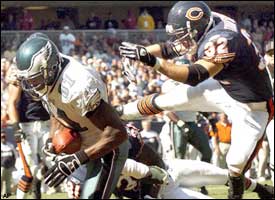 T.O. isn't the only dose of good karma bestowed on Philly this season.
You also know that I don't consider it a coincidence that the Eagles are 4-0 since The Hangover adopted the City of Brotherly Love. Thank me later.
Anyway, to the Mailbag:
Philly Email No. 1: From reader
Stu Macaleer from Centreville, Va.
: "While tailgating prior to an Eagles playoff game two years ago, I was trying to figure out where the Port-A-Potties were in the parking lot. I finally got the answer from a season ticket holder: 'After the game last week, we burned it down. Just go and p--- over there.' He pointed me to a side of a building on a fairly crowded street with a cop standing right there. I walked up, timidly. The cop says to me: 'Go ahead and p--- on the building like everyone else, son.' Gotta love Philly."
(Hangover Note: Where would I be without Philly/Bodily Function anecdotes? Lost, I say. Lost!)
Philly Email No. 2: Reader Mike Barrett from Philly follows up on last week's email about Pennsylvania Gov. Ed. Rendell offering Eagles post-game commentary, and sends along a tale from our own Sal Paolantonio about a scene at the Vet a few years back: "A very prominent attorney was taking bets that nobody could throw a snowball and hit the Cowboys bench from (the upper deck). By the fourth quarter, the police were involved, and after the game Jimmy Johnson needed an escort through a hail of white projectiles. Of course, the snowball-throwing contest became bigger news than the game itself. The next day, that famous attorney's name was revealed in the Philadelphia Inquirer. His name: Edward G. Rendell. Two years later, he was elected mayor of Philadelphia."
Philly Email No. 3: Oh, boy. I hesitate to run this one, so much that I won't use this guy's last name for fear of his safety. Barry P. writes in to say: "What's the big deal about Philly fans? They're the ultimate fair-weather fans, giving up on their teams long before the season is truly lost. They're obnoxious and overbearing. They refuse to listen to reason, even when faced with incontrovertible evidence. They all wear their team jerseys the day after a win, not the day of a game; and if the team loses, they won't discuss it all."
Philadelphians, I give you Barry P.
Barry P., I advise you go with the fake nose and mustache for the next couple of days.
Champ Bailey/Clinton Portis Scales of Justice
Last week, The Hangover did not include this item because Clinton Portis' Redskins played on Monday night, meaning it would be unfair to judge only one-half of the goods in the NFL's Biggest Trade Since Herschel.
Both parties were at it on Sunday, though. We sift through the facts, and find the following:
In Denver's win at Tampa Bay, Bailey had two tackles, no interceptions, no catches on offense -- but the Broncos won and Tampa Bay passed for only 159 yards.
In Washington's loss at Cleveland, Portis carried 20 times for 58 yards (2.9 yards per carry), caught two balls for 15 yards, and lost a fumble that was, by all accounts, devastating.
The final word in the Week Four battle? From Portis: "My fumble changed the momentum."
Denver is 3-1. Washington is 1-3.
Round 4 goes to Bailey.
We meet again next week.
Pull up your drawers, Damien
The ongoing debate over whether Atlanta punter Chris Mohr soiled himself in a September, 2003, game has led many readers to ponder other horrifying moments in gridiron history. Most found the Week 3 Damien Woody/Plumber's Crack Incident to be equally scarring.
The deal: In the Eagles' win at Detroit last week, a Fox camera caught Woody's pants in repose. Readers recoiled in horror.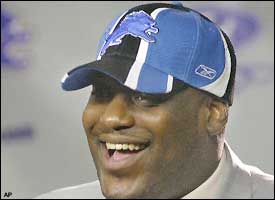 Kids, we've been saying it for years -- crack kills.
Wrote Mike from South Jersey: "I found Damien Woody's wardrobe malfunction much more disturbing than Janet Jackson's. Does this mean all NFL games will now have a 30-second delay?" Stacey in San Diego wrote: "Am I the only one who witnessed a gratuitous butt shot during the Eagles-Lions game? I swear, there was a Lions player with his butt hanging out. I thought it might just be his pads, but there was a pink Band-Aid on the right cheek. Was I just hallucinating?"
Apparently not. Reader
Jason Rugg
reported that he had trouble sleeping after the Woody/Moon Incident; and
Paul Manion
, the Hangover's very own mascot, said his wife peered over her People magazine to witness the incident when Manion cried out that there were hams on the TV. Manion's wife spotted the Band-Aid, too.
It had to be true. Manion wouldn't lie to us.
More reader rants
When a doctor of any kind writes in, we take heed. So it was that Ph.D.-owner Neil Simonetti sent an email to help The Hangover with rudimentary math skills. "For perspective," Simonetti wrote, "there is: A one-in-36 chance of rolling 'snake eyes' with one roll of six-sided dice. A one-in-52 chance of drawing the ace of spades from a shuffled deck of cards. And, a one-in-52 chance of Paul Manion getting mentioned for a fourth consecutive week."
Whoever had the money line at 52-1, go collect!
And on the case of the MLS Curse, readers ripped The Hangover for pointing the finger at Kansas City's Arrowhead Stadium, when in fact our very own Super Bowl champion New England Patriots share a pitch with the "Four Four Two" crowd. Most took it as a diss of the beautiful game, which is absurd because any Water Cooler reader of the past four years knows of my passion for the World Cup.
Anyway, Nathaniel T. of Gaithersburg, Md. was so ticked, he wrote: "I won't pretend the MLS is going to overtake the NFL anytime soon, but it wouldn't surprise me that by the time you're an old hack of a writer (which only requires aging, as you're already a hack), MLS will be one of the Big Four."
And Wichert Kuijt of Boston brings up the best point: "Are you freakin' kidding me? You think this is frustrating? At least in the U.S., there are more than 10 people actually playing soccer. We fans of AFC Ajax from Amsterdam get our FOOTBALL pitch wrecked by some fringe NFL players who get dumped in Europe."
That has to hurt. Good thing Amsterdam has legalized hash. That'll take the edge off in a hurry.
We would be remiss if ...
... there was no update on the "Meat Sweat" emails. I'm happy to report that emails have poured in from the beef capital of the universe, Argentina -- where reader John Hays in Buenos Aires howled in disgust at the thought of grass-fed Argentinian beef not getting its due for the purity of its ability to induce 'The Sweats.' Wrote Hays: "(Argentina's beef) is a leaner beef, with a much-better marble. The Sweats are simply part of the culture here. Having recently received the gold medals in Olympic basketball and soccer, I believe Argentina should be placed in contention for the Gold Medal of Sweats."
I'm all for it. That is, if it can beat out Milwaukee. Badger Staters had their Packers boxer shorts in a bunch last week, for different reasons. Peter from Milwaukee offered a defense of his town's obesity, saying "the reason that Brazilians are not as overweight as us Milwaukeeans is the fact that their 22 pounds of meat is not supplemented with equal amounts of cheese and cheap beer."
Excellent point? Not when reader Ethan from Milwaukee did some research and found that not only is San Antonio considered the most obese city in America (according to the American Obesity Association), but that Milwaukee isn't even ranked in the top 25.
Say what?!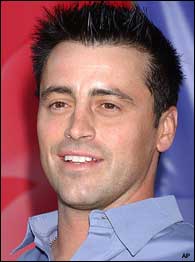 Friends!? Looks like we've jumped the shark with our sweats.
Ethan provided a link, but I won't replicate it. If you're interested in links, go back to the Al Davis link and soak in the beauty of the Davis-Darth Vader handshake.
The buzzkill of the week came from reader Coleen Ryan -- good Irish name -- who said the phrase "Meat Sweats" can be found in a "Friends" episode from years back, uttered by Joey after gorging on a Thanksgiving turkey.
Bummer.
I needed a pick-me-up after that one, and it was provided by David Kueter from Denver, who sent one of my favorite emails of the year. He went legit on us, and provided a link to a biological study of wolves in the wild. Wrote David "Wolf biologists recognize wolves as getting 'meat drunk' when they have gorged themselves on a meal." The article he linked said: "According to Dave Mech, the average wolf consumes as much as 22 pounds of meat in 18 minutes. 'Meat drunk,' the wolves usually rest, sometimes rousing themselves, as did these 11 Druids, to launch themselves at the opportunistic coyotes."
I have nothing to add to that. It's perfect, as is.
Final Week 4 Thoughts
Did you see Carolina go after The Hangover's guy, Mike Vick? Wholly unacceptable. We must change our "Free Mike Vick!" campaign to a "Protect Mike Vick!" campaign. It's up to Jim Mora to put on the 53-man roster an NHL-styled goon, whose sole mission is to take out anybody who messes with No. 7 ... Sometimes, when Peyton Manning is telling all 10 members of the offense about his next audible, making a big show of it, going to each guy on the line, maxing out his TV time, don't you just wish an O-lineman would turn and knee him in the groin with the admonition: "Just run the freakin' play we called and stop showing off, teacher's pet!" Maybe it's just me ... Tom Coughlin: Do we have to start appreciating this guy's work? That'll be tough. So joyless, he is. I say Giants players start going Old School Practical Jokes around camp to loosen the guy up. I'm talking all the standards: squirting flower on the lapel, whoopie cushion on his chair at a team meeting, handshake buzzer for post-game wins ... And finally, you know you're a Chargers fan if you can tell me who LaDainian Tomlinson passed on the all-time San Diego rushing list on Sunday. That's right, Paul Lowe. Paul Lowe. No relation to Nick. He played from 1960-68. Don't ask me for his stats.
That would require some math skills.
E-mail Brian Murphy at page2murphy@yahoo.com with thoughts, questions and unanswerable philosophical rants..