By Brian Murphy
Special to Page 2
Granted, no one has ever accused The Hangover of clear thinking, solid logical reasoning or well-formed arguments.
Shoot, what other column needs an "I Write, You Clarify" section every week?
But that's part of the charm -- the ability to enunciate, with clarity, that we are born into this world naked and that, when we have a Page 2 column, we continue to go through this world naked.
Thank goodness, parenthetically, the same is not true of Andy Reid, or Bill Parcells.
Anyway, back to the matter of Week 17's fuzzy math.
Explain to me the following:
Minnesota, at 8-8, loses seven of its last 10 games and makes the playoffs.
Or explain to me this:
Seattle, at 9-7, goes 3-3 in its last six games, and comes within one Warrick Dunn yard of spitting the NFC West title bit against a Falcons team that had clinched a first-round bye and played Mike Vick for one quarter. Yet, the Hawks proudly wear 'NFC West Champion' hats and shirts -- which is the NFL equivalent of being the World's Tallest Midget.
(Sudden thought: Somewhere in this world is, indeed, the World's Tallest Midget. I wonder if he can get a tryout with the Seahawks?)
Anyway, keep explaining to me this:
Buffalo, at 9-7, wins six in a row before stumbling, barely, to the 15-1 Pittsburgh Steelers and is denied playoff entry.
And riddle me this, NFL Batman:
The Saints finish 8-8 by winning their last four games, in the process becoming one of the league's most dangerous teams. Saints? Out.
The Rams finish 8-8 by losing four of their last seven games, in the process becoming one of the league's most exasperating teams. Rams? In.
I'm so ticked off about all this, I feel like doing a Danny Thomas Spit Take with my lukewarm spoonful of Parity Soup.
There is only one way to fix all this, only one way to remedy the NFL playoff mess.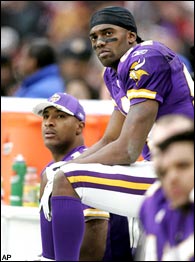 Randy Moss and the Vikings choked yet again on the final Sunday of the season -- and they still survived.
The BCS.
That's right. The BCS.
Install it in the NFL and we'd have coaches' polls and sportswriters' polls laying bare for all to see the great roll of Momentum.
The Vikings? They'd drop in the polls like 10,000 stones in a Minnesota lake.
The Seahawks? They'd be stripped of all championship gear and shipped out to the GMAC Bowl in Mobile, Ala.
The Rams? Mike Martz would never get sympathy in the coaches' poll, and St. Louis surely would find itself ranked behind the likes of Carolina and New Orleans.
The BCS, people. It's the cure for what ails you. I mean, besides college football.
Let's move Buffalo, the Saints, and the Jacksonville Jaguars into the NFL Playoffs, just like Utah and Texas and Pitt were moved into BCS bowls.
Let's bump the Vikes, Seahawks and Rams into the Mizlou Network/Pre-January 1 bowl slate, if for no other reason than to hear Martz stump for votes, or to hear Mike Tice tell his boosters: "Listen, the rules have changed since Bud Grant was coach. I can't have a program like he had."
Meantime, anybody up for a Patriots-Steelers Orange Bowl?
I thought so.
See? The BCS -- the cure for what ails you. I mean, besides college football.
Players we love, Week 17
Wes Welker, Muhsin Muhammad, Darnell Dockett
That's right -- our final PWL for Week 17 is a list of players whose teams missed the playoffs. The playoff crew will get plenty of attention in the next four weeks, so let's pay a final salute to the guys whose only worries now are twofold: 1) tee time availability; and 2) a good seat and agreeable module at the EA/Madden Bowl Super Bowl party in Jacksonville next month.
As for Welker -- well, this honor is long overdue. The 5-foot-9 (cough, cough), 190-pound (cough, cough) rookie from Texas Tech returned a kickoff for a touchdown in the Dolphins' spirited finale at Baltimore. Have you ever seen a 5-foot-7, 150-pound guy return an NFL kickoff for a touchdown? Let me rephrase that: Have you ever seen a 5-foot-7, 150-pound guy -- oops, I mean 5-9, 190 -- return an NFL kickoff for a touchdown since 1955?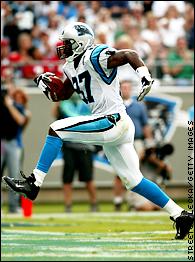 Getty Images
Carolina didn't make the playoffs -- but Muhsin Muhammad still had a stellar season.
Welker is the guy who, in a Miami game earlier this season, kicked a field goal, kicked a PAT, returned a punt and returned a kickoff to have the Greatest Sandlot Game in NFL history. You don't see that stuff unless you're watching a re-run of "The Little Rascals."
As for Muhammad ... would the NFC see a better receiver in the playoffs, had Carolina made it? With T.O. out in Philly, Muhammad finally got attention from a nation that watches "NFL PrimeTime" waiting for T.O.'s next dance. What we saw were 16 TDs, varied in their artistry. We've always known Muhammad was a stellar talent -- shoot, he caught a TD in the Super Bowl last year, and caught over 100 balls in 2000. But this year, he turned into T.O. South. Too bad we won't see him over the next few weeks. It was just getting good.
As for Dockett, well, you were probably like the rest of the 290 million humans who call America home and missed every snap of the Cards-Bucs game in Tempe. It didn't get much more meaningless than Arizona-Tampa Bay in the "late" game. It was borderline existential in its nihilism. And yet, Dockett, the rookie from Florida State who was a third-round draft choice, put on a ferocious display in the season finale for a Cardinal team on the rise. A sack, interception, fumble recovery and pass defensed left the Bucs' Simeon Rice impressed, as Rice gave a "special shout-out" to Dockett in his postgame quotes.
Cards coach Denny Green, meanwhile, won the Poetic Description of a Defensive Lineman Honor for the year when he described Dockett as "an explosive ball of barbed wire." Ouch! Early line in '05 -- Arizona to win the NFC West.
Players we may very well love in the playoffs, wild-card weekend
Doug Flutie, Shaun Alexander, Curtis Martin, Jerricho Cotchery
Douglas Richard Flutie! Born Oct. 23, 1962! Late of the New Jersey Generals, the Chicago Bears, the New England Patriots, the B.C. Lions, the Calgary Stampeders, the Toronto Argonauts, the Buffalo Bills!
Flutie's journey through football is in danger of becoming one of the most memorable careers ever to span the First-Term Reagan-Bush 41-Clinton-Bush 43 Era. In fact, I'd submit it's the only football career to span the First-Term Reagan-Bush 41-Clinton-Bush 43 Era. Yes, Jerry Rice counts, but we didn't know J.R. in college like we knew Flutie in college. Besides, Flutie continues to boggle the mind. He's the only guy in an NFL locker room who can walk by a player listening to U2's "How to Dismantle an Atomic Bomb" on an iPod and say: "I used to listen to 'War,' 'October' and 'Boy' on a Sony Walkman. How 'bout them apples, rook?" God forbid an injury to Drew Brees, but San Diego barrels into the playoffs with FlutieMania waiting in the on-deck circle. Too sweet.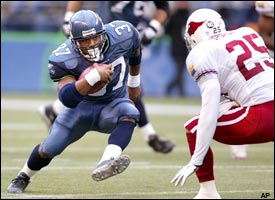 Seattle's offensive line has paved the way for Shaun Alexander's success.
As for Alexander, we salute him for coming up one yard shy of Curtis Martin in the NFL rushing race. We get to see Alexander again this Saturday against the Rams; and we'll know, and he'll know, and Martin will know: There is no way anybody can say with certainty that Martin gained one more yard than Alexander did. Think about the uncertainty of every spot an NFL linesman makes -- there's always, always, a few yards every week robbed one way or another by the spot. Multiply it by 16 games and ... shoot, Alexander might have won the rushing title by 50 yards. Or lost it by 50 yards. All we're saying is: Rest easy, Shaun. Unless your contract called for a fat bonus for winning the rushing title, you and Curtis can argue about bad spots until you have liver spots.
As for Martin, you probably did not realize (unless you are Fireman Ed chanting "J-E-T-S Jets! Jets! Jets!") that you've been watching the fourth-leading rusher in NFL history. I remember when Martin was drafted. I was covering the 49ers then. The Niners were looking for a running back in the post-Ricky Watters era. Word was, Martin was injury-prone and soft. The Niners passed. Excellent scouting report.
As for Cotchery ... I just wanted you to say his name: Jerricho Cotchery. It's my new favorite NFL name. Jerricho Cotchery. Guy ran a kick back for a TD in St. Louis, otherwise I'd never have heard of the fourth-round rookie from N.C. State. Now, I can walk around all day and say it: Jerricho Cotchery. Join me. Jerricho Cotchery.
Fun, isn't it?
Players we live in mortal fear of, all through the playoffs
Jim Sorgi, Rohan Davey, Tommy Maddox, Matt Schaub, Craig Nall
On a Week 17 of QB backups, we have seen what lies behind the Peyton Manning/Tom Brady/Ben Roethlisberger/Mike Vick/Brett Favre curtain, and it is not pretty. In fact, it's horrifying.
Run for your lives, NFL fans! It's Jim Sorgi on a waggle play!
NFL refs have one mandate this January: Protect our meal tickets.
We beg of you.
I write, you clarify
What's a New Year without some old miscues?
Sure, Baby '05 came swaddling in with his diaper around midnight on Dec. 31, but Old Man '04 still roared and spat angrily at The Hangover's oversights. I wouldn't have it any other way, dear readers. You keep me honest.
So we start by offering a giant '05 olive branch to the fine denizens of New England, who were horrified when I suggested the city of Cincinnati lay claim to the innocent, joyous snow-toss to signify pleasure at the home team's success.
Dozens and dozens of you proud Pats fans e-mailed in to say that not only did the Snow Toss/Innocent Joy/Celebration get its start at the Miami-New England game at the end of the '03 season, but that Pats fans had enough sense to do it in time to the "HEY!" part of Gary Glitter's inexplicably popular "Rock N Roll, Part 2."
Remember, nobody does childlike joy like Pats fans -- that is, until the season ends prematurely with a playoff loss, when childlike joy turns to waves of overt, pure bitterness, punctuated only by long bouts of self-pity. Go Pats!
New Englanders weren't the only readers to offer The Hangover scorn as a New Year's gift. Reader Dave Fink from Champaign, Ill. joins the chorus of the furious that I mislabeled the "CARBINE action Red Rider BB gun" so desired by Ralphie in "A Christmas Story." You have to love Fink's lash-out at the West Coast, too: "You would know that if you ever left the feather-headed confines of California, where the Red Rider BB gun, especially one with a compass in the stock, is probably illegal." Not finished, Fink fires his final shot: "Do you get the 'tofu sweats' out there?"
No, Dave, we don't. But I had a horrendous bathroom experience after eating some tofurkey about 10 years ago, resulting in the intestinal equivalent of a 10-car pileup. Worse, it happened at a post-college mixer in which several cute babes in their early 20s were mingling in the hallway outside the bathroom of the house party. Suffice to say, my reputation was soiled. No more tofurkey at The Hangover.
Speaking of "A Christmas Story," the revelation that Melinda Dillon plays both Ralphie's mom and Hanrahan's topless lesbian wife in "Slap Shot" produced more unlikely dual-role calls from readers. One, John Nagle, informs me that the actress Sarah Holcomb played both Larry (Pinto) Kroger's "nubile underage temptress (baring breasts)" in "Animal House" and "Danny Noonan's wet blanket girlfriend Maggie (leaving the breast-baring in the capable hands of Cindy (Lacy Underall) Morgan." in "Caddyshack." Nagle wonders: "Perhaps her cloying attempt at an Irish accent had so distracted me that I couldn't notice anything else about her?" Excellent call, John.
Finally, we will let the good people of Western New York battle over this one: Last week's proclamation that no one in Buffalo dips the wing in the bleu cheese, stated with certainty by transplanted Buffalo native Louis Small of Berkeley, Calif., produced howling outrage from current and former Buffalo residents. Faithful Hangover reader "Sgt. RJ", stationed in Belgium for the U.S. Army, writes: "I'm from upstate New York and went to college near Buffalo at Niagara University. I can definitively state that I saw plenty of Buffalo residents not only dip the celery in the bleu cheese, but also the wings -- not to mention pizza, fries and other food items."
To dip, or not to dip? These are the questions Bills fans must wrestle with for the next nine months -- until Kickoff '05, the Year of the Bill, begins.
Philly Corner
Gather 'round, Eagles fans. Having spent the better part of the last four months taking your collective temperature, I have a feeling there is a fever breaking out in the C.O.B.L. -- Panic Fever. I know you guys. You don't fear the worst; you expect the worst.
The way you see the world is this: You entered December on top of the world, fearless.
Now, you start 2005 with the pants scared off you.
T.O. is down. You lost consecutive games to close the season, including Sunday's 38-10 monstrosity to Cincinnati. You understand, intellectually, that you have a week off, the No. 1 seed in the NFC, and you didn't play your starters against the Bengals.
But you also understand, emotionally, that it could be happening to you all over again.
That's why The Hangover is here, to soothe your wounds and offer you a smile, however temporary, before you plunge back into Panic Mode.
I offer you two Philly Anecdotes, to remind you of your brethren's insane devotion to the Birds.
Philly Tale No. 1 comes from reader Philip L., who illustrates the depth of the Eagles fan's depravity: "One of my buddies," writes Philip L., "used to dress up for important games -- Monday night games, playoff games, Dallas games -- as 'Box Man.' He dressed, head-to-toe, in a suit of Rolling Rock boxes, with the Eagles symbol cut out on the chest. He could barely move. After a playoff game in January of '02, the pipes burst in a 700 Level bathroom. Toilet water was everywhere, and created a slushy, slippery mess on the ramps."
What to do? Stay tuned.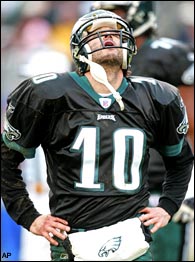 Don't worry Philly fans, Koy Detmer won't be your quarterback in the playoffs -- until Donovan McNabb goes down with a season-ending injury.
"After the Birds won," Philip L. continues, "Box Man slid the entire length of the ramps, with a spectacular wipeout at each landing." Box Man, apparently, could have run for King of Philly that night, so wild was the reaction to Box Man sliding down the ramps, the cardboard gliding over the, um, moisture.
"By the end," says Philip L., "there were so many people cheering his idiocy, you would have thought Donovan had thrown a 60-yard bomb for a TD."
Excellent.   Philly Tale No. 2 comes from reader Kevin Cusick, who calls to mind the innovation inherent to Birds fans at the Vet: "One particularly cold December game at the Vet," Cusick writes, "we had forgotten one essential item: A tub or metal trash can for a fire to huddle around. Two from our crew went off in search of heat and, 20 minutes later, returned with an old washing machine."
A washing machine?
"Great," says Cusick. "It was metal, and would keep the fire from blowing everywhere."
Except ...
"Moments later, it burned out of control," Cusick writes. "It was a 10-foot high inferno, due to the plastic innards. It billowed thick, black smoke. We grew quite nervous, due to the possibility of black lung, and jail time."
So what happened?
"Shortly, we were approached by a security man," Cusick says. "All he did was get on his walkie-talkie and say: 'It's alright. Looks like it will burn itself out.' And he walked away."
Cusick isn't done.
"Rumor has it," he writes, "the matching dryer had done the same an hour before."
See, Philly? The moral of the Box Man and the Inferno/Washing Machine tales is ... well, there is no moral. Just pure Philly depravity.
Enjoy the bye week!
Final Week 17 Thoughts

How sad is it that the Minnesota Vikings, once clad in purple parkas, once producing the sort of winterized condensed breath that meant death for a visiting team in the playoffs, are now the softest team in the league? Eighteen of the last 20 games outdoors -- a Minnesota loss? Now, Randy Moss walks off the turf with two ticks left in Washington. Presumably, it was too cold for the Indoor Warrior. Somewhere, Bud Grant feels a pain in his chestal area -- and it's not frostbite.
Is it sadder than the 49ers -- the 49ers! -- posting a 2-14 mark this year? Somewhere, Bill Walsh feels a pain in his chestal area -- and it's not acid reflux from a bad bottle of pinot noir.
I'm sure you're all waiting for The Hangover's playoff picks. What, I spend 17 weeks tossing out half-baked witticisms, and now you want real football knowledge? I'm sticking with my year-long affinities: I love Mike Vick. I love Philly fans. I love Tom Brady. I love Steelers fans. Somewhere in all that, we can find a happy ending, can't we?

E-mail Brian Murphy at page2murphy@yahoo.com with thoughts, questions and unanswerable philosophical rants..