Single page view
By Brian Murphy
Special to Page 2
Tell me you saw "60 Minutes" last night.
The shock! The horror! The brutal reality!
And I'm just talking about Mrs. Christo's hair.
Half-baked rimshot, please.
If we're going to welcome back The Weekend Water Cooler -- or, simply, The Cooler, to our close personal friends -- let's do it with the half-baked comedy with which this space debuted in November, 2000, when Page 2 launched.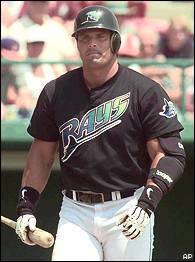 Didn't Jose look great in a Devil Rays uniform?
That's right. You're reading a Page 2 Original, although some of you might only know this space as "The Hangover" from the past NFL season. And that's OK.
Longtime Cooler readers know Hangovers are always welcome here, anyway.
So ... about Jose Canseco on "60 Minutes."
The shock! The horror! The brutal reality!
And now I'm just talking about that quick shot of Canseco in the Oil-Slick Teal of the Tampa Bay Devil Rays.
I covered the Oakland A's in 1999-2000, when Canseco -- "Hosie," as those in the know called him -- was fading out in Tampa. I talked to him a few times before A's-Devil Rays games.
The damndest thing is, Canseco was a smart, interesting, engaging guy with whom to talk. And it wasn't just me. Those who covered the A's during Canseco's heyday say he was one of the most intelligent players in the clubhouse -- well aware of the realities of the business and the world around him. Problem was, they tell me, Canseco fell prey to the siren song of guaranteed money, and he was never the same after signing his big deal.
Anyway, what to make of him now? I'm not here to tell you. I'm just here to be amazed by the wife of Christo, whose hair is a color not found in nature, shown in its glory during the "60 Minutes" segment on their Central Park art.
As for Canseco, I will say only this: He's admitted to steroid use. Jason Giambi admitted it to a grand jury. Ken Caminiti admitted it before his death. Barry Bonds all but admitted it in his grand jury testimony.
It's become so overwhelmingly obvious that it's been a huge part of baseball over the last 15 years, who am I to call Canseco a liar about his Mark McGwire allegations?
Draw your own conclusions, and accept baseball for what it is. And please, accept Mrs. Christo's hair for what it is, too.
On then, to the Weekend List of Five:
1. Sweet Leilani, Heavenly Flower ...
Caught some of that Pro Bowl on Sunday night.
Ah, Hawaii.
Sweet, sweet Hawaii.
The only place in the world where airports smell good. I swear, they do. Ever been? The open-air airport in Honolulu smells of orchids. The airport features cool shade at the luggage carousel as you look out on the sun-splashed hills of Conde Nast's "Best Island in the World." And the tiny airport in Kauai welcomes you with fragrant papaya juice as you wait for your bags.
Back on the mainland, you get the stale air of the Detroit Airport and a line 50-deep at the O'Hare McDonald's. At LAX, you get blocked at the drop-off curb by some C-list celebrity's limo.
Ah, Hawaii. Sweet, sweet Hawaii.
Is there any bigger collective knee to the groin of the Eastern United States than a sports TV weekend that features the bright blues and greens of Pebble Beach on a Saturday and the blinding brightness of Oahu on a Sunday?