By Brian Murphy
Special to Page 2
Tell me you saw "60 Minutes" last night.
The shock! The horror! The brutal reality!
And I'm just talking about Mrs. Christo's hair.
Half-baked rimshot, please.
If we're going to welcome back The Weekend Water Cooler -- or, simply, The Cooler, to our close personal friends -- let's do it with the half-baked comedy with which this space debuted in November, 2000, when Page 2 launched.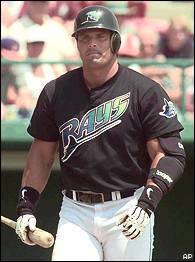 Didn't Jose look great in a Devil Rays uniform?
That's right. You're reading a Page 2 Original, although some of you might only know this space as "The Hangover" from the past NFL season. And that's OK.
Longtime Cooler readers know Hangovers are always welcome here, anyway.
So ... about Jose Canseco on "60 Minutes."
The shock! The horror! The brutal reality!
And now I'm just talking about that quick shot of Canseco in the Oil-Slick Teal of the Tampa Bay Devil Rays.
I covered the Oakland A's in 1999-2000, when Canseco -- "Hosie," as those in the know called him -- was fading out in Tampa. I talked to him a few times before A's-Devil Rays games.
The damndest thing is, Canseco was a smart, interesting, engaging guy with whom to talk. And it wasn't just me. Those who covered the A's during Canseco's heyday say he was one of the most intelligent players in the clubhouse -- well aware of the realities of the business and the world around him. Problem was, they tell me, Canseco fell prey to the siren song of guaranteed money, and he was never the same after signing his big deal.
Anyway, what to make of him now? I'm not here to tell you. I'm just here to be amazed by the wife of Christo, whose hair is a color not found in nature, shown in its glory during the "60 Minutes" segment on their Central Park art.
As for Canseco, I will say only this: He's admitted to steroid use. Jason Giambi admitted it to a grand jury. Ken Caminiti admitted it before his death. Barry Bonds all but admitted it in his grand jury testimony.
It's become so overwhelmingly obvious that it's been a huge part of baseball over the last 15 years, who am I to call Canseco a liar about his Mark McGwire allegations?
Draw your own conclusions, and accept baseball for what it is. And please, accept Mrs. Christo's hair for what it is, too.
On then, to the Weekend List of Five:
1. Sweet Leilani, Heavenly Flower ...
Caught some of that Pro Bowl on Sunday night.
Ah, Hawaii.
Sweet, sweet Hawaii.
The only place in the world where airports smell good. I swear, they do. Ever been? The open-air airport in Honolulu smells of orchids. The airport features cool shade at the luggage carousel as you look out on the sun-splashed hills of Conde Nast's "Best Island in the World." And the tiny airport in Kauai welcomes you with fragrant papaya juice as you wait for your bags.
Back on the mainland, you get the stale air of the Detroit Airport and a line 50-deep at the O'Hare McDonald's. At LAX, you get blocked at the drop-off curb by some C-list celebrity's limo.
Ah, Hawaii. Sweet, sweet Hawaii.
Is there any bigger collective knee to the groin of the Eastern United States than a sports TV weekend that features the bright blues and greens of Pebble Beach on a Saturday and the blinding brightness of Oahu on a Sunday?
The only thing wrong with the scene was newly-minted Hall of Famer Steve Young wearing a T-shirt under his Aloha shirt. Unless he was protecting a fierce case of nipple rash, this is a fashion faux pas in Da Islands.
Things are loose at the Pro Bowl, including lips. You can swing some sweet nuggets of gossip at the Big Luau, and so the pregame coverage this year produced some gems about Freddie Mitchell -- namely that Terrell Owens was disappointed in Mitchell when Freddie said T.O.'s appearance took him out of the Super Bowl game plan, and that T.O. called Mitchell and bought him a plane ticket to Hawaii for a week of leis, mai-tais and limos. But Mitchell never called back.
Mitchell's continued career self-immolation calls to mind some other questionable Career Moves throughout history, including Corey Feldman starring in "Meatballs 4," and Ashlee Simpson saying, "No, I'm feeling OK tonight, I don't need to lip-synch" at last month's Orange Bowl.
Meanwhile, an interview with Donovan McNabb, Daunte Culpepper and Mike Vick produced McNabb's off-the-cuff plea to "Get my man a receiver!" when the topic turned to Vick's fate with the Falcons, ensuring that Peerless Price is deleting McNabb's cell phone number from his Blackberry, ASAP.
2. Smile! Doggone It, People Like You.
Who's the most popular athlete in America? Sure, you put Tom Brady, Lance Armstrong, LeBron James and Derek Jeter on the short list. But let me throw you a major-league hook and put another name there: Phil (The Grinnin' Lefty) Mickelson.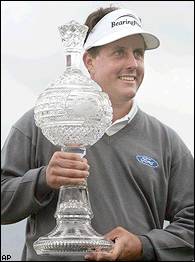 Phil Mickelson's had lots of reasons to smile lately.
It is the most bizarre thing. People love Lefty. Like he's Elvis.
Or, even better, Arnie.
Thing is, Elvis had The Hips, and Arnie had The Cowlick.
Phil has ... well, Phil has ... um, Phil has ...
The Smile?
Has a spaced-out grin ever earned more goodwill? I mean, besides Chauncey Gardiner in "Being There."
After the AT&T at Pebble Beach, Lefty is now two-for-two in his last PGA Tour starts, and hanging on the rim, too.
These are gorilla dunk-type wins. The Masters is just under two months away, but the Vijay-Tiger-Ernie corner of the locker room cannot be fired up to see Mickelson hitting it longer than ever, closer than ever and better than ever. More to the point, Lefty is by far the most popular of those four. Fans go nuts for the guy. Mostly, it's because he plays great, he plays daringly and, well, he's got The Grin.
He could make like Nick Tortelli's wife from "Cheers" and join "The Grinning Americans" as a traveling entertainment troupe. Nick's wife, of course, famously pouted, "This is one American who will have trouble grinning on stage tonight!" after Nick dumped her.
Look for Lefty to break out the same quote if he loses the Masters by one stroke in April.
3. College Basketball: Is It Safe To Come Out And Play?
College basketball fans have been a pilloried lot of late, told by the Powers That Be that their game is inferior, racked by their favorites' early departures to the pros, and rendered increasingly irrelevant.
Maybe I'm the guy listening to Mitch Miller records during the 1960s rock-n-roll revolution, but I'm still on board. And now is the time to fly your colors, my fellow believers. The NFL is over, baseball is still seven weeks away, the NBA playoffs are a distant rumor, and the NHL is as alive as Robert Blake's career.
Call me an idiot -- no, wait, my feelings bruise easily -- but the idea of skilled players playing with energy, passion and, in general, better jump shots than those I see in the NBA in front of crowds that emote and care ... that ain't a bad way to pass a Wednesday night on ESPN in the middle of February.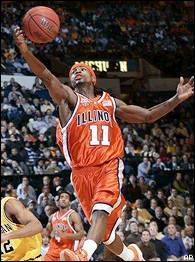 Dee Brown and the Fighting Illini are flying high right now.
You ever watch Illinois play? The passing, the athleticism, the fact that Dee Brown may hoist a jump shot from the mezzanine level -- it's all compelling stuff. Besides, the No. 1 Illini got a huge P.R. lift when Bill Murray fended off the light rain and breeze at the AT&T Sunday with a blue-and-orange Illinois windshirt. Nothing like Steve Zissou throwing down for the Illini to generate alumni donations to the basketball coffers.
March Madness is just four weeks away, and you can begin sniffing around the major conferences to see your picks: Carolina looks great, and B.C. is the surprise team in the land. Washington plays with a frenzy not to be missed, and Michigan State will bruise you in the ribs even if you're just watching on the couch.
I'm on board. I get goosebumps just hearing the words "academically ineligible" or "recruiting violation."
4. Hockey as Lawrence, Kansas in "The Day After."
I apologize to all of you in the Great Northeast, as well as in all of beer-swilling, Mike Weir-loving Canada, but I have to say this. In California and most of the other 50 states, the impending demise of the 2004-05 NHL season affects us as much as the following news:
"Tonight's episode of 'Strange Love' on VH1 will be pre-empted by 30 minutes of static and TV snow."
Listen: I appreciate that hockey is an intense, athletic and visceral experience. It's just that it's your intense, athletic and visceral experience. It's a sport that belongs in the Northeast and in Canada, where you guys appreciate it, love it, and never have to ask: "Should I go to the San Jose Sharks game, or go boogie boarding?"
Perhaps the NHL has over-extended itself, and needs to retreat back to the icy and intense climes of Boston, Chicago, Philly, Montreal and Toronto, where it is loved and coddled.
In the meantime, people in Phoenix probably don't miss saying: "Should we go to the Coyotes game, or put on the SPF 45 and play some tennis?"
5. And This Bird You Cannot Change ...
Why doesn't anybody write lyrics anymore that resonate like the above words? "And this bird/You cannot change" ... poetry, baby. Poetry.
Well, sort of. Work with me on this.
We heard those words during The Grammys. (Those of you new to The Cooler will learn that pop culture is often included in the Weekend List of Five, where we can say that Los Lonely Boys' "Heaven" has become what I consider one of the great top-down summer tunes of the last few years, where we can say that the lead singer of Maroon 5 would have been wise to remove the clothespin from his nose before singing, where we can say that anytime Bono wants to wax poetic about his father, his muse, or his emotion, he has an All-Access Pass at The Cooler.)
So why is it that the music of the past fires us up more than the music of the present? All it took was a brief cover of Elvin Bishop's "Fooled Around and Fell In Love" to thrust me back to AM radio in the mid-1970s and coat me in the warm fuzzies. By the time the group of Southern-fried rockers blew the roof off with "Sweet Home Alabama," it was clear: Old rock n' roll is the best rock n' roll of all.
Then again, maybe I'm just ... old.
That's how it goes -- here at The Cooler.
E-mail Brian Murphy at page2murphy@yahoo.com.