Single page view
By Brian Murphy
Special to Page 2
Today's philosophical query at The Cooler: If one spends $44.95 of hard-earned American currency on a product, and then the peddler of that product admits he has bamboozled you, is your money still well-spent?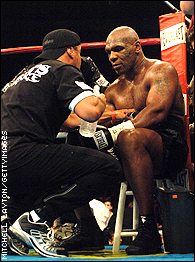 Mitchell Layton/Getty Images
Hey, what's Murph doing in the ring telling Tyson to fight again?
In every other case in the history of the free market: No.
In the singular case of Iron Mike Tyson: Yes.
That's the magic of Mike. I paid, I watched one of the less-attractive fights I've ever seen, I heard Tyson say afterward: "I did this to take care of my bills" … and after all that, I still thought: Damn, that was pretty entertaining.
How that exactly happened, I'm not so sure. Tyson offered no artistry, no hunger, no athleticism. He offered shopworn goods on bum legs and the lungs of a beer-swilling softball player. Perhaps worst of all, he showed cowardice when things were darkest. As the fight slipped away, he at first tried to break Kevin McBride's arm, and then head-butted McBride so fiercely it opened a cut over the big galoot's eye.
And when it was over, Tyson told all of us – all of us who were $44.95 lighter – that his heart wasn't into it, and hadn't been since 1990. He told us he's "not an animal" anymore, and then offered a half-hearted olive branch to the public, saying, "I wish people could get their money back."
If it weren't so insulting, it would have been hilarious. On second thought, the fact that it was so insulting made it hilarious.
I can see the conversation now between the pay-per-view lawyers and Tyson's lawyer this morning: "We'd like for Mike to make good on his promise and refund the $5 million."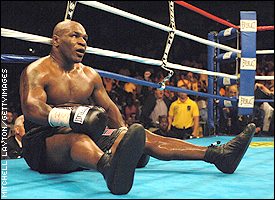 Mitchell Layton/Getty Images
Even if he's a shell of Iron Mike, Tyson's fights still provide plenty of entertainment.
"No problem. We'll direct-deposit the check to Showtime pronto. Mike and I would like to apologize for any inconvenience."
By the end of the night, I had only one relevant question: How soon can Iron Mike un-retire and get in the ring again, and whom do I call to leave my credit-card number and expiration date?
On, then to the Weekend List of Five:
1. Ole, Ole, Ole!
Has an intimidating man ever been introduced in the following manner: "And in the tartan trunks …"
Only Fightin' Kevin McBride, the pride of County Monaghan, Ireland.
He is the hugest of men, at 6-foot-6, 271 pounds, and when he and Iron Mike squared off in the ring, it looked like something out of Gulliver's Travels. I could only wonder, having spent some time in Ireland: What if Kevin McBride were not a professional boxer? There are very, very few men of McBride's size on the Emerald Isle. He'd be a holy terror if he were just a local down at the pub, hanging out on Friday and Saturday nights. He'd be the highest-priced bouncer in the land. People would pay to have their photograph with "Giant Kevin McBride, the Monster of Monaghan" – he could charge 2 Euros a photo and be on Easy Street.
What I loved about McBride was not just his ability to take any punch from Tyson as if it were a glancing blow of a child, but his utter and total devotion to his native land. Few people on Earth carry as much national pride as the Irish. It's a fierce tribal bond, and post-fight photos of McBride draped in the Tricolor will surely adorn pubs for years to come – even if it's a photographic representation of a slow-footed, unremarkable fighter triumphing over a man with a broken spirit and no remaining boxing skills.