Single page view
By Brian Murphy
Special to Page 2
Some look at the final round of the U.S. Open at Pinehurst No. 2 and see a sweet story of Michael Campbell's grace under pressure, of triumph over Tiger and tears of joy. Me? I dig a little deeper and see a juicy backstory of sniping, venom and distaste.
Here's the deal: Michael Campbell and Tiger Woods have met before, and it hasn't always been entirely pleasant. For all the handshakes and congratulations Sunday, there's a history, and as with all histories, some gray areas.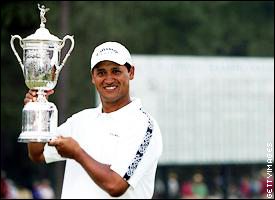 At least Campbell didn't dress like Tiger on Sunday.
In 2000, Campbell had ascended on the international stage, reaching as high as 14th in the World Golf Rankings. At the World Match Play event that year, Campbell was slated to face Tiger, and it was an anticipated match in golf circles. After all, Campbell had been telling reporters he was geeked up to face the great Eldrick. Reporters, in turn, had noted that it was odd that Campbell was apparently dressing to look like Tiger – in a sort of weird, PGA Tour version of "Single White Female."
Campbell and Tiger, indeed, squared off at La Costa in the Match Play, and in Tim Rosaforte's 2000 book "Raising the Bar," he noted a little-reported exchange in which Tiger approached Campbell on the first tee box, "got in the New Zealander's face, and said without anyone else hearing: 'I heard you want a piece of me. Now you've got me.'"
Meow!
Tiger started birdie-birdie and dusted the Kiwi, 5 and 4.
Fast-forward two years to the 2002 New Zealand Open. As a solid for his New Zealander caddie, Steve Williams, Tiger agreed to play the low-profile New Zealand Open. It was massive news in New Zealand, along the lines of the Steinlager brewery catching fire or the price of lamb chops rising. Tiger's arrival in New Zealand was carried live on TV, and wire reports characterized it as if royalty were visiting the country. Difference was, Tiger's net worth eclipses that of most of the world's royalty, the sultan of Brunei excluded.
Turns out all the Tiger-izing miffed some of the locals, including our man Campbell. Tiger, being a capitalist and all, secured himself a $2 million appearance fee. The financial strain of paying the World No. 1 was felt in ticket prices, and organizers announced the price of a weekly ticket was bumped up, just a shade – from $20 to a cool $190.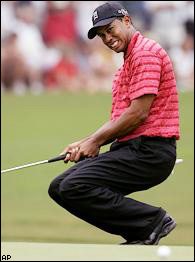 Tiger didn't hand it too Campbell this time around, not with his struggles with the putter.
Such is the price of a red shirt on Sunday, apparently.
Campbell recoiled in horror and used the opportunity to team up with fellow Kiwi Greg Turner to voice dismay. Campbell and Turner threatened to boycott the tourney. "The New Zealand Open is for all New Zealanders, and they should not be priced out of going to it," Campbell said.
Campbell and Turner agreed to play the tournament when organizers relented and said they'd let youths under 16 in for free. Now, Campbell was either grandstanding out of jealousy or standing tall for the little man or some combination of both, but the point was clear: Campbell wasn't on Tiger's Christmas card list.
Now fast-forward to Sunday at Pinehurst. Makes it all a little richer, doesn't it? Granted, it's not exactly Shaq-Kobe, but in the genteel world of golf, it counts for something. Just a little story to brighten up your day.