Now, for the rest of my Pinehurst pen marks:
• Having said all that about Tiger and Campbell, the gesture by Williams, Tiger's caddie and Campbell's countryman, to hang out by the 18th green and give Campbell a congratulatory hug and handshake had to rate as perhaps Williams' classiest move since he started looping for Tiger. Then again, considering his previous "Classiest Move" was deciding at the last second not to hock a loog on a green-side reporter, he hadn't set the bar very high.
• Third-Most Mind-Blowing Number of the Championship: 81.
If Ladbroke's had offered 1,000-to-1 odds Saturday night that Retief Goosen would shoot 81 in his final round, I'm not even sure I'd have wasted a fiver on it. There was no human way the Goose was going to shoot 81. That he did reminds us all of my father's long-standing, head-shaking admonition about golf: It's the devil's own game, son. The devil's own game.
• Second-Most Mind-Blowing Number of the Championship: 56.
That's the number of top-5 finishes in majors posted by Jack Nicklaus in his career. Tiger, with his second-place mark, now has 15. NBC figured that for Tiger to match Jack's top-5s in majors, he'd have to finish top-5 in every major through the 2015 British Open. In other words, let's hold off on the Tiger As Greatest Player Ever argument for a little while.
• Most Mind-Blowing Number of the Championship: 2.
That's the number of Tiger's runner-up finishes at majors, after his Miss Congeniality finish at Pinehurst. If it felt really odd to see Tiger contend, and then fall just short, that's because it was odd. Only at the 2002 PGA Championship, when Rich Beem held off a late Tiger charge, has it happened before. So I say to you, philosophically minded reader: Jack had 19 runner-up finishes; Tiger has worked his way to a deuce, and counting. Discuss.
(Point of fairness: at age 29, through the 1969 U.S. Open, Jack had seven runner-ups. Tiger is 29.)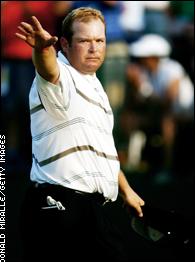 An 84? Pass the PBR.
• Why Jason Gore ruled: His caddie's hat.
Gore's caddie, Lewis Puller III, wore a trucker-styled Pabst Blue Ribbon cap throughout the U.S. Open. He was not sponsored by PBR. He merely wore the hat for its look and for brand loyalty. Puller told Golf Magazine: "If we win, I'm expecting them to send a few cases to my house."
• Why the U.S. Open rules over The Masters: There would be no Jason Gore at The Masters.
Given the choice between democracy and elitism, sign me up with the grassroots movement any day. Gore went to local qualifying, then to sectional qualifying and earned his way to the national Open. Once there, he leaned on a caddie wearing a Pabst Blue Ribbon trucker-styled cap. This appeals to me, hugely.
None of this happens at The Masters, my friends. The Masters is invite-only, and you can check your Pabst Blue Ribbon trucker-styled cap at the door.
• NBC dug up a photo of a 17-year-old Vijay Singh at the 1980 World Team Championships. I'm just here to report that his hairstyle – part 'fro, part bouffant – was last seen on Percy Sledge, circa 1964.