By Brian Murphy
Special to Page 2
I'm talking to you, my fellow football-lovin', hot dog-eatin', beer-swillin', home run-diggin', slam dunk-watchin' American sports fan when I say to you:
Are you ready for some Italian women's hockey?
Yeah, I know. Don't laugh. Well, actually, go ahead and laugh.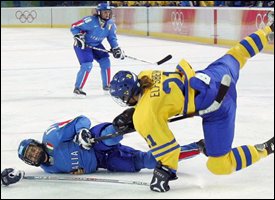 AP
Keep your eye on the Italian women's hockey team.
After all, it's Italian women's hockey.
Point being: That I even know Italy has a women's hockey team is testament to the superhuman pull of the Olympic Games. If The Cooler is going to make its post-Super Bowl return to Page 2, I'm going to come clean and admit it all, as I always do. I watched the Canada-Italy women's hockey game on Saturday, for two compelling reasons:
1. It was in Hi-Def. (But really, that doesn't count. I'd watch John Goodman in a sauna if it were in Hi-Def.)
2. It was the Olympics.
And the Olympics, just one weekend old, have again proven to be The Ultimate Sports Validator.
Freestyle moguls? I don't know the difference between freestyle and constricted-style, and yet, I watched a bunch of women from Scandinavian nations set themselves up for knee-replacement surgery sometime around the year 2036 -- because it was the Olympics.
Ski jumping? Outside of the "Agony of Defeat" guy on ABC's "Wide World of Sports," whom I watched every Saturday in the 1970s, I can tell you how often I watch guys named Lars jump off a ramp -- every four years. Yep, Olympics.
And women's hockey. As a California native and resident, I come clean with all of you Nor'easterners currently buried in a Nor'easter -- I know hockey like you guys know water polo and volleyball. But I watched the hopelessly overmatched Italian women get absolutely boat-raced by the Canadian women, 16-0 -- really, it looked as competitive as Matt Dillon's run through the special-needs flag football team in "There's Something About Mary" -- because … all together now … it was the Olympics.
I'm in. I'm a sucker. I fire up on the every-four-years scarcity, I am a sentimental fool for the all-nations-under-one-roof/Bob Marley "One Love" vibe, and I love hearing other national anthems. They rule.
And when an NBC freestyle moguls announcer tells me he's shocked that the Finnish girl didn't throw her Cork 720 on her bottom air -- he might as well be speaking Mandarin -- I nod my head affirmatively, settle deeper in the couch and wait to get those goose bumps when the timpani drums and trumpets play "The Olympic Theme" as we fade to commercial. Put it all in an Italian city with aerial shots of the Alps, and it's ciao, bella.
It's OK. I know a lot of you feel the same way. I know it's hip and cool to dis the Olympics, to bet on the Pro Bowl over-under (that means you, Janet Jones), to think pitchers and catchers, and start warming up your NCAA brackets.
But there are those of us out there who still believe in Olympic magic; still waiting for this year's heroes to join Franz Klammer, Eric Heiden, Katarina Witt, Alberto Tomba and, yes, the 1980 U.S. Olympic hockey team in the Games' lore. That's right. The greatest sports story in American history came from the Winter Olympics. So there.
And if you need a scouting report on Italian women's hockey, I'm your guy. Just a quick tip: Take the other team, and give the goals.
On, then, to the Weekend List of Five:
1. The Opening Ceremony
The quick scouting report:
Peter Gabriel -- yes. I'll give it up for anybody who sings "Imagine" at the Olympics and pulls it off in a graceful, understated manner. There aren't many tunes as specifically associated with one singer as "Imagine" and John Lennon. It would be like trying to cover "Born to Run," "Welcome to the Jungle" or any Weird Al Yankovic tune. But Gabriel did it.
Yoko Ono -- no. God, no. No, nein, nyet. The more we see of Yoko, the more we side with Paul, George and Ringo. She's getting crazier by the year.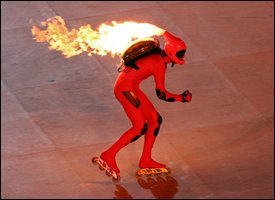 AP
You've got to love interpretive dance -- or, maybe not.
Interpretive dance -- uhhhh … no. Poor Bob Costas. He has to read from the press release and say, "The skaters in skintight latex with flames coming out of their heads represent the Renaissance, specifically the time Leonardo da Vinci set his hair on fire when he fell asleep bedside, with a candle still burning …" No more interpretive dance. Let's just reunite David Lee Roth with Van Halen for every future Opening Ceremony.
Disco tunes as countries enter -- sorry, but it's a no. When my wife mocked the parade of American '70s hits as Andorra's athletes morphed into Chile's athletes, I defended it, saying the Olympics were a celebration of young people from around the world, and this is the music they all hook up to in various discos on the seven continents. An hour later, when Madagascar was entering to the soundtrack from "Priscilla, Queen of the Desert," I had to blow the whistle. She was right. All entry music, under any circumstances, should always just be Booker T. and the MG's "Green Onions."
Pavarotti -- yes, sir. The big bopper can still knock it out of the park. Hit him in the 4 hole until further notice.
2. The Flying Tomato
I think I speak for all of us in our late 30s when I say: Shaun White is our official If-It's-Too-Loud, You're-Too-Old moment.
Apparently, Shaun White is to kids today what Willie Aames was to teenage girls in the late 1970s. I had no clue, like all of the other stick-in-the-mud old farts. In an effort to learn more about Shaun White, I went to his Web site, shaunwhite.com. I read about Shaun's performance at the Winter X Games, and his prowess was described thusly: "He gap 270 the flat down box, tailslide 270 out on the front rail, back 9, cab 10, switch back 9, boardslide to switch 50-50 revert out on the up to down box, then finished his run with a front 10."
I'm not kidding. That's what it said.
Last time I heard something so baffling, Edgar was barking out a schematic to Chloe to relay to Jack Bauer to save western civilization. Edgar then finished his bark-out by wolfing a bear claw.
But I'm wholly on board with the electric Shaun White, the beacon of American teens. The kid's got personality and stones the size of Bulgaria, even if his nickname, "The Flying Tomato" seems a bit contrived. I prefer his new nickname -- "The Dude Who Reminds Everyone of the Eric Stoltz Character from 'Fast Times at Ridgemont High.'"
3. The Raiders
Take your pick of analogies. The Raiders coaching job was:
(A) The final piece of inedible fruitcake being peddled a tad too aggressively by an aunt at a holiday party;
(B) A Coke with only one swig left in the can … all backwash;
(C) The fat girl at the bar who only gets chatted up around 1:55 a.m.
I feel bad for Raider Nation. Their once-glorious franchise was turned down by Ken Whisenhunt, Mike Martz, Pat Hill, Bobby Petrino, Rod Marinelli and Al Saunders, among many, many others. Nobody had gotten rejected like this since Anthony Michael Hall tried to get laid in "Sixteen Candles."
Art Shell is a proud and talented man, a Raider who understands the legacy and a man who had success in the NFL. You'd hope, for all involved, that it works out. But if the Raiders job was the fat girl in the bar at 1:55 a.m., that makes Al Davis hiring Art Shell sort of a drink-and-dial job. You know how it is: When you drink and dial, you always call the old girlfriends.
Godspeed, Arthur.
4. The 'Stache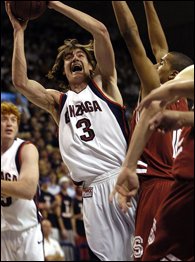 AP
Adam Morrison and his mustache have been big news all season long.
Watched Gonzaga-Stanford on Saturday night. I had thought J.J. Redick's work at North Carolina was so laden with moxie, he had iced National Player of the Year honors. But then, with his team's home win streak in jeopardy, Adam Morrison buried a 3, buried another 3, buried a jumper, blocked a key shot underneath, made every free throw he looked at, grabbed every key rebound, probably hit another 3 at some point that I forgot about, rescued a cat stranded in a local tree and then stood back, brushed his mustache with both index fingers, and quoted the legendary J.J. (Kid Dynomite) Evans from "Good Times" by saying: "Well … you know … what can I say?"
(Actually, Morrison never said that. J.J. Evans did, though. I never forgot it. Said properly, it's one of the best signature lines in American sitcom history.)
Anyway, Gonzaga fans have taken to wearing the fake mustache to honor Morrison. It's flattering, but the phony 'staches have much more substance than Morrison's pencil-thin job. The Gonzaga fans' fake 'staches are more Freddie Prinze; Morrison's is more David Niven.
At any rate, I'd still call the Redick-Morrison duel a dead heat. I do know Morrison has the lead in the Guy-I'd-Rather-Have-Play-the-Role-of-Steve-Prefontaine-In-A-Movie, if that counts for anything.
5. The Olympics, Redux
If Bode Miller is going to go with the Nike Web site and the Nike ads, and the magazine covers, and all that, let's get two things straight: (1) He is not counterculture; and (2) He'd better finish higher than fifth in the men's downhill, chief …
Let's face it: Michelle Kwan was only in it for the frequent-flier miles. I jest, of course. Michelle, we hardly knew ye. You now join Peyton Manning as the early leaders for the Life Dream Denied in 2006 Award …
Shaun White won gold. I'd like to think he celebrated by donning a pair of black-and-white checked Vans, a Billabong T-shirt, and enjoyed an excellent game of Pac-Man at the local video arcade in Torino. Sweet.
E-mail Brian Murphy at page2murphy@yahoo.com.