By Eric Neel
Page 2 columnist
Sooner or later, we're going to have to deal with the fallout from the A-Rod trade. I'm not talking about the money or the re-loading of the Yankee canon. I'm talking about the shake-up and breakup of the Holy Trinity of Shortstops: Rodriguez, Jeter, and Garciaparra.
Once on pace to be the greatest shortstop of all time, Alex stunningly opted out of the position altogether when he decided to wear pinstripes.
Like all of us, Derek and Nomar were shocked at first. But they're professionals. They've rallied. And yesterday afternoon, they put out the word that they're now accepting applications for someone to fill the third seat on the high shortstop council.
"Of course, no one can replace A-Rod," Nomar said. "Not even me. But we have to move on."
Here are some of the early applicants making their cases. Some, you'd expect. Some might surprise you.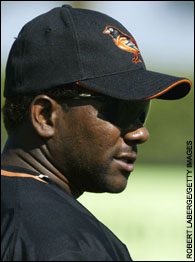 "Apply? How many MVP Awards have Derek and Nomar won?"
Miguel Tejada, Baltimore Orioles: "I'm quick, I hit for power, and I'm not afraid to leave a perennial winner for a perennial loser and a pile of cash. I'm a lock, right?"
Angel Berroa, Kansas City Royals: "On the upside, I'm just getting started. On the downside, I strike out a lot. On the upside, I'm nifty with the glove. On the downside, truth be told, I ain't really all that young for a guy just getting started. But on the way-up-there upside, my name is Angel and we are, after all, talking about the 'Holy' Trinity."
Bobby Crosby, Oakland Athletics: "I know I'm too young and unproven to apply, but I'm from Lakewood, California, hometown of Page 2's Eric Neel. And out of respect for Eric's mom and his high school, and for his old friends Wayne, Paul, and Mike, who were always good to his mom and used to play ball for his high school, please consider my application."
Orlando Cabrera, Montreal Expos: "You're not really going to consider anyone from the Expos, are you? Yeah, I didn't think so."
Tanner Boyle, Bad News Bears: "Hey, Yankees. you can take your apology and your trophy and shove it straight up your a--!"
(Uh, we think that means he's not interested.)
Ozzie Smith, St. Louis Cardinals: "What are you talking about? Open seat? That seat is mine. Has been for years. Do you know who I am? Do you?! I am Osborne Earl Smith! I am The Wizard! Look it up and mark it down!"
Honus Wagner, Pittsburgh Pirates: "So I'm dead, so what? So this thing is rigged in favor of the living, is that what you're telling me? Ever hear of a little thing called history? Ever hear of a little thing called spirit? Put my numbers up against anyone and everyone, living or dead. I'm not a candidate, I'm the standard bearer."
David Eckstein, Anaheim Angels: "You could go with an obvious choice. You could go, for example, with someone who actually has an arm. But why be obvious? Why not go with four steps and a world of want-to? Why not go with the everyman? Why not choose me?"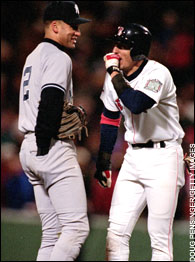 "I vote for Annie." "Me, too."
"P.S.: I have a World Series ring, something that Mr. Rodriguez and Mr. Garciaparra have failed to acquire."
Swede Risberg, Black Sox: "What's in it for me?"
Alex Gonzalez, Florida Marlins: "Alex ... Alex! Rodriguez ... Gonzalez! Close enough?"
Spike Owen, Boston Red Sox: "All I'm saying is, look back at the 1986 League Championship Series box scores. I was huge."
Cal Ripken Jr., Baltimore Orioles: "Chris Berman swore to me, the night I broke Gehrig's streak, that this thing was in the bag."
Augie Ojeda, Minnesota Twins: "You've got candidates with better numbers, sure, and candidates with starting jobs and all. But you don't have anyone with a name better than mine."
Cody Ransom, San Francisco Giants: "My guess is the fact that I can't beat out Neifi Perez disqualifies me from the get-go, but I just want to say that the teen sports book titles would be classic: 'Cody Ransom, Boy with the Golden Glove,' 'Cody Ransom's Big Game,' and so on."
Alan Trammell, Detroit Tigers: "Please, I'm begging you. Throw me a bone. I need something to go right."
U.L. Washington, Kansas City Royals: "Check the hair. Note the toothpick. Case closed."
Annie Savoy, Durham Bulls: "I usually pick only one ballplayer a season, but I suppose I could make an exception for Derek and Nomar."
Applications are still flowing in. Word is, Gary Templeton and photos of his geri-curl glory are due by FedEx this afternoon.
My vote?
I'm going with Tanner. The little S.O.B. adds some much-needed bitterness and guile to the mix.
Eric Neel is a regular columnist for Page 2.