By Eric Neel
Page 2 columnist
Jason's down and out in Jersey.
And now comes word that AI's done for the duration in Philly.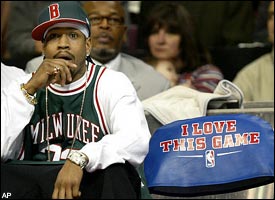 Doesn't look like anybody's in Iverson's corner.
Two teams, in the push to the playoffs and each down a superstar, set to meet in the last week of the season.
Who do you take?
Let's make it interesting. Forget one game. Let's make it Kidd's Nets without Kidd vs. Iverson's Sixers without Iverson in a steel-cage, seven-game death match.
Call it a man-down showdown. Call it the Scottie Pippen Championships of the World.
You're thinking if the Nets have K-Mart back, they've got the edge. But I'll take Philly, and I'll do it for this one reason: While it's true that Eric Snow ain't no Jason Kidd, it is also true that he ain't no Lucious Harris, either.
Let's keep going. Let's try a few what-ifs.
What if it were the 'Melo-less Nuggets against the LeBron-less Cavs? Listen, I like Carlos Boozer. If there's a Sophomore of the Year award, he's my guy. After last night's 23 and 20, I'm giving him the Greatest Professional Athlete Named Carlos hardware over Carlos Delgado, especially since Carlos Palomino is long-retired. Like I said, I like him. A lot.
But not enough. Give me the Nuggets. And if it's not too much trouble, could you throw in one of those powder blue jerseys? I like those, too.
How about the Lakers without Shaq vs. the Spurs without Duncan? L.A.'s still got Kobe? Never mind. Too easy.
So instead, let's say Minnesota minus KG against San Antonio without Duncan, and let's say that it's not that Rasha Nesterovic can't hang with Michael Olowakandi; and it's not that Bowen can't stick Latrell; and it's not that Parker isn't up for Cassell ... oh, wait a minute, yes it is. That's exactly what it is. Sorry.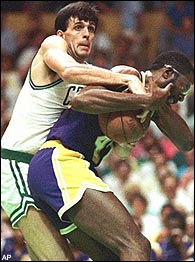 Kevin McHale embraced the lead role when it was necessary.
And what about Detroit without Big Ben going toe to toe with Indy short one Jermaine? Rasheed's turnaround J is smooth and deadly, but I'm taking Artest and the Pacers, mostly because I'm afraid of what Ron might do to me if he found out I didn't.
That's enough of the current crop. But we're not finished playing. Let's go to the wayback machine.
No-Magic Lakers and No-Larry Celts, circa mid-'80s. It pains me to say it, but I said it a thousand times then and I'll say it again now: Damn you, Kevin McHale.
Wilt-less Lakers vs. Russell-less Celtics? This one's L.A. by way of West Virginia, if you get my meaning.
And the Blazermania Blazers without the Big Redhead against the Sixers short one Doc in '77? I know Walton loves Dave Twardzik and Johnny Davis and all, but I'm pretty sure George McGinnis couldn't care less, and I know I couldn't.
All right, but let's get serious now, let's kick this thing out beyond hoops.
The Sopranos minus Tony vs. Sex In The City minus Carrie. Is it just me, or is SJP one of the more annoying, inexplicable superstars of our time? How exactly did she happen? Is she Letterman's fault?
The Beatles without John vs. The Rolling Stones without Mick. Screw Mick -- It's Keith's band anyway.
Vote: Take Your Pick!
Time to choose sides. Who do you think would win these showdowns? Vote now!
Bacon without eggs vs. sausage without biscuits. I'm just going to say this: You don't ever hear anyone bragging about how they can bring home the sausage.
"The Godfather" minus Brando vs. "Apocalypse Now" minus Brando. In one, you've got Pacino coming of age as an actor. In the other, you have Sheen doing that spooky, self-indulgent underwear dance. I'm looking past an annoying Talia Shire and a wasted Diane Keaton and going with "The Godfather."
The Neighborhood without Mr. Rogers vs. Sesame Street without Elmo. Mr. Rogers was like the JKidd of the Land of Make Believe. He distributed the rock. He was the floor general. If you take him out, there is no Neighborhood. Elmo's cute and cuddly, but he lives off in his own little world. He doesn't make the players around him better. If he's gone, Sesame Street rolls on without a hitch.
Cheers without Sam vs. MASH without Hawkeye. You could complicate this by doing a whole Coach/Woody vs. BJ/Trapper thing; but at the end of the day, it gets down to a question of which uptight, annoying female lead is less offensive. Hotlips bugs, but she's a peach next to Diane and Rebecca.
The Giambi Brothers without Jason vs. The Coen Brothers without Joel. To be honest, I can never tell Ethan and Joel apart. Jeremy I remember, though. Give me Ethan, and give me "Fargo" and "Miller's Crossing" and "Lebowski on DVD while you're at it.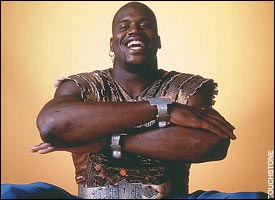 Paul Michael Glaser also directed and produced "Kazaam." Does that count against him?
Harold minus Maude vs. Starsky minus Hutch. The highlight of Bud Cort's career after playing Harold in 1971 was his role as Brother Jacques in "The Chocolate War" in 1988. The highlights of Paul Michael Glaser's career, post-Starsky, include a stirring turn as Harry Houdini in 1976 and a small, but solid, performance as Dave, the ex-husband, in this year's "Something's Gotta Give." Advantage, Starsky.
Penn without Teller vs. Charlie McCarthy without Edgar Bergen. Two words: "Child's Play."
For all you Louis Jordan fans ... Beans without cornbread vs. Saturday Night without a fish fry. You know you gotta eat; you know you gotta go with the beans.
"Raging Bull" minus DeNiro vs. "Chinatown" minus Jack. That leaves Joe Pesci to slap Faye Dunaway and Faye Dunaway to slap Joe Pesci, and she's his sister, she's his daughter, she's his sister, she's his daughter. Ah, hell, it's a push.
"Hoosiers" without Hackman vs. "The Longest Yard" without Burt. What are we talking about? In both cases, you just shut it down. Send the kids out with an extra tub of popcorn or some Red Vines or something, but there won't be any movie today.
The Go-Gos without Belinda Carlisle vs. The Bangles without Susannah Hoffs. One of these women did a very tasteful Playboy shoot. You make the call.
And we'll close with the biggie. Nick minus Jessica vs. Ashton minus Demi: Ashton's an Iowa boy. He comes by his wrestling moves honestly. Two-point take down!
Wrestling. That's a sport. That reminds me, this was a hoops column once upon a time. You know what would be cool? An injured Kidd wrestling a wounded Iverson.
Who do you take? ...
Eric Neel is a regular columnist for Page 2. His "On Baseball" column will appear weekly during the baseball season.