By Eric Neel
Page 2
It's been a busy first week, and I'm behind in my reading, but these are the headlines that caught my eye:
PHILLIES HIRE DJ JAZZY JEFF TO REPLACE BOWA
Philadelphia -- "He's a local guy, which we like," said GM Ed Wade. "Plus, he's easygoing, a real players' manager." Shortstop Jimmy Rollins said the team is looking forward to starting fresh with Jeff: "We like his sunglasses, and his snazzy clothes. Plus, he doesn't talk too much, you know what I'm saying?"
ELDERLY WOMAN SEES FACE OF CHRIST IN BLUEBERRY PANCAKE AT LOCAL EATERY; TIGERS EDGE TWINS 6-5
Detroit -- "He looked a lot like Carlos Peña," said 74-year-old Ginnie Davis. "Only with a blueberry beard, of course."
TEENAGE GIRL SEES FACE OF CHRIST IN CENTER FIELD AT FENWAY; SOX NIP JAYS 8-6
Boston -- "He was kinda hot," said area high schooler Trish Martin. "I should go to church more often."
MARINERS CONCEDE REMAINING 15 GAMES WITH ANGELS
Seattle -- "We just think we'd be better off focusing on the other 154 games we have left on the schedule," said manager Bob Melvin Wednesday night after his team dropped to 0-5 against the Angels.
660 HOME RUNS FALL IN THE WOODS, DON'T MAKE A SOUND
San Francisco -- In a quiet ceremony Monday afternoon, Barry Bonds passed retired slugger Willie Mays to move into third place on the all-time home run list. "Really?" said local pub patron Mark Jarret afterward. "Huh."
CLEMENS ELECTED GOVERNOR IN A LANDSLIDE
Houston -- Pushing petitions at shopping malls, gas stations, and Little League fields all over the Lone Star State, energized citizens recalled Governor Rick Perry over the weekend, and replaced him with Astros pitcher Roger Clemens. "It's obviously a tremendous honor," Clemens said. "And as long as it doesn't interfere with my workout schedule, I'm up for it."
SURE HOME RUN BALL NOT SATISFIED WITH BEING A LONG OUT
San Diego -- "I'm bummed, man," said the Rawlings ROMLB-R. "I felt good coming off the bat. There was no doubt in my mind I was headed out. And then this feeling came over me. It wasn't fatigue, exactly. I just felt heavy."
JORGE POSADA WONDERS ALOUD: "WHAT THE HELL AM I DOING HITTING EIGHTH?"
New York -- Kenny Lofton was unavailable for comment.
MARLINS MANAGER HEARD TALKING UNDER HIS BREATH
Miami -- Emboldened by his team's 7-1 start, and reportedly insulted by preseason publications picking the defending world champs to finish out of the running, 73-year-old Jack McKeon concluded each answer at his weekly press conference with a muttering snide remark. "We're pleased to get off to a good start ... One-hit wonders, my ass," "The guys know this is a brand new year ... How ya like us now?" And "We're playing 'em one day at a time ... And we're playing 'em like a fiddle" were reported to be among his favorites.
ROYALS INTRODUCE NEW SLOGAN FOR '04 SEASON
Kansas City -- "Last year it was Tony's '¡Nosotros Creemos!' (We Believe!)," said GM Allard Baird on Wednesday. "This year, we're going with '¡Ay Dios, Necesitamos Brazos Sanos!' (Oh God, We Need Healthy Arms!) We just think, as long as we're appealing to forces beyond our control we ought to be specific about it. We believe it's that kind of focus that sets the championship clubs apart."
Late returns
Notes from last night's games ...
... First, if you haven't already heard, today is Jackie Robinson Day in the Major Leagues. So do something special in honor of the day Robinson first stepped onto the field at Ebbetts, would ya? I'm planning to steal home on the mailman this afternoon, slide right under his bag just before he gets to the box, then pop up, brush myself off, and tell him, "That's for Jackie."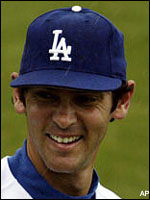 Yes, Dodgers fans, you are banking on this guy to be your big power source.
... From the shoulders up, with his cap pulled down to his ears and the bill left stiff as a pressed shirt, is Shawn Green the least-likely-looking superstar in all of baseball? And while you're mulling that over, think on this: He looks healthy again (two doubles, two singles and a walk last night), and you gotta wonder if maybe he and Milton Bradley aren't going to have a lot of fun together this summer.
... David Wells threw eight pitches in the first inning and 36 in the second. In the first, he was a wily wizard. In the second, he was sweaty and desperate. This is a cruel game.
... John Thomson stood on the mound at Shea, stoically soaking up the cold New York rain, and it hit me that the best thing about spring baseball is how bloody unlikely it is some nights. I love hitters trying to keep their bats dry, and pitchers trying to keep mound mud from gumming up their spikes. And even more than that, I love the nut jobs in the stands wearing parkas and ski caps, reciting teeth-chattering prayers over cold cups of hot chocolate and never once thinking they should be anywhere else.
NOTES FROM ERIC'S SCORECARD
MEMO
To: Billy Koch
From: Eric

Dear Billy,

The goat ain't scaring anybody. The hanging meat you laid out before Carlos Beltran and Mike Sweeney on Wednesday afternoon on the other hand, that stuff gives folks all over the south side the heebies.

HALL OF FAMER?
Mike Mussina notched his 200th win the other day. Like standing too close to a redwood, it's hard, while he's still playing, to see Mussina for the giant he is. But if he stays healthy this is a Hall-worthy career he's putting together, isn't it?
Last week's vote: Rafael Palmeiro's a Cooperstown lock.
THE AB
You know all about No. 660 and No. 661, but by far my favorite Bonds at-bat of the week was a double he hit off the Padres' Jake Peavy on Sunday. San Diego had the shift on, and Barry, who knew he'd been pressing to tie Willie, said to hell with it, and inside-outed a ball down the left-field line just as easy as you please. When the guy gives in he hits doubles.
BUY UP
Stock in Jermaine Dye (5 HR already). He's putting a hurt on everything; even his foul balls are screaming like Clarice's lambs.

SELL OFF
Your shares of Greg Maddux. There's a very old, very sad Chinese proverb that says "Men grow old, pearls grow yellow; there is no cure for it."

THE PLAY
Randy Wolf roped a ball into left-center Monday afternoon against the Reds. It was raining, the sky was gloomy, the field was muddy, and the ball looked like it would slosh straight through the wall. Out of nowhere, like a Sugar Ray straight jab, like a dream out of the past, Ken Griffey Jr. comes flying in, arms out and belly down, to cut the ball off. Just as quick, he's up and throwing the ball into second to hold Wolf to a single.

Hope is a sucker's bet and faith is a fool's errand, but I'm going all in on Griffey right now. He's at .318/.423/.682 through six games, and I know a six-game sample is no sample at all, but still, I'm just crazy enough to think it's a sign and not an aberration. You with me?

BRIAN GILES ALL-STAR
A spot reserved for unheralded greatness

Mike Cameron, CF, New York Mets

After Andruw Jones, probably the best defensive center fielder in the game, and he has some pop and draws some walks.

Plus, he wears his cap slightly off-center, and it's hard to overestimate the day-in-day-out value of a thing like that.

EL GATO GETS THE CALL
The people have spoken, Carlos Delgado shall henceforth be known as "El Gato" Delgado. "El Gato" received 30.2 percent of your votes. Mysteriously, and I think sadly, the Spanish-to-English translation nickname, "Skinny," pulled in just 5.4 percent. Now the real question: If "El Gato" keeps hitting below the Mendoza line, do we take the nickname away from him?

SOUR MASH SOUNDS SWEET
Last week's nickname search was for the Rockies' Todd Helton. "Sour Mash," with a nod to both his Tennessee roots and his habit of ripping the ball all over the yard, is my favorite. Vote for yours in the poll to the right.

This week: Mike Sweeney. Remember the guidelines -- old-style, full of character, and with a bit of reverence about it -- and wear out the e-mail. Go here to send in your nickname suggestions.

JUST BECAUSE
I'm picking a favorite Brewer and a favorite Expo, because as I said to a reader the other day, if we don't rally around these teams, who will?

The Brewer: Scott Podsednik's the obvious choice, but I'll go with Ben Sheets, who at just 25 still has the time and talent to make me very glad I did. Here's his line from '03 and his line so far this year:

2003: 34 G, 220.2 IP, 29 HR, 43 BB, 157 K, 4.44 ERA
2004: 2 G, 9.1 IP, 0 HR, 3 BB, 13 K, 2.89 ERA

The Expo: It's a risk, because his back is hurting, and as a fan you underestimate back injuries at your own peril, but I'm throwing my lot in with Nick Johnson (also 25), because I think maybe, just maybe, he's going to put up some north-and-south-of-the-border numbers to make a cash-poor GM smile:

2003: 324 AB, 60 R, 14 HR, 47 RBI, .284 BA, .422 OBP, .472 SLG
2004: Hasn't played yet (due off the DL any day)

MUST SEES
The best matchups of the weekend

Josh Beckett vs. Russ Ortiz (Friday)
All over the dial people are excited about the impending demise of the Braves. Harry Kalas in Philly was giddy at the thought of it the other day: "Someone other than the Braves is finally going to win the division!" he said, all of one week into the season. No series this early is a difference-maker, but if Ortiz goes up in flames again and the Marlins roll, look for the bandwagon to be bulging come Monday.

Mike Mussina vs. Curt Schilling (Saturday)
Don't worry, Curt, it's only the hopes of an entire nation resting on your right arm.

CHECK IT OUT
When you've read every word of quality baseball content here at the Worldwide Leader, and you've read Rob Neyer and Jim Caple twice, and you find the hunger is still strong in you, and you decide you need still more baseball and still more words and still more words about baseball, head to baseballprospectus.com. And while you're there, don't miss Joe Sheehan's Daily Prospectus, Chris Kahrl's Transaction Analysis, and Steven Goldman's weekly Teams breakdown.

TALKIN' ABOUT A REVOLUTION


We're all paying attention to Damon's long locks, but have you seen the Dogtown 'Do the Pirates' Craig Wilson is working? There's a movement brewing, brothers and sisters.
Eric Neel is a regular columnist for Page 2. His "On Baseball" column will appear weekly during the baseball season.