By Eric Neel
Page 2
Baseball lost a lion last week.
Doug Pappas died of heat prostration while hiking in Texas. He was 43.
You may never have heard of Doug Pappas, but if you're a baseball fan, he was your friend.
Pappas wrote about the business of baseball. He was a people's writer; always speaking in a clear, sturdy voice; always questioning the doublespeaking claims of the powers that be.
In December, 2001, Bud Selig and the baseball owners told Congress they were losing money. Pappas looked at the numbers in an eight-part series and told the world it just wasn't true.
When they said small-market teams couldn't compete, Pappas was among the first and the loudest to argue that revenues, not market sizes, make the difference -- and the way a team is run (smart drafting, trading, and investing in players and management), not where it's located, has the greatest impact on its ability to compete.
They claimed pricey, publicly-funded new ballparks were all that could save franchises in Milwaukee and Pittsburgh. He pointed out that new stadiums, nice as they were to look at, brought only a temporary financial bump that had nothing to do with saving the dismal teams on the field.
He developed a system for evaluating each team's economic efficiency, measuring expenses in terms of wins, and proved that it wasn't just the fat cats who were in a position to dine on postseason canaries.
He scoped out the cost of attending games in every city in the league, let readers know how to get the most out of their ballpark entertainment dollars, and tracked each twist and turn in the owners' contemptible habit of selling off every square inch of stadium space to advertisers.
He told us who was and who wasn't reinvesting their slices of the revenue-sharing pie into player development.
He explained the stakes of everyone (from the players to the union reps to the owners to the agents to the fans) in the A-Rod dealings with Boston and then New York, and debunked the popular theory that Rodriguez's giant contract was sinking the Rangers, by reminding us all of the very large piles of cash the team had thrown at Chan Ho Park, Juan Gonzalez, Rusty Greer and Ugueth Urbina.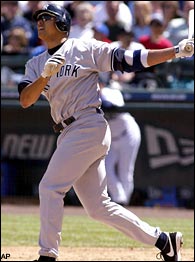 Among the many things Doug Pappas analyzed was the impact of A-Rod's contract.
He said, "Hey, Brother, The Man is gouging you something fierce on the price of beer. You gonna take that lying down? Rise up. Be counted."
In his work for Baseball Prospectus and on his own Business of Baseball website and weblog, Pappas did this kind of stuff every day. He chased down the bottom line and cut through the crap and brought his readers straightforward bits of truth. His work made them smarter about the hidden workings of the game, made them better consumers of the product they paid for, and made them more committed, informed citizens of the baseball nations they lived in.
He did the work with thorough, independent research and a dry, biting tongue. He did it with a simple willingness to say, "Hang on, that ain't right." He did it by never settling for one version of the facts, by always being skeptical about the stories fans are told, and by never being cynical about the love they have for the game.
And he did it because he cared. He thought it was important work. He thought someone had to do it.
It wasn't his job, it was his passion. He was a lawyer in his "real life," but he was a writer and a watchdog in his every waking moment.
As Rob Neyer wrote earlier this week, Pappas set an incredibly high standard for all of us. And it wasn't just a baseball standard. It was a journalistic standard, and a standard of committing to something and pursuing it tirelessly. It was an example of a way to be: purposeful, vigilant, and unafraid of the consequences.
Those of us who read Pappas every day did it because we wanted to know more about baseball business, but we also did it because we wanted to be connected in some small way to someone so principled.
I think if you take time to read his work (by following the links above), you're going to feel the same way. Like us, you're going to feel inspired by the bulldog in him -- and like us, when you've reached the end of his columns, you're going to wish there were more of them, and it's then that you're going to feel the real sense of loss baseball suffered when Doug Pappas wandered into the Texas heat last week.
My hope, and I don't think it's too much to say it's a hope for the future heart of baseball, is that the feeling will compel some of us, or all of us in some small way, to continue the vital work Pappas has begun. As Joe Sheehan wrote Monday, "Instead of one strong voice braying the truth about the business of baseball, let there be dozens. Instead of one website, let there be hundreds."
Amen, Joe.
Rest in peace, Doug.
NOTES FROM ERIC'S SCORECARD
OVER/UNDER
On games until Ken Griffey Jr. hits his 500th home run: 35

On games until Fred McGriff hits his 500th home run: Well, this is tricky, see, because Fred's re-signed with Tampa Bay, and they're averaging about seven fans a night down there at the Trop, which raises the age-old philosophical question (should he get called up from Triple-A): If a home run is hit in Florida and only seven people are there to see it, does it actually clear the wall?

DON'T DELAY
Are you watching Carlos Zambrano pitch for the Cubs? We've all been talking about Wood and Prior, but in the words of the immortal Kool and the Gang, this kid is "fresh exciting." Little bit of histrionics on the hill, whole lot of gas in the tank. Take a look. And don't delay, because you know where Cubs pitchers end up these days ...
MEMO
To: AL pitchers
From: Mark Twain

Rumors of Alex Rodriguez's demise have been greatly exaggerated.

HALL OF FAMER?
Rings and tags of Jeremy Giambi be damned, you slammed the Hall door in Derek Jeter's face last week. This week, I give you a man with no rings, a man who wouldn't chase Jeremy Giambi down in a car. Ladies and gentlemen, The Big Hurt, Frank Thomas.

BRIAN GILES ALL-STAR
A spot reserved for unheralded greatness

Melvin Mora, 3B, Baltimore Orioles

2003 was supposed to be a fluke. You just don't see 31-year-old breakout years. But Melvin Mora continues to jump, jive, and wail on opposing pitching this year. The numbers are terrifying: .386/.472/.633. Still, his Gilesian candidacy went to a vote here at On Baseball. My left brain, all cool and calculating, like Ray Milland's head, said it's only been a year-plus and we can't afford to cheapen the Giles All-Star brand by jumping the gun. My right brain, the side that does most of the typing, the Rosie Grier-head side, said, "Shut up and give the man some love."

MY GUYS
Ben Sheets had a relatively quiet week, so we lead with the very exciting news that Nick Johnson, our Expo in Exile, went 1-for-4 with a double in his rehab debut with the Triple-A Edmonton Trappers Tuesday night. Attababy, Nick! Nick's due back next week, when the Expos play the Braves in Atlanta. The Braves, by the way, have agreed to continue their ongoing impression of a Triple-A team in order to make his transition an easy one.
HAMMER TIME
Obviously influenced by his golden locks and sweet-swinging hammer, you've voted to call the Pirates emerging star Craig "Thor" Wilson. I was rooting for "Bam-Bam," but only because I wanted to hear the theme song from "The Flinstones" played at PNC every time he stepped to the plate.

Now we turn our attention to young Aramis Ramirez, who, in the words of the immortal Red Barber, is "tearing up the pea patch" out in Wrigley these days. Your choices, one of which is a slap at his D and one of which is a PBS "Mystery" reference, are in the poll on the upper right of this page.

And finally, this week's lucky nickname winner? Tom Glavine. Send 'em if you got 'em.
Eric Neel is a regular columnist for Page 2. His "On Baseball" column will appear weekly during the baseball season.