By Eric Neel
Page 2
Nobody asked me, but if they had, I'd say this about tonight's ESPN25 list of the best games since 1979: One game has got to go, and one game has got to be added.
Part One: Unlistable
I'm not going to take pot shots. I'm not going to say the '83 NC State game is over-rated, the '93 Joe Carter game should be DQ'd because it capped the ugliest World Series of the modern era, or that tape of the '97 Masters ought to be an FDA-licensed sedative.
No, I'm going another way. I'm saying one game on the list is too good to be counted among the 25.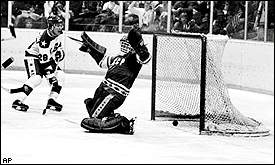 Don't take away from the Miracle On Ice by even attempting to compare it with other games.
I'm saying The Miracle on Ice game doesn't belong. I'm saying the Miracle on Ice game is its own glorious thing.
I'm saying putting it on a list, even a list with 24 other great games, is like putting the Big Bang on a list of the 25 best planetary explosions. You might as well put John Coltrane on your list of the all-time top saxophone players, Jackie Robinson on your list of baseball's best second basemen, and "The Godfather" on your list of the 25 greatest American movies.
You can't do it. The game's too big for a list. It's unlistable. It cannot be contained. It has too many resonances, too much history and drama. It's not a game in the last 25 years, it's the game in the last 25 years.
It's the game that gave birth to a generation of sports fans. It's the game that changed -- for Americans, for Russians, for most anyone in the world with a radio or a television and a competitive bone in their bodies -- the very definition of what was possible. It's a classic, hold-your-breath thriller and an epic cultural event all rolled into one. It's the bridge sports fans and people who despise sports walk across to meet one another and shake hands.
You don't put this game on a list. You put it on a shelf, high above all the other games. You keep it in your heart, locked away from the ravages of time and the cruel passing of innocence. You feel its molecules dancing in the air around you. You spy its vapor trails jetting across the sky at sundown. You trust that it resides in the collective memory. You tap back into it for inspiration and you lean on it for resolve.
And once a year, on February 22, you observe its anniversary like a holy day.
Remember Mark Johnson busting for the stray puck, with a 2-2 tie on his stick. Reflect on Eruzione's wrister. Think of Jim Craig batting away shots in those furious last 10 minutes. Hear Al Michaels' inimitable call.
These are your passages, the pages in your prayerbook, the testimonials that make you love sports, the evidence that your faith in life is justified.
Do I speak hyperbolically?
Yes I do.
Is my tongue twisted with melodrama?
Indeed it is.
Am I an ecstatic fool yipping and dancing in the town square, regaling the youngsters and rousing the elders?
You bet your ass I am.
And do you know why?
Because I'm talking about the Miracle on Ice, that's why.
Part Two: Where Have You Gone, Kellen Winslow?
I'm down with much of the official ESPN25 list.
The Doug Flutie Game, with pouring rain, buckets of points, and one sweet Phelan floating in the distance?
Check.
The Jack Morris Is An Alien Game, in which his moustache is revealed to contain secret powers of endurance, great reserves of guile, and deep channels of ferocity?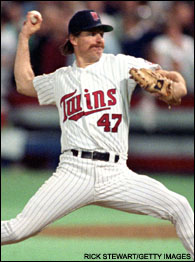 The relievers didn't even need to put on their uniforms when Jack was on the hill.
No doubt.
The Borg-McEnroe final, including a perfect clash of personalities and styles, a poignant passage from one era to another, some oh-no-you-didn't shot making on both sides of the net, a fourth-set tiebreaker so long that young children in the stands actually passed through puberty and into young adulthood while watching, and strawberries, and cream?
Yes, Sir.
Duke-Kentucky in 1992?
Well, to be honest, I've always wished it had gone the other way. Not because I had a rooting interest, but because an upset was the one thing that could have made it greater still. Its greatness index would have included the storied programs factor, the back-and-forth swings, the titanic coaching tilt, the spectacular last-second shot, Vern Lundqust's raspy voice, Laettner throwing his hat into the best-college-player-of-all-time ring, and the underdog victory factor. It would have been off the charts.
Still, even without the upset icing, it's pretty great, and it's on my list, too.
"The Drive"?
Duh.
"The Play"?
Sure.
The Buckner and Mookie game?
Yes of course.
But if I'm thinking of the very best games of the last 25 years, my mind's wandering down some other roads, too.
I'm thinking back to Bird driving the stake in the closing seconds of Game 7 of the Eastern Conference Finals (after the Celtics had been down 3 games to 1), when his late bank was the one-point difference between the Celtics and Sixers of '81.
To Game Four of the 1987 NBA Finals, a sixteen-point third-quarter Celtics lead erased, another Boston run-out in the fourth, and another Lakers comeback, and then Larry seemed to ice it for Boston on a last-second 3, only to see Magic take it away with a junior, junior, junior skyhook across the lane.
And two other games from the 1986 baseball playoffs come to mind:
Game Five of the ALCS between the Angels and Red Sox, complete with Donnie Moore's tired-arm grimace and Dave Henderson's gap-toothed grin.
And Game Six of the NLCS between the Astros and Mets, a sixteen-inning bout that, had it happened during the World Series, and had it not been overshadowed by the ball that got by Buckner, would certainly, and without debate, be regarded as the best baseball game of the last quarter century.
Then there's Leonard-Hearns I.
The real NC State gem: Round One in 1983 against Pepperdine.
Stage 10 of the 2001 Tour, the day Lance paused, looked back at Jan Ulrich on l'Alpe d'Huez, and saw nothing.
Jordans' flu game.
And Montana-to-Taylor capping Super Bowl XXIII.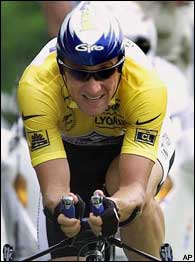 Does Lance even need to turn around? There's never anyone behind him.
I'd include some of these before I'd go with the Oilers' collapse in the '92 AFC Championship game or the farewell Jordan game in 1998, for sure.
But if I've got to get down to one single game for the time capsule, you can keep all these games, and you can have every one of the 25 games on the ESPN25 list, too.
Just give me the Kellen Winslow game.
I want the there-I-was-there-I-was-there-I-was-IN-the-Congo heat of it.
I want Wes Chandler with the ball tucked against his forearm and slung low down by his knees on a 56-yard punt return.
I want the 24-0 smell of a blowout giving way to the taste of a surprising second-quarter comeback.
I want Don Strock, sidling in off the bench like he was The Duke strolling onto Main Street in "The Man Who Shot Liberty Valance."
Seriously, who's ever come in like Strock did that day? Old, unheard of, and with the deck stacked way, way against him? Is the Don Strock Hall of Fame a one-man club? I'm asking. I mean, who else gets in? Maybe Roy Hobbs? Maybe Rocky Balboa?
Freakin' brilliant.
And this was a game that had the old-time NFL of Shula going heads-up with San Diego's new-fangled Air Coryell attack, too. It was an ideology game. Even if you weren't from either Cali or South Beach, you chose sides with this game. It was a style war.
Which is what made the end of the first half, when the Dolphins ran the hook-and-lateral, so sweet. That's a wide-open playground call, that's a Chargers call. There's no way Shula calls it. And there's no way it works -- the Dolphins busting out the hook-and-lateral is like Sinatra trying to moonwalk; awkward and out of character -- but it did work. To perfection. And I can still see Tony Nathan, one arm stretching the ball above his head, as if to say, "We got ourselves a ballgame now, Boys."
Love it.
Then came the punch and counter-punch phase; the phase in which momentum is cheap, leads are fleeting, and with the short, sharp swings of fortune your gut starts to ache like Lilly Dillon on the business end of a sack of oranges.
Fouts hits Winslow from 25 yards out to put the Chargers up 31-24. Strock hits on six straight passes, including a 50-yard TD to Joe Rose to tie the game at 31. Nathan, after a Dolphin interception, goes on a 12-yard run that gives Miami its first lead of the game. Then the Chargers, after recovering a fumble, go 82 yards, and eventually go Fouts-to-James-Brooks, to make it 38 all.
And all the while, Winslow is pouring bronze into the cast for his Hall of Fame bust.
He's making layout catches and tough grabs over the middle, and when the pass isn't coming his way, he's blocking for his teammates' routes all the way downfield and out onto the bus in the Orange Bowl parking lot.
He ends the night with 13 catches and 166 yards (all the numbers from the game are staggering: Strock goes for 403 yards and four TDs, Fouts throws 53 times for 433 yards and 3 TDs, the teams combine for a record 79 points, and the whole thing lasts approximately six days, fourteen hours, and thirty-seven minutes), but his biggest, best play is on defense.
With the game tied at 38, and with just seconds to go, he rises up and blocks Uwe Von Schamann's kick attempt, which would have given Miami the win.
The block sent the game into overtime, but more than that, it pushed the game onto hallowed ground, transformed it, made it something epic.
Winslow could barely walk because the heat and the pace of the game had taken so much out of him. He was done. Both his shoulders were injured, he'd suffered a busted lip, and he was dropping pounds to dehydration as the night wore on.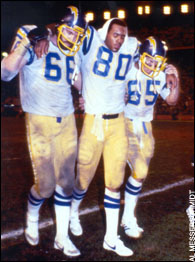 Winslow earned respect, and a whole lot of Advil, after this 1982 playoff game.
But like Lazarus he rose up. Like Willis he dug deep. He found that quasi-spiritual something that spells the difference between great and transcendent. He blocked the kick. He kept the game alive. He gave the Chargers the chance to win in overtime (which they did on a Rolf Benirschke 29-yard field goal). He wasn't some everyday rendition of the tired old line, "he left it all out on the field," he was a man more exhausted than any we'd seen on the field of play before, a man literally being carried off by his teammates, his used-up arms and legs dangling and longing for relief.
It wasn't just brilliant. You didn't just marvel at him. There was a world of skill in his performance, but skill was the least of it.
It was the sort of game where clichés about heart and soul seemed like simple descriptions. It was the sort of game where you wondered how he did what he did, where you wondered, where you hoped, you had some fraction of the will he seemed to have kicking around inside him.
The Chargers had been very good before this night, but now they were heroic, the victors in a game for the ages. Winslow had been an elite tight end before this game, but now he was the one player every kid on every playground wanted to be, now he was an icon, now he was an emblem of desire and commitment.
What he did that night, over the course of what, by any measure, was a fantastic game, was truly great.
It belongs on the ESPN25 list.
In fact, if you ask me, it belongs right at the top.
Eric Neel is a regular columnist for Page 2. His "On Baseball" column appears weekly.