By Eric Neel
Page 2
The Pistons were the big story last year.
And Shaq and Kobe were the hot story.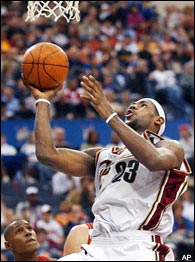 Ya think LeBron's gonna get less attention this season? No way.
But the best stories were smaller. The best stories were about teams and towns on the rise. Clubs in Memphis and Cleveland coming up from the muck. Squads in Utah, Denver, and Milwaukee exceeding expectations by a country mile. They were the goods.
Next time someone tells you there's no reason to watch the NBA season before the playoffs begin, tell them to shut their yap. Because as good as it is to watch elite teams fire on all cylinders, it's even more fun to watch emerging teams start to put things together -- to see clubs that were down, slowly, one night at a time, climb the ladder.
These are the squads that wrap you up, even if they're not from your hometown, even if you've never had anything to do with them before. Their pluck draws you in. They win a few key games, upset a big boy, and you're hooked.
Right now, if you're a fan of the NBA, you're a fan of the Grizzlies, Cavs, Jazz, Nuggets, and Bucks. You want to see them keep the show rolling in '05. You want that 'Melo jersey you bought to look legit, come springtime.
But if you're an NBA fan, you also know it won't happen for all of them. You know some team, maybe more than one of them, will hit the plexiglass ceiling but good, and come crashing to the floor. They won't surprise anyone this time around. The tactics of their coach will wear thin. The players will come back just one tick less hungry, and they'll be dead and gone by Valentine's Day.
And even knowing that, you're letting yourself think right now that somebody is going to bust through, too, like a Double D slam, and leave plexiglass bits scattered about the gym. They'll be boosted by last year's results. They'll expect to win. The taste they got last year will feed them from wire to wire.
Who's it gonna be? Who comes crashing down to earth? Who flies higher still?
I'm no psychic, but here's some stuff to consider: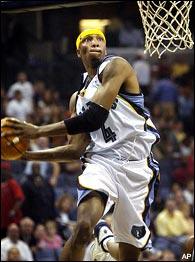 Look for Stromile Swift to attack the rim this season for Memphis.
Memphis Grizzlies (50-32 in 2004)
Why they might crash: Still no money man. Hubie and Jerry love the 10-man rotation thing; but they knew last year, even while they were racking up wins, that they lacked a superstar. The offseason brought Brian Cardinal. He's nice, but he isn't money. You're not putting the ball in his hands with the game on the line and saying, "Go get us one, Ace." That's not such a big deal in the regular season, as this team showed last year. But come playoff time, it sure helps to have an ace ... Plus, there's this little matter of trading in the fierce Grizzly Bear logo guy for that pale-blue Care Bear thing. You know the old adage: If it ain't broke, don't turn it into a cuddly doll you can find on the shelves of K-Mart.
Why they might bust through: Pau Gasol was a monster in the Olympics. Expect him to come out more confident than ever. Stro Swift is in his contract year. And the team is loaded with more useful, know-their-role guys than anyone else in the league: Cardinal, James Posey, Bonzi Wells, Shane Battier, Bo Outlaw, Earl Watson. These guys wire the details of a game about as well as Danny Ocean's boys do.
Odds: 3-2 against.
Cleveland Cavaliers (35-47 in 2004)
Why they might crash: Biggest lie of the preseason? Jim Paxson saying he likes his team better now without Boozer. Are we supposed to believe Drew Gooden is going to get the ball and make that first quick pass to LeBron? You think LeBron believes that? Oh, and, umm, who shoots the ball for this team?
Why they might bust through: I got a fortune in a cookie at Northtown Hunan the other night that read: "He is even better than you think. Seriously." I thought for a while that it referred to Ricky Gervais, but I realize now that of course it had to be the King.
Odds: 3-1 against.
Utah Jazz (42-40 in 2004)
Why they might crash: I can't think of a reason. Can you think of a reason? Until last week, maybe you could have made one of those convoluted cases about how an unhappy, not-yet-signed Andrei Kirilenko would be a poisonous problem. But now that's all tied up with an $86 million bow.
Why they might bust through: Harpring is coming back. Kirilenko is going to improve on what is already a terrifyingly diverse skill set (he's been shooting all summer, like Jimmy Chitwood on an Indiana farm). Boozer is going to run all season on the desire to push the summer out of his, and everyone else's, mind. Arroyo is about to make the leap (if he hasn't already). And, oh yeah, their coach is pretty good at this.
Odds: 4-1 for.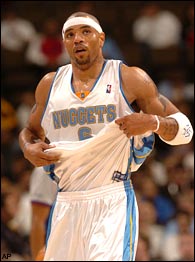 Kenyon still doesn't look quite right in a Denver uniform, does he?
Denver Nuggets (43-39 in 2004)
Why they might crash: Kenyon just isn't all that.
Why they might bust through: Yes he is.
Odds: 3-1 for.
Milwaukee Bucks (41-41 in 2004)
Why they might crash: The clamps are coming down on T.J. Ford -- everybody's going to lay a body on him -- and Michael Redd is going to get a clean look about as often as Richard Pryor told a clean joke. That, plus this: Dan Gadzuric vs. Shaq, vs. Kevin Garnett, vs. Chris Webber, vs. Yao Ming, vs. Brad Miller, vs. Tim Duncan, vs. ... Erick Dampier, for that matter.
Why they might bust through: What if this were the perfect town and team for Keith Van Horn? What if the last 25 games of last season were just the beginning? What if he's the glue, always coming with just enough buckets and just enough dishes and just enough boards to free Micheal Redd to be Michael Redd? I know, I know, but I'm just saying, what if ... ?
Odds: Even.
Eric Neel is a columnist for Page 2.