By Eric Neel
Page 2
LeBron is unreal. He's a comic book freak with super powers. He runs the floor, drives the lane, sticks the J, crashes the boards, smiles for the cameras, and does it all with the easy touch of genius.
He's so good, we can hardly imagine him. He's so good, we can't really see him. He's so good, we forget what else he is. We forget he's also a Cavalier (the ancient Sanskrit word for "loser"). We forget he's just one player on a roster full of cast-offs, retreads, and has-beens. And maybe most of all, we forget he's only 19.
We watch him play and he knocks us out. We listen to him talk and he dazzles us. We figure he's perfect. We figure he's primed for a straight shot to the Promised Land, that he'll just pick his club up now and carry them on down the golden road.
We ought to know better. We ought to be students of history.
LeBron is a great basketball player -- that seems certain. What else will he be? That's where it gets interesting.
Because the road, even for the truly great, is long, and the twists and turns are many.
Take his predecessors, guys whose games have shone as fully and brightly as LeBron's shines now ...
Take the MJ Road
He's the undisputed GOAT, and has been for a long time. He's got six Larry O'Briens on the mantle, and the adoration of fans and players the world over. He's the gold standard. But even Jordan's metal has come with some impurities over the years.
When he was LeBron's age, he was the hotshot who took the last-second shot to win the 1982 NCAA Championship. But as a young baller in the Association, his rep and his resolve took a beating. Bulls losses piled up in the early days, and criticisms of Air's game came right along with them. He was a great individual player who was just that: individual. He couldn't make his teammates better. He was about the shoes, the bling, the fame, the commercials, the hotdog moves, the dunks. That was the rap.
He put that story to rest (with a little help from Scottie) with a three-peat in the early '90s, and his business savvy made him not just a star but the world's most recognizable brand. He reinvented the athletic wheel, and made himself and his game a part of our culture and our language.
But there were bumps and detours on the way to immortality. Rumors of huge gambling debts on the links and marital infidelity away from the court tarnished his teflon image, and a confusing baseball sojourn in '94 made him seem like the last thing anyone thought he'd ever be: ordinary. Then he turned the minor league bus around, rode the Bulls to another title hat trick, and rode off into the sunset with Bryon Russell in his back pocket. A perfect ending.
Only it wasn't the end. That came, oddly, in a Wizards uni, with ice on his aging knees and frustration written all over his face. At 41, the rumors of a comeback reveal just how bittersweet his legacy turned out to be.
Like Air, LeBron is heir to a franchise in ruin. And like Jordan, James has a skill set and a confident gleam in his eye that makes everyone believe he'll save them.
Take the Magic Road
He's a grand old man now, everybody's favorite basketball uncle. And he was All That and a pack of Pop Rocks as a player. But his five rings and his enduring smile have come through some serious growing pains.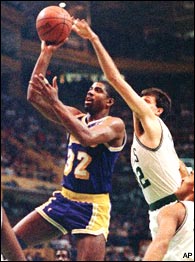 Think LeBron will win as many championships as MJ or Magic?
When he was LeBron's age, he was dueling with Larry Legend for an NCAA title. Like LeBron and 'Melo now, he and Bird were the heart of an NBA revival. On top of the world. Magic won his first ring in his first year with the Lakers, going for 42-15-7 in the clincher against the Sixers. His smile was infectious. His game was a revelation. Things looked easy. The road looked smooth.
Then came a dark cloud. At age 21, Magic refused to play for Lakers coach Paul Westhead and got the man fired -- basically just punked the guy. The Lakers self-destructed that year, and Magic's career suddenly seemed to be in a death spiral. He recovered; but another title later, he had a Finals meltdown against Bird's Celtics, and there were whispers about his selfishness and his shooting touch (or lack thereof).
He cranked his game up from there, and put a dagger in the heart of Laker demons and Celtic faithful with an unforgettable baby sky hook to win Game 4 of the 1987 Finals. "Showtime" was rolling again, and he was its pitch-perfect conductor. But we didn't know what was happening after the games. We didn't know promiscuity would bring his career to a sad, screeching halt. We thought we'd see him smiling and dishing and winning until he was 40. Instead, he was essentially out of the league at 32.
Magic seems to have passed his indomitable smile straight down to LeBron. His smile, and his court vision, too. Watching James is like watching Johnson 2.0. Both men make the game look easy, almost too easy.
Take the Kobe Road
Like LeBron, he was a can't-miss kid making the leap straight from the prom. He made an early splash and there were glimpses of brilliance, but there were doubts, too. Before he became the man you most want with the rock in his hands as the clock winds down, he was the kid who air-balled crunch-time shots in the playoffs against the Jazz, the ball-hog who was in over his head.
Then the game matured, the body grew into itself, and the minutes increased. He was a rising star. Maybe the next MJ, definitely the next great offensive talent. Then came Phil, and three straight rings for Kobe, Shaq, and the Zen Master.
But as smooth as things looked on the court, they were just about exactly as rough off it. Every step on his path to greatness came muddied with the stories of his clashes with The Daddy and with Phil -- even with his parents and anyone else who tried to help him. It was like his reputation was traveling on parallel but opposite tracks: The player was an unstoppable force, but the man was an unquenchable egomaniac. You didn't know whether to hold him in awe or in contempt.
Then came the hotel room in Eagle, CO; and the doubts and disappointments, the sorrow and suspicion, went way beyond the game. And now, on the heels of a dismissed case, he begins a new era, turns a new corner, becomes the solitary superstar on a team full of relative nobodies. And who knows where he goes from here. There are signs up ahead. Some say redemption. Some say scorn. Few say love and happiness.
Their styles are different. Kobe will shoot where LJ will pass. But they were both anointed with greatness while still schoolboys, and they both came into the league looking to prove they were worthy of the hype.
Take the Penny Hardaway Road
Once upon a time, he was a marquee guy in a blockbuster trade for C-Webb. And look at the numbers from '94-'96: Penny was LeBron before LeBron. Just as quick with a dazzling pass, just as quick off the floor, just as quick with a smile. First-team All-NBA. Remember Little Penny? He seems like a lifetime ago -- a lifetime of injuries and arguments.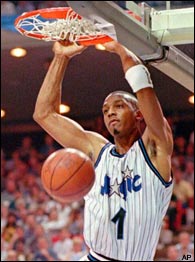 Penny Hardaway was a phenom early on in his career.
As fast as you can say "Grant Hill," Penny's wheels started to fail him. Then came the critics calling him "soft," saying he wasn't Money. And like Kobe and Shaq, Hardaway and O'Neal tussled over control of the ship in Orlando, and there were squabbles with Magic head coach Brian Hill. And to many, Penny became just another spoiled athlete looking out for himself -- a coach killer and a malcontent.
It could have ended there, with steaming and fuming and phoning it in; but to his credit, he didn't leave it like that. He came back from injuries in 1999, left Orlando, headed to Phoenix, and soldiered on. The aches and pains lingered, though. He was a good player for the Suns, but not quite a superstar. He's had to re-invent himself some over the years, give up the idea of being the centerpiece. Now he's a role player in New York, waiting on a Travolta comeback moment that might never come.
LeBron is bigger and stronger -- a virtual point power forward -- but Penny played the game the way LJ does, from all points and every angle, and he had the same sort of buzz about him, as a kid who was changing the look of hoops right before our eyes.
Take the Air Canada Road
It's hard to imagine now, when you can't find anyone who'll admit to having him on his fantasy squad and the SG is thinking about renaming his Patrick Ewing Theory after the poor guy. But it wasn't all that long ago that Vince was the high-flyin', death-defyin' heir to Air. Everybody wanted to be Vince. Vince was the future, the man who had reinvented hang time. Our expectations were draped all over him.
Maybe they were too heavy. Leg injuries struck, as they had with Penny; and just like that, perceptions changed. He didn't drive enough, people said. He wasn't hungry enough. He shrunk from the big moment. VC insisted it wasn't true and stood in gamely, and took his club within a single shot of the conference finals in 2001. But that shot was his shot, and it was a fadeaway, and he missed it. And he missed it after he'd spent the morning before the game at his college graduation ceremony. Where were his priorities, folks wondered?
And then they stopped wondering about him because the Raptors made a playoff run without him in 2003. He became a punch line. Forgotten. And now he's back healthy again, playing with a group of lanky young runners, and they're off to a hot start, and you wonder, and you hope: Is this the start of a new chapter? Is this a new turn in the road?
Vince and LeBron both play the game in one of the league's frozen outposts (Toronto and Cleveland). It's a blessing and a curse. On the one hand, you get a chance to develop your game out of the white-hot spotlight of a big-time NBA city -- on the other hand, you're constantly in danger of just falling off the map. Both less pressure and more, to be the next big thing.
*****
And it's not just a hoops thing. Consider ...
The Andre Agassi Road: It winds from shot-making, name-taking phenom, through shallow, camera-wielding pitchman who doesn't know how to win, to redeemed failure who finally delivers, to one half of tennis' most riveting rivalry, to solitary master of technique and preparation, and finally, to keeper of the old flame, the elder statesman of the game.
The Tiger Woods Road: For so long, it looked so straight and so true, but it's now wandering out across the desert.
The A-Rod Road: Easy as his swing. Without a hitch. Until the chances and choices of free agency changed everything.
The Barry Sanders Road: Which ended abruptly, and too soon.
The Michael Vick Road: Stopping and starting with injuries, zigging and zagging between being an architect of the new football thing and a kid who needs to be schooled in the old ways.
These are the roads that have come before him. These aren't LeBron's roads. Each one is unique. Each one comes with its own peculiarities and travails, its own highs and lows.
LeBron will take and make his own road. But he will travel. It won't be a straight shot from here to immortality. No human arc is ever that true.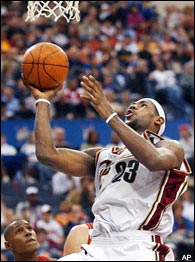 Let's just sit back and watch the path LeBron takes the next 20 years.
He'll be great when the Cavs are bad. He might slump when the team is on the rise. Who knows? Things will happen in and out of the game, things we can't predict, things that won't matter in the long run and things that just might change everything.
He's an unreal talent, but he's real. Just like MJ and Magic, just like any of us. He's a human being, and a young one at that. There will be times when he amazes us and times when he disappoints us, times when we see ourselves riding right alongside him and times when we think he's strayed from the path.
Bank on it.
If we lose sight of that now at the start of LeBron Year Two, if we expect nothing but blue skies and championship trophies from now on, we miss out.
We miss out on letting him become what he'll become, whatever that is.
We miss out on enjoying and appreciating what he is right now, which is something spectacular even if it isn't yet enough to make the Cavs champions of the world -- even if it won't last forever, even if it comes some day with more baggage than it does now.
So let's not make him the King just yet. Let's not make him anything. Let's let LeBron be LeBron. And let's watch what happens.
Eric Neel is a columnist for Page 2.