By Eric Neel
Page 2
I watch the game last night and I see two Tracy McGradys.
One of them ...
Wanders out around the arc like a tourist lost in the big city, gawking up at the buildings and letting Grant Hill mark him without having to break a sweat ...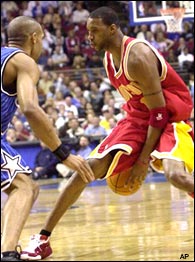 Tracy McGrady dominated Grant Hill and the Magic -- at times.
Leans left with Doug Christie's hand in his face and somehow actually forces a never-shoulda-been-shot ball off the right side of the iron; the sort of shot that makes YBA coaches wince and parents cringe ...
Bangs a three-ball hard and clean off the backboard like maybe he's going for a three-cushion combination in a showdown with Minnesota Fats, instead of going heads-up with the little old Pat Garrity standing in front of him just waiting to get taken to the rack ...
Pretty much ignores his 8-for-12-on-the-night and seven-foot-six-tonight-and-every-night comrade Yao, no matter how many times the big man stands in the post making Dwight Howard look like the child that he is ...
Fades away when he ought to fall forward ...
Backs into Christie and does a little swing-left-shoot-right thing that, in the shoulders, is reminiscent of Kareem and Hakeem, but in the hands and the clanging touch reminds you more of Chris Farley doing Kung Fu ...
Shoots early in the clock, with nobody under ...
Palms the ball absentmindedly, and way out on the left elbow, while his teammates turn to statues in the park ...
And aborts a drive, even when he's got Hill in his back pocket, and trades a sure two for an off-balance brick.
The other ...
Blows by Garrity with a first step that doesn't seem fair, meets a hard-charging Tony Battie deep in the key, absorbs the contact, holds the ball out wide to his right side and flicks it up and in off the glass like he's letting loose a dove into the air, just as pretty as you please ...
Rises up, smooth and true, with a defender all up on him, and drains a long three from the corner as the shot clock winds down, bailing his mates out of a jam, and making me think he's some wicked, brilliant lovechild of David Thompson and Bob McAdoo ...
Lies in wait at the top of the key and robs poor Grant blind with a plastic-man poke at the ball, turning a fastbreak going one way into a fastbreak going the other ...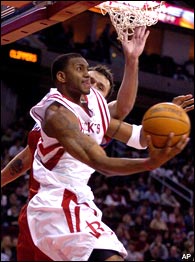 When he's on, McGrady might be the most exciting player in the league.
Drives the right side of the lane, waits for two defenders to come to him, and wraps a quick skip pass behind Kelvin Cato and out to Bob Sura, who cashes in from the three-point line ...
Goes hard to the bucket, takes the blows, and hits 10 out of 12 of throws ...
Falls to his left knee, loses the handle, gets it back and gets back up while spinning hard right to the right baseline, where Hill, left in his wake, has a nice view of his just-for-kicks switch to the left hand and the rim rattler that caps it ...
Wants the ball when things get tight ...
Continues to unselfishly kick it to guys like Juwan Howard, Andre Barrett, and Scott Padgett, even when they ham-hand his passes ...
Smiles like he loves the game ...
And does these little slow-motion slides, like the fourth-quarter one last night between Hedu Turkoglu and Cato, where he teases defenders with what looks like a reachable ball and defendable move, only to somehow embarrass them with a "simple" layup they couldn't stop in a hundred tries.
The two Tracys. One drives you mad, the other knocks you out. A head scratcher and a gobsmacker.
What to make of them?
Conventional wisdom now says the first Tracy, the wayward son, is the real one. Conventional wisdom says he's a heck of a talent but a bad fit; too easy like Sunday morning when the moment calls for eye of the tiger.
I can see it. I saw some of it last night, and like I said the other day, I've got some long-term doubts like most everyone else does.
But I can see it another way, too.
I can see how the man is so gifted that he spoils us. (Chad Ford over at Insider says his versatility and skill set are "unmatched by any player in the league"). I can see how we can't help but wish for, and even expect, more and better things from him every minute of every game. He does something miraculous and we think he should do it every time. He eats some poor mope up, and we believe he can never be stopped. He drops 13 on the Spurs in about 3.9 seconds and we say, "Do it again."
We read his every move in light of what Magic GM John Weisbrod said about him, and in light of what he admitted about himself last season. We look at him through the lens of last year, and forget the three years before that when he carried the otherwise sorry Magic to consecutive playoff appearances.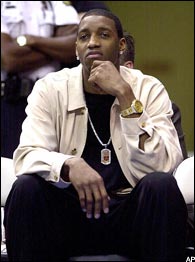 "Hmmm...which T-Mac should I be today?"
And maybe we forget how being "the man" on that Magic team, whose second-best offensive weapon was Journeyman Juwan, might reasonably have led to bad habits, and how maybe it would take some time to work your way out of those habits in your new world in Houston.
And maybe we forget that he's just 25 and he ain't near done yet, too.
And perhaps we should consider that with the minutes he logs (second in the league at 41.9), and with heights he reaches, there will always be some lapses and some failings; it's just natural.
People are asking, "What's wrong with Tracy? Why isn't it working out in Houston?"
Expectations were high this past summer, so the question is understandble enough.
And the two Tracys tend to confuse and frustrate us as fans, so the question is almost inevitable.
But here's the thing: The man is producing, same as he ever was. He's in the top 10 in nine offensive categories. He's averaging (after a slow start) almost 25 points a night, to go along with 5.6 assists and 6.2 rebounds. That ain't bad. In fact, that's real good.
And not just good for him, but for the Rockets, too. Has the Tracy-and-Yao Show worked out? Not really. Has it been ugly at times? Definitely.
But things are looking up. The Rockets have won six out of their last 10 (T-Mac's been the leading scorer on nine of those occasions), and after starting the season 6-10, they've gone on a 15-8 turnaround.
Which makes me think maybe Tracy II is going to be the dominant one, and maybe the answer to the question is something like, "Nothing's wrong with Tracy. Be patient."
Eric Neel is a columnist for Page 2. His Basketball Jones column appears each Wednesday during the NBA season.