By Eric Neel
Page 2
Once again, my friend Dave, who can't believe he still has to wait more than a week for the first spring training game scores, has dropped a passel of NBAish questions on my doorstep.
Hey, E, are you still on the Steve Nash-for-MVP bandwagon? I know he's having a great year and all, but people are acting like he's the only one responsible for the Suns' turnaround. And you seem to be forgetting that he's putting up his numbers (16.4 ppg, 11.5 apg) in a high-scoring environment (110 ppg for Phoenix). Compare that to, say, LeBron, who is putting up 25.4/7.1/7.7 in a 98-ppg environment.
The short answer is yes.
The Suns' success is a collective endeavor, no doubt, but Amare and Marion aren't creating a whole lot on their own (Amare would be successful as a straight-up post -- he's incredibly quick and strong -- but he wouldn't be this successful). Meanwhile, Nash creates just about everything he gets and he enables them in a big, big way. Which is to say, Nash has a whole lot to do with creating the environment he's playing in. I was in Phoenix in January, and I saw the difference between how this team runs without him and how it runs with him. Night and day.
Now that doesn't mean the dive the Suns took when he was gone proves he's the MVP (as Mike Kurylo over at the indispensable KnickerBlogger.net reminded me this weekend, what really kills the Suns during any stretch without Nash is the fact that they don't have a viable backup point). No, his outstanding overall performance, including 11.5 assists per game, a 51.1 field-goal percentage (from the point, mind you), and 16.4 ppg, for a team that has won 41 games so far, makes him viable.
I'm not saying he's the only choice. LeBron is definitely in the conversation, as are Nowitzki, Duncan, Garnett, Amare, AI, Shaq and Kobe. And my guess is, come the end of the season, several of those guys will be more popular choices. I'm just saying Nash is legit, and as I said before, I like the symbolism in his candidacy.
So I guess that wasn't really the short answer, was it, D? Sorry 'bout that.
Don't Miss
I'm assuming you'll be watching the Rockets-Spurs matchup on the worldwide leader Wednesday night, so here's a TiVo alert: "The Team That Changed The World," a terrific new documentary on the Harlem Globetrotters debuting tonight at 9 p.m. ET on PBS stations across the country (check local listings).

The film, narrated by former Public Enemy front man Chuck D, focuses on the Globetrotters' role as ambassadors of racial equality in tendentious times at home and abroad, including two groundbreaking head-to-head matches with George Mikan's Minneapolis Lakers and an historic exhibition in Berlin Stadium in 1951. The cast of commentators is impressive -- Barak Obama, John Chaney, Bill Cosby, Rollie Massimino -- but the highlights of the film are the highlights, tremendous game-action clips of Marques Haynes, Goose Tatum, and all the early players. If you've ever seen and loved the Trotters, if you think you know all there is to know about them, tune in. You'll be glad you did.
I remember early this season, when the Bulls started 0-9, you said a few very unkind things about them. What do you have to say now, Mr. Basketball Jones?
Luol Deng is my daddy.
OK, you've had 50 games to evaluate the rooks. Don't tell me who's going to be rookie of the year. Tell me which guy you want for the next decade.
See above.
Seriously, 10 years from now he's only 29, and at 19 we're already seeing a complete skill set (top five among rookies in boards, dishes and points). Remember now, he's playing just 28 minutes per night (Okafor plays almost 36). Run his points-per-40 and you get about an 18-point money man, who can run the floor for you and run the floor for you, if you know what I'm saying.
People love Kirk Hinrich, and with good reason, but my guess is we'll be calling the Bulls Luol's team within two years.
We're going to say the Hawks are Josh Smith's team, too, by the way, but nobody's going to care because, you know, they're the Hawks and all.
The Spurs are 41-12. The Suns are 41-13. The Spurs are 23-1 at home. I assume if Phoenix has ANY shot to beat the Spurs, the Suns need to secure home-court advantage?
Home-court advantage would help (not as much as, say, food poisoning engineered by room service staff at the Spurs' Phoenix hotel, maybe), but I don't think it would be enough.
The Spurs have an answer for everything the Suns do. They defend the perimeter and the post; they can run when Phoenix runs; they move the ball incredibly well in the half-court, forcing the Suns to use a lot of extra energy on defense; trying to stop Duncan poses a constant threat of foul-outs to Marion and Amare; Ginobili eats Nash and Joe Johnson alive; etc.
The Suns shouldn't feel bad, though; this is pretty much what San Antonio does to everyone else in the league, too.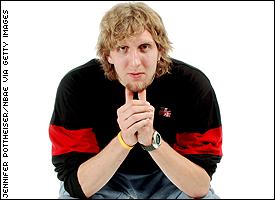 Any wonder why some people don't take Dirk's hoops skills seriously?
Yao Ming. Assessment.
I think it's still too early to say. We're talking about the midpoint of his third year, and we're talking about an absolutely unprecedented first three years in terms of who he is and where he comes from. And all that's before we get to the fact that he's playing for a coach who wants to make him into something he isn't, and to his still learning how to play alongside his new superstar teammate.
I think we still have a lot to see is all I'll say. I don't think the story has been told, not by a long shot.
That said, the man has got to mix in some assists every once in a while, doesn't he? 0.8? At 7-foot-6? That's brutal. He ought to get three or four a night just finding Tracy out of the double-team.
Gilbert Arenas or Michael Redd?
Give me Arenas, his two extra years and his ability to run my offense, for $800, Alex.
How excited are you over that Atlantic Division race?
More excited than I am over the best actress Oscar race, and less excited than I am over the prospect of a Chris Rock opening monologue.
(Jersey's going to win the division, by the way.)
What's your biggest disappointment at this time?
My biggest disappointment is that Andrei Kirilenko has played in just 25 games.
My next biggest disappointment is that the rest of the Jazz, who I seriously thought were going to make some noise in the West, have been so worthless when he has been out.
OK, let's hear it: Who are the final four teams in the West, the final two, and the West conference champ. (Yes, this is my indirect way of asking you how far Danny Fortson's Sonics are going this season.)
Four: San Antonio, Phoenix, Seattle, Dallas
Two: San Antonio, Dallas
Champ: San Antonio
Fortson and the Sonics: Farther than anyone thought they would, and far enough to get Walter Ray re-upped, which is what really matters at this point.
Has anybody noticed the Grizzlies are 30-23?
The Grizz are good, mostly because they defend. They give up the third-fewest points in the league, after San Antonio and Detroit.
The problem is, they're not much fun to watch. They've got runners (JWill, Miller, Stro Swift, Earl Watson, Shane Battier, etc.), but they don't run. Their possessions per game number (a measure of pace of play found here is 90.3, which is 27th in the league.
The other thing working against them, of course, is Fratello's hair. People just don't want to look at it.
Anyway, in the East, they win a series, maybe even contend for the conference finals. In the West, they're a tough out, but they won't get past the first round.
Why won't the Wizards win the East, after Larry and Kwame return?
1-8 so far against Miami, Detroit and Cleveland.
Magic at 20 with Kareem at center ... NBA title.
LeBron at 20 with Big Z at center ... ???
I feel a bit dirty even answering this; I ought to reject the comparison of Kareem and Big Z on principle.
So, as long as we stipulate that Ilgauskas is to Kareem what Norman Rockwell is to Leonardo, I'll say this: Eastern Conference runners-up.
Does it bother you that there is no NHL season?
It bothers me the same way those nature films about lemmings going over the cliff bother me. I look at it and I think, "Poor, dumb &*$#%@." And then I change the channel back to something more interesting, like "Project Runway."
Eric Neel is a columnist for Page 2. His Basketball Jones column will appear each week during the NBA season.