The Spurs are 41-12. The Suns are 41-13. The Spurs are 23-1 at home. I assume if Phoenix has ANY shot to beat the Spurs, the Suns need to secure home-court advantage?
Home-court advantage would help (not as much as, say, food poisoning engineered by room service staff at the Spurs' Phoenix hotel, maybe), but I don't think it would be enough.
The Spurs have an answer for everything the Suns do. They defend the perimeter and the post; they can run when Phoenix runs; they move the ball incredibly well in the half-court, forcing the Suns to use a lot of extra energy on defense; trying to stop Duncan poses a constant threat of foul-outs to Marion and Amare; Ginobili eats Nash and Joe Johnson alive; etc.
The Suns shouldn't feel bad, though; this is pretty much what San Antonio does to everyone else in the league, too.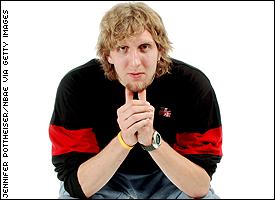 Any wonder why some people don't take Dirk's hoops skills seriously?
Yao Ming. Assessment.
I think it's still too early to say. We're talking about the midpoint of his third year, and we're talking about an absolutely unprecedented first three years in terms of who he is and where he comes from. And all that's before we get to the fact that he's playing for a coach who wants to make him into something he isn't, and to his still learning how to play alongside his new superstar teammate.
I think we still have a lot to see is all I'll say. I don't think the story has been told, not by a long shot.
That said, the man has got to mix in some assists every once in a while, doesn't he? 0.8? At 7-foot-6? That's brutal. He ought to get three or four a night just finding Tracy out of the double-team.
Gilbert Arenas or Michael Redd?
Give me Arenas, his two extra years and his ability to run my offense, for $800, Alex.
How excited are you over that Atlantic Division race?
More excited than I am over the best actress Oscar race, and less excited than I am over the prospect of a Chris Rock opening monologue.
(Jersey's going to win the division, by the way.)
What's your biggest disappointment at this time?
My biggest disappointment is that Andrei Kirilenko has played in just 25 games.
My next biggest disappointment is that the rest of the Jazz, who I seriously thought were going to make some noise in the West, have been so worthless when he has been out.
OK, let's hear it: Who are the final four teams in the West, the final two, and the West conference champ. (Yes, this is my indirect way of asking you how far Danny Fortson's Sonics are going this season.)
Four: San Antonio, Phoenix, Seattle, Dallas
Two: San Antonio, Dallas
Champ: San Antonio
Fortson and the Sonics: Farther than anyone thought they would, and far enough to get Walter Ray re-upped, which is what really matters at this point.
Has anybody noticed the Grizzlies are 30-23?
The Grizz are good, mostly because they defend. They give up the third-fewest points in the league, after San Antonio and Detroit.
The problem is, they're not much fun to watch. They've got runners (JWill, Miller, Stro Swift, Earl Watson, Shane Battier, etc.), but they don't run. Their possessions per game number (a measure of pace of play found here is 90.3, which is 27th in the league.
The other thing working against them, of course, is Fratello's hair. People just don't want to look at it.
Anyway, in the East, they win a series, maybe even contend for the conference finals. In the West, they're a tough out, but they won't get past the first round.
Why won't the Wizards win the East, after Larry and Kwame return?
1-8 so far against Miami, Detroit and Cleveland.
Magic at 20 with Kareem at center ... NBA title.
LeBron at 20 with Big Z at center ... ???
I feel a bit dirty even answering this; I ought to reject the comparison of Kareem and Big Z on principle.
So, as long as we stipulate that Ilgauskas is to Kareem what Norman Rockwell is to Leonardo, I'll say this: Eastern Conference runners-up.
Does it bother you that there is no NHL season?
It bothers me the same way those nature films about lemmings going over the cliff bother me. I look at it and I think, "Poor, dumb &*$#%@." And then I change the channel back to something more interesting, like "Project Runway."
Eric Neel is a columnist for Page 2. His Basketball Jones column will appear each week during the NBA season.