Single page view
By Eric Neel
Page 2
SATURDAY'S BLOG | FRIDAY'S BLOG
ST. LOUIS -- It's time to take sides. We've got a dream matchup. Game of the quarter-century. No. 1 vs. No. 2. Two storied programs, two great coaches, two incredibly versatile and talented clubs.
Who do you side with? What's your call? Don't sit on the fence, now. Get in it.
Consider your options and make a choice.
Why should you root for Illinois?
• How about Bruce Weber's stirring, ongoing tribute to the late, great William Hickey? (Think "Prizzi's Honor.")
• How about Roger Powell Jr., a licensed minister, who prayed at halftime of the semifinal game that he would be worthy of the moment in which his team needed him most, and then went on an insane 18-point scoring binge from inside and out in the second half?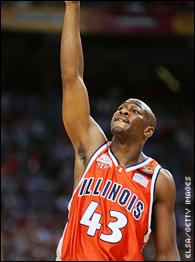 How can you root against Roger Powell, Jr., and his higher calling?
The kid is humble, hungry, and coming off the game of his life. Not to mention the fact that his put-back off his own missed three goes directly into the pantheon (along with Grant Hill's one-hander and Michael Graham's breakaway tomahawk) of all-time great Final Four dunks. This is a guy you can root for.
• How about the fact that the team loves the three? Thirty attempts in the semis? "It's part of how we stay loose," Weber said afterward. "We all shoot 'em." Amen and keep it coming, Coach. And they will; they hit at a .397 clip from beyond the arc this season and took 22 a night. That's been good for a 37-1 record so far. Think they're going to change it up now? Neither do I.
And wasn't it sweet the way they took the three, Rick Pitino's weapon of choice, and shot his boys out of the water with it? Isn't that a little bit of poetry, a little bit of panache? Can't you get with that? I think you can.
• How about the way they move the ball? The game against Louisville was tight at the half, but you could see the second half coming. The Illini were whipping passes into open spaces, making extra passes, finding each other in spots to shoot. In other words, they were playing terrific team basketball. It was a thing of beauty; and when the shooting percentage went up in the second half, it was prettier still. "They distribute the ball better than any team we've seen all year," North Carolina's Sean May said.
• How about what it would mean to Weber to share a championship, in his head and heart, with his mother?
And while we're at it, let's not forget about Lou Henson and his juicy orange blazer getting a chance, finally, to exhale and maybe even shed a tear.
Because remember now, Illinois has never been to the championship game. So rooting for them is rooting for history-in-the-making.
And while we're on the topic of history, keep in mind that their next win (which would be 38) would be the most wins in a season by any college team ever.
• How about the dawn of a new day in Big Ten hoops? Gone are the "tough" (read slow), "strong" (read slower), "physical" (read slower still) days. Here's to the start of the era of quickness, precision, and flow. Here's to the new paradigm in the Heartland.