By Eric Neel
Page 2
MONDAY'S BLOG | SUNDAY: TAKING SIDES | SATURDAY'S BLOG | FRIDAY'S BLOG
ST. LOUIS, Tuesday morning:
There was some snap, crackle and pop, some confetti and some shouting, when it was over, but you couldn't help but think of the old phrase, "not with a bang but a whimper."
The room, the whole orange city of St. Louis, was so ripe for an explosion last night. When the Illini pulled back even at 65 you could feel the mayhem about to come.
And then it didn't. Raymond Felton hit that step-back 3, Marvin Williams tipped in that McCants miss, and the tide turned blue.
And it was strange, almost phenomenal, how the character of the arena shifted in the moments after it was over. The character of the crowd seemed literally to turn; whole areas of the stands that were once deep orange had been usurped by Carolina Blue. Their numbers seemed to multiply, their band seemed to grow.
Winning changes everything.
*****

Just a few moments after the final buzzer, with the Carolina celebration going on out on the floor, Deron Williams walked alone along the back corridor to the Illinois locker room. His head was down, and as he shuffled he unwrapped a piece of tape from his left wrist and worked it between his fingers like a string of worry beads, like maybe it held answers for him. It was a scene from "Requiem For a Heavyweight," a sad, quiet thing.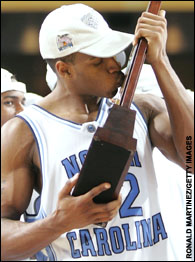 Rashad McCants hugs his new baby.
*****

Maybe you saw it on television, but the North Carolina players passed the championship trophy around the podium last night, and when it came to Rashad McCants he held it like a baby in his arms, staring in at its beautiful face in disbelief and wonder, rocking it back and forth like a proud papa would. He'd played it cool for days here in St. Louis, and kept his heart hidden behind a sly grin, but the kid was genuinely moved last night.
*****

Jay-Z came hurrying back after the game was over to console the Illinois kids.
That seemed like a big-time star sighting until I was walking along the back channels and got slowed up by an entourage in front of me that included four Missouri state troopers, a silver-haired man in a blue sport coat, and a tall man in a Carolina blue sweat suit (and we're not talking coaches' sweats now, we're talking a plush, crushed velvet thing, something with swagger and flow). It took a minute for me to see what I was seeing, and then it hit me. Smith and Jordan. Dean and Michael. Now that's some star power.
As they approached the Carolina locker room, Michael just held his right arm in the air and pointed to the sky, the way he'd done after the Bulls' first championship so long ago. The kids from Carolina were skipping down the hall from the other direction now, singing and shouting. McCants called out to MJ: "What's up, Baby?!" Jawad Williams sang out: "'82, '93, oh-five!" And then it was a flurry of hugs and backslaps. MJ embraced McCants and whispered in his ear, maybe telling him he'd done good, putting up with the pressure and the disappointments that had come before. Coach Smith wrapped his arm around Raymond Felton and said, "I'm so happy for you, so proud of you!"
Linnea Smith, the coach's wife, said to me: "I think tonight Dean was finally starting to understand how hard it was to watch him and his team play all those years. He was a nervous wreck tonight. I thought he might pass out, I really did."
Does Michael get nervous, too?
"Oh yes," she said. "But he tends to keep it inside, and I think because he's been in so many pressure situations out on the floor, he doesn't worry so much as he identifies. He knows what those kids were feeling tonight."
*****

Charlie Everett, a senior for Carolina who didn't see a minute of action in the Final Four, was a giddy kid in the locker room afterward, sitting in front of his locker, staring at his shoes, shouting, "Oh my goodness! Oh my goodness!" over and over again.
We never see them, but practice players are a part of this thing. They feel the feeling when it comes.
*****

Sean May sat in front of his locker, surrounded by reporters, soaking up the moment.
"I tell you what," he said, laughing. "I can't wait until Stackhouse has his alumni game this summer. I can't wait. I'm going to be talking to him all night about what we have and he doesn't!"
*****

I don't want to ruin the joy of the moment or anything, but I have to ask: Are these NCAA trophies, with the wood and the bland logo, the best we can do?
Is it me or don't they kind of jam up the euphoria a bit? Don't they lend an inappropriate anticlimax to things?
I'm just asking because in the moments after the game, in the midst of the Carolina locker room party, the trophy sat alone in an empty locker, an afterthought.
*****

Best postgame locker room comment, from I don't know who, to nobody, to everybody, in particular: "Is that team enough for you?! Are we team enough for you now?!"
*****

The writing on McCants' shoes: "One word to describe me: Spectacular," "God first," "Log on," "Lock up," "La Familia," and the names of friends and family ...
*****

This Carolina team could lose seven players before it takes the floor again: three seniors will graduate, and McCants, May, Felton and Marvin Williams could all go.
Right after "Congratulations," the first thing out of every reporter's mouth last night was, "Will you stay?"
May, Felton, and Williams said it wasn't a question for tonight, said they'd sit down with coach Williams and their families and discuss their options. You got the sense that at least May (even with his value incredibly high after his performance in the title game) would be back. But McCants seemed pretty clearly gone.
"A national championship is a big accomplishment," he said. "It was my goal."
"Are you definitely leaving?" someone asked.
McCants rubbed his chin, nodded his head a bit, and said, "Probably."
*****

The last thing I saw in the arena was Bruce Weber walking back alone to the Illinois locker room. He was whupped, and he listed a bit, toward the curving wall of the hallway. And as he walked, he reached his right hand out to touch the stone wall, running his fingers along a groove the way a kid might run a stick along the top of a picket fence.
You wondered whether he was thinking, "What if?" Or if he was thinking of his mother, or about how proud he was of his players. Or if he was just reaching out to keep from falling over, to keep from falling apart.
And you knew, yeah, it was all of that.
Eric Neel is a columnist for Page 2.