OUT WEST,
where opposing managers will refuse to pitch to a certain unstoppable hitter time and time and time again. That hitter's name is ... Todd Helton. Check the rest of the Rockies' lineup – Relaford, Gonzalez, Holliday, Greene, Restovich, Baker, Sullivan and a pitcher – and you'll see what I'm getting at.
OUT WEST, where Barry Bonds is sure to call another news conference, and sure to resume chasing a little thing called the all-time home run record, bringing back steroids suspicions, BALCO rumors and a profound ambivalence none of us knows quite what to do with. Juiced or not, he's a Hall of Famer, a singular talent. Even in an era when we suspect performance-enhancing drug use to be widespread, he has stood head and shoulders above his peers. Even if it turns out he has been using, even if he confesses to it, we can't dismiss his record out of hand. The ugliest of ugly truths wouldn't settle the Bonds question, it would make it more convoluted. Where does talent end, and where do PEDs take over? How, beyond some vague use of a mental asterisk and a scornful eye, do we reckon with him and his place among the greats?
OUT WEST, where steroid stories will almost certainly start to swirl around Padres second baseman Mark Loretta, who is clearly experiencing an unnatural explosion in production after age 32. (Just kidding, Mark.)
OUT WEST, where Bobby Madritsch (when he comes off the DL) will hopefully continue to write one of the best bootstrap stories the sport has seen in a long time.
OUT WEST, where if you're not rooting for Byung-Hyun Kim to somehow, miraculously, survive Coors Field and his own shattered psyche, then you'd better check your chest and get yourself on down the yellow brick road, because you might be heartless. Seriously, Colorado? Do the baseball gods have an ax to grind with this guy? First, they make him the antagonist in "You've Never Heard of Me and I'm Not This Good: The Story of Scott Brosius' World Series Heroics." Then, they send him through the grinder in Boston. Now he gets high elevation and thin air?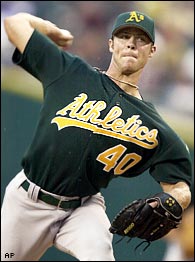 AP Photo
The A's are banking on Rich Harden to prove 'Moneyball' still works.
OUT WEST, where Rich Harden, Danny Haren, Joe Blanton and Kirk Saarloos may well make folks forget Mark Mulder and Tim Hudson in a hurry. As my friend Andy Behrens, Page 3 contributor, suggested to me the other day, Haren (2.77 ERA, .167 BAA and 6.23 K/9 in his first two starts) alone might be worth more than Mulder from here on out, and that's before we take into account the fact that the A's also picked up Kiki Calero (one of the great names and underrated arms in baseball) in the deal.
OUT WEST, where every line in every Los Angeles Dodgers box score will be read as a referendum on Paul DePodesta's sanity, effectiveness and future. Along with the Athletics' pitching changes, the Dodgers' moves for J.D. Drew, Derek Lowe, Jeff Kent, Jose Valentin and (last year) Hee Seop Choi and Brad Penny, and the ongoing story of how those moves play out, will be the next chapter in the ongoing holy war between Moneyballers and old-schoolers. The offseason programs of the A's and Dodgers are the two most radical, and most publicly doubted, yet instituted by an "objective analysis" team. Maybe even more than the Red Sox winning the Series under Epstein, the fate of these two teams this season will determine whether, as President Eisenhower once said, "Things are more like they are now than they've ever been before," or whether, as David Byrne once said, it's all the "same as it ever was."