Single page view
By Eric Neel
Page 2
You can not go out like this, Larry. For the sake of Iggy Pop, in the spirit of Mark Fidrych, and in the name of all that is Hitman and holy, you gotta come harder than this.
Enough about "Detroit Basketball," already. Quit with the "play the right way" routine. That stuff's been good for all of 69 and 76 points so far. That ain't gonna do it. You have to bust 80 tonight. Even if it's not enough to win, even if it's just enough to salvage your pride, even if it's just barely enough to distinguish your boys from the '99 Knicks, you must bust 80.
And to do that, you have to be willing to reinvent, right here and now. You have to be desperate, radical, crazy with the fever of a man left to die in the snow.
I know this isn't your long suit, this thinking outside the box stuff, so I've taken the liberty of making a list, Coach, just to get you started. Here's 30 ways to score 80 … you can thank me later.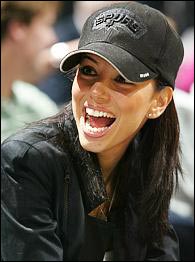 Eva would look great in a uniform, wouldn't she?
1. Sign Eva. Put her in an old Isiah jersey, and see if maybe the lane doesn't open up just a bit.
2. Forget the pick-and-roll and the pick-and-curl, and go with the "picket fence." There's just no way the Spurs have practiced for it.
3. Change the game. I'm thinking gin, maybe cribbage, but I hear Ginobili has never even heard of Yahtzee, so that might be the best call.
4. Put LeBron in. (Just kidding, LB, just kidding.)
5. Play more like the Lakers. I know your whole thing is predicated on burying all that Lakers selfishness under a shining, glorious monument to T.E.A.M. and all, but here's the thing: You've got two – count 'em, two – players who can score against this San Antonio team. You've got Chauncey, and you've got Rasheed. That's it. So why not let 'em run a little Kobe-Shaq, a little inside-out, a little pass-out-of-the-double, a little drive-and-dish? What do you have to lose, really? I mean, other than the potential shame and humiliation of calling Phil to ask for some pointers, of course.
6. Shoot only money balls. If anyone asks, claim the red-white-and-blue is a personal tribute to your old buddies in the ABA. If it helps, wear that scoop-necked overall thingy (you still have that tucked away in the closet somewhere, I hope), just to look authentic.
7. Take the Cleveland job. Now. First flight you can get, get out of town. There are a bunch of ways this works: Some guys on the squad are liberated, inspired by the prospect of playing free of your iron grip, others take their game to new heights in a kind of tribute to you and appreciation for all you've done for them, and still others rally around the poor schlub (in this case, Gar Heard) who's in over his head in your absence. I know it sounds crazy, but there's a Michigan history of this: Think Frieder, Schembechler and Fisher at UM in 1989, think Taggart and Rosewood when Axel gets in a jam.
8. Speaking of Heard, throw him the ball near the top of the key on every inbounds play. He'll take it from there.
9. Put wipers on Rip's mask. Squeegee the thing. Better yet, tell him to take it off. If it was good luck last year, this year it's just a gimmick and he's just a poor man's Michael Crawford, clinging to a role that doesn't mean anything to anyone but the old ladies and desperate housewives in the balcony.