By Eric Neel
Page 2
You can not go out like this, Larry. For the sake of Iggy Pop, in the spirit of Mark Fidrych, and in the name of all that is Hitman and holy, you gotta come harder than this.
Enough about "Detroit Basketball," already. Quit with the "play the right way" routine. That stuff's been good for all of 69 and 76 points so far. That ain't gonna do it. You have to bust 80 tonight. Even if it's not enough to win, even if it's just enough to salvage your pride, even if it's just barely enough to distinguish your boys from the '99 Knicks, you must bust 80.
And to do that, you have to be willing to reinvent, right here and now. You have to be desperate, radical, crazy with the fever of a man left to die in the snow.
I know this isn't your long suit, this thinking outside the box stuff, so I've taken the liberty of making a list, Coach, just to get you started. Here's 30 ways to score 80 … you can thank me later.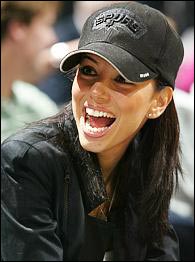 Eva would look great in a uniform, wouldn't she?
1. Sign Eva. Put her in an old Isiah jersey, and see if maybe the lane doesn't open up just a bit.
2. Forget the pick-and-roll and the pick-and-curl, and go with the "picket fence." There's just no way the Spurs have practiced for it.
3. Change the game. I'm thinking gin, maybe cribbage, but I hear Ginobili has never even heard of Yahtzee, so that might be the best call.
4. Put LeBron in. (Just kidding, LB, just kidding.)
5. Play more like the Lakers. I know your whole thing is predicated on burying all that Lakers selfishness under a shining, glorious monument to T.E.A.M. and all, but here's the thing: You've got two – count 'em, two – players who can score against this San Antonio team. You've got Chauncey, and you've got Rasheed. That's it. So why not let 'em run a little Kobe-Shaq, a little inside-out, a little pass-out-of-the-double, a little drive-and-dish? What do you have to lose, really? I mean, other than the potential shame and humiliation of calling Phil to ask for some pointers, of course.
6. Shoot only money balls. If anyone asks, claim the red-white-and-blue is a personal tribute to your old buddies in the ABA. If it helps, wear that scoop-necked overall thingy (you still have that tucked away in the closet somewhere, I hope), just to look authentic.
7. Take the Cleveland job. Now. First flight you can get, get out of town. There are a bunch of ways this works: Some guys on the squad are liberated, inspired by the prospect of playing free of your iron grip, others take their game to new heights in a kind of tribute to you and appreciation for all you've done for them, and still others rally around the poor schlub (in this case, Gar Heard) who's in over his head in your absence. I know it sounds crazy, but there's a Michigan history of this: Think Frieder, Schembechler and Fisher at UM in 1989, think Taggart and Rosewood when Axel gets in a jam.
8. Speaking of Heard, throw him the ball near the top of the key on every inbounds play. He'll take it from there.
9. Put wipers on Rip's mask. Squeegee the thing. Better yet, tell him to take it off. If it was good luck last year, this year it's just a gimmick and he's just a poor man's Michael Crawford, clinging to a role that doesn't mean anything to anyone but the old ladies and desperate housewives in the balcony.
10. Speaking of Eva, tell her Manu thinks she's cute, see if maybe you can't create a little house-divided situation over there on the Spurs' bench.
11. Ring Manu's bell. If the man wants to do the Maradona thing, help him out a bit. Put him down. Take him out. Call an audible and throw the ball at his groin at close range the way Crewe did to Bogdanski, back when men were men and prison football movies had leads a little tougher than The Wedding Singer.
12. Shoot more 3s. You averaged 13 attempts a game during the regular season, and only six through the first two games of this series.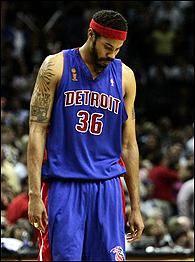 Rasheed Wallace has to start taking it to Duncan, or this series will be over quickly.
13. Get to the line. Chauncey, 'Sheed and Tayshaun (with those long ol' knockety arms and knees just waiting to draw contact) all need to be shooting more free throws. As a team, you've had only 30 attempts in two games; the Spurs have had 49. Seriously, that won't do. Rasheed needs to take Duncan down on the block time and time again. You're home now, there have to be some fouls in that scenario. And let's see some Billups on the drive against Parker again and again and again. The kid's going to reach – he's going to worry about getting used, and he's going to reach. And beyond that, tell all the other guys to initiate some contact on every shot, pass and dribble, tell them to make like Vlade every time a guy in black wanders by. And if none of that works, you just need to say something nasty about Jeff Van Gundy and then sit back and let the calls roll in. (This, by the way, beats the hell out of your "there's one official out there who's biased" approach.)
14. Dare the Spurs to spot you 79. It's the sort of challenge Pop loves to rally the troops around. And who knows, if the opening tip goes your way, you just might have a shot.
15. Go Twin Towers: Elden and Darko. C'mon. How do you know if you don't try? Sure, your head says, "No," but you gotta admit, your heart says, "Man, that'd be a sight to see, wouldn't it?!"
16. Dantley and Aguirre comebacks. You invite them back under false pretenses, tell them it's a halftime tribute or some such thing, and then you suit them up and let 'em have at it.
17. House resolution HJ 319, introduced by Michigan representative John Conyers: "No Piston Left Behind."
18. Ben Wallace takes 202 3-pointers and hits on 27 of them, and never once, not even for a second, do the Spurs think about coming out to defend his shot.
19. Sign Aretha. Put her in an old Laimbeer jersey, and see if maybe the lane doesn't open up a bit.
20. Come to think of it, offer Laimbeer the player-coach position, and put him in an old Laimbeer jersey …
21. Play mean, play angry, play (forgive me, I know I'm not supposed to bring this up) like someone threw a cup full of beer out of the stands at you or something. In fact, I think there's a guy in town who could help make that moment and that feeling especially real; he's suspended for life, but the Commish comes to all these games, and maybe he could see his way clear to commuting the guy's sentence.
22. Speaking of the Commish, now's about the time you explain to him what a message it sends when he starts locking guys out early, one Spur at a time … beginning with Mr. Bruce Bowen.
23. Find Ben Wallace. He could be really helpful in a situation like this. (Maybe the alien who has inhabited his body knows where he is.)
24. Run. Just for a few minutes, just to see what it feels like, just to get guys' blood pumping, push the ball in transition. You had tremendous success a year ago against the Lakers by going against your own impulses in just this way. Yeah, these are the Spurs, and they defend the ball well in transition, but they're going to be shocked if you pull this, and maybe you get a few extra buckets. Maybe you get a Brent Barry mismatch from time to time, maybe Nazr Mohammed trips on his laces.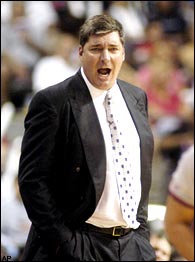 Yep, it might be time to suit up Laimbeer and play some combat basketball.
25. Declare tonight "Bad Boys Night," bring back Salley, Laimbeer, Rodman, James Edwards, the Microwave, and most especially Chuck D, and give them seats right behind the Spurs' bench. Let them whisper sweet heckling nothings in Duncan's ear all night. Maybe he rattles. Maybe he takes the bait when Edwards says he couldn't hold Kareem's jock, and he goes out there and tries to do too much and rolls the ankle, or wears himself out picking up Billups in the backcourt or something.
26. Two words: Sixth man. I don't mean the crowd. I don't mean McDyess off the bench. I mean a sixth man, on the court, at all times. My vote is for Barry Sanders.
27. Two more words: Trick plays. Ball on a rubber band. Bucket of confetti. "Sweet Georgia Brown" on the PA. Whatever it takes.
28. Get Tayshaun in a room with Tony Robbins sometime before tip tonight. The man needs to access his personal power in the worst way.
29. Keep your key guys on the floor, even if they have two fouls in the first half. I know this is basketball the "wrong way," but if my best frontcourt scoring option on the bench is "right," call me Mr. Wrong.
30. Suit up. You're a three-time ABA All-Star. You were good for 11-plus a night in your playing days. Fact is, you're the best role player you've got. Plus, the sight of you coming down the tunnel in uniform, in front of the home crowd, would make Willis Reed's hobbling act look like bad dinner-theater melodrama by comparison. No telling what kind of effect you'd have on your guys. Who knows? Maybe Chauncey goes all Walt Frazier and then some, just to live up to the moment.
Eric Neel is a columnist for Page 2.