Single page view
By Eric Neel
Page 2
It's all theory in July. Everything's "on paper."
General managers are sizing up guys, wondering if they'll fit with the crew they already have in place. Players are trying to imagine the opportunities and limitations with each club that's come courting.
There's a mail-order-bride feeling about the whole summer free-agent season. You can't be sure of what you're getting, the commitment is substantial, and there are always unintended consequences.
For instance …
• Michael Redd re-ups with Milwaukee for six years and $90 million or so.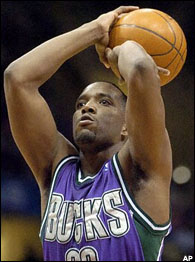 Redd shot 43.8 percent from 3-point land in 2003, but fell off to 35.5 percent in '05.
That's a whole lot of cabbage to be throwing at a shooter whose percentages from downtown have fallen off these last two years, and whose 2004-05 Player Efficiency Rating (18.73) is well south of the Okur line. But still, the Bucks had to do this. The market for shooters was too hot not to. They had the No. 1 pick in the draft, they had T.J. Ford coming back, they couldn't afford to lose Redd; a major preemptive offer was the only way to go. It was their Andrei Kirilenko signing, their "We know how good this guy is and we know we've been getting him on the cheap these last couple years and we know we have to pony up" signing, their "We have to send a message to the fan base … we do have a fan base, don't we?!" signing.
They let Redd go, and the Bucks slip back into the muck. They let him go, and Andrew Bogut bobblehead night is each and every one of the 82 nights the opposition slaps a double on the big Aussie, daring Desmond Mason to hit a jump shot. They let Redd go, and every time he scores 28 alongside LeBron, another Brewtown native throws himself under a bus. The Bucks had to do this.
And the Unintended Consequence? Just that with all the money piled in front of Redd, and all the love heaped on Bogut, Terry Stotts walks in as coach with about as much clout with the players as "Shooter" had with the Hickory boys when he was coming off a lost weekend.
• Ray Allen stays in Seattle for another five years and $80 million.
See Michael Redd note … but with these two extra niblets: 1) Allen is a better passer than he gets credit for (about four assists per game career), and that's crucial for a Sonics team that relies so heavily on motion and ball movement; 2) He isn't much of a defender, and that's only going to get worse as he and his ankles move from 29 to 34 years old over the life of this deal.
The Unintended Consequence? For starters, Squatch, the Sonics' mascot, is steamed, and talking holdout. "Ray's been here, what, two years?" he recently asked. "What about me? I've been coming strong since the Pleistocene, and every year it's like, 'Next year, Squatch, next year.' This is weak, and you can't tell me he goes to the rack like I do."
And if all that isn't bad enough, looking to cut costs in the wake of Ray-Ray's deal, the club promotes Bob Weiss to the head coaching position, promising him, "a pretty decent parking place somewhere around Key Arena, one of those Starbucks gift cards with $15 worth of value on it, and first dibs on filling in for Squatch should he walk" as compensation.