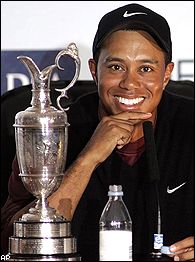 I don't know about you, but looks like there's a bit of a boyish smile there.
Maybe more to the point, and more to the poignant, has he been able to hold on to, is it possible to hold on to, that young boy's enthusiasm and delight in a sports world full of critics who, as much as they admire his play, have sometimes found him too corporate, not warm enough, too single-minded, and not political enough. Has young Tiger the player, you wonder, survived the evolution into adult Tiger, the cultural icon?
The commercial's sound track inspires such wondering. That tune you can't stop humming (which last made a pop-culture appearance during the closing credits of Wes Anderson's sorely underrated "Rushmore") is The Faces' "Ooh La La" (first released on an album of the same title in 1973), and for all its jangly lilt, it's actually a melancholic ditty, the lament of a man burned by lovers and love. He should have listened to his old granddad, who warned him, "They'll trap you when they use you before you even know." He should have hidden himself away, shouldn't have "ever let it show." Replace lovers and love with fame and glory, with fans and media, and you've got a sorrowful something at work here: "I wish that I knew what I know now, when I was younger."
Now maybe you're too jaded to give a damn about the problems of a millionaire athlete, and maybe Tiger's never been your cup of tea. But maybe, too, at the intersection of this tune and these pictures of the boy wonder, you feel the icon slipping away and the human being coming to the surface. Maybe now you're not just identifying with him (Who hasn't felt the sting of disappointment? Who doesn't long, in his own idiosyncratic way, for the innocence of days gone by?), but you're also empathizing with him, respecting the demands and uncertainties of leading so public a life, understanding how, even if he loves it, even if he wants it, it might come with a price, might have a sad, nostalgic sort of undertow to it.
You wouldn't buy this from him if he told you straight out it was true. You wouldn't give it a second thought. You'd be all, yeah, yeah, yeah, Claret Jug, Green Jacket, blah, blah, blah, Elin Nordegren, Buicks for life, the almighty Swoosh, yadda yadda yadda.
But sometimes, when it's done well, it's the filler that gets you.
Eric Neel is a Page 2 columnist.