With a mai tai in his hand and marlin fishing on his mind, Rex Grossman laughs about it with me now, but 10 years after his first Super Bowl MVP performance, the former Bears quarterback remembers some anxious moments. "I'm not gonna lie, before XLI I was freaking a little bit," he says, steering us in in his 72-footer toward open water off Key West. "All those comparisons to Dilfer and Woodley coming in, they had me tight."
You wouldn't know it from NFL Films' "The Crowning of King Rex" (© 2007), the Super Bowl XLI commemorative movie recently revived in Chicago-area art houses as part of a citywide anniversary celebration. In clip after clip the freshman senator from Illinois drops back, coolly surveys the field, and delivers a crisp spiral into the arms of an open receiver. Three times he finds Bernard Berrian for touchdowns. Twice he calmly sidesteps Booger McFarland and flips delicate little floaters to Thomas Jones for scores. He skates down the sideline as a receiver on a halfback option play, makes a one-handed grab in the corner of the end zone and keeps both feet in bounds. He stiff-arms Bob Sanders on a QB draw that goes for 81 yards and pay dirt. Filling in for the injured Devin Hester, he returns a punt 39 yards to set up himself up for a 42-yard touchdown pass to Desmond Clark. And on and on it goes ... Bears 70, Colts 13 -- a dynasty and a legend are born.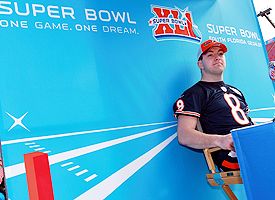 Getty Images
The legend of Rex Grossman continues to grow.
"Rex was incredible that day," remembers Peyton Manning, lying on his top bunk in the dorm room where he now lives and works as a resident advisor at Morrill Hall on the University of Tennessee campus. "He made it look so easy. I had no idea he had it in him."
No one did. Least of all Rex. "I've heard people say it was a rope-a-dope thing, that I tanked all season to lower expectations and soften up the Colts' defense, but that's not true, that's just because, looking at me now, they can't imagine me struggling," Grossman says, cupping his hands around his mouth and lighting a Cuban. "I was pressing all year, but then, the night before the game, I was reading my Rex Grossman Official Web site mailbag, like I usually did, for inspiration, and there was this message from someone with the screen name "yourgurui8" (I found out later it was actually my mom) and all it said was, 'Let it go,' and that just hit me right between the eyes, you know? It just felt so right and true to me -- and all this was way before my Give Peace a Chance campaign with Yoko and the Dali Lama, at the UN, and the Peace Prize and all that, of course -- and I remember breathing this huge sigh of relief, letting the doubts and the fears flow out of me, I just remember really letting it go."
You'll recognize the phrase, "Letting It Go," from the title of Grossman's best-selling motivational CDs and $50,000-a-night motivational speaking appearances. And if you sit in the audience for one of those appearances, and watch him whisk custom-designed blue-and-orange Rex Grossman-autographed Nerf balls to people in the crowd, you'll hear him tell the story of how the field just opened up for him that first Super Bowl Sunday. He's won three since, of course, but the first one is special, the first one is where it all began. "It's where I began, as a player, but also as a person," the 2010 winner of the Best New Artist Grammy says. "Take the singing thing: I had sung in the shower, sure, and I knew I had something in me, some song I wanted to sing, something I had to get out, something I needed to share, but there is no way I would have had the courage to cover 'Super Bowl Shuffle' as a ballad if it hadn't been for the confidence XLI gave me. It just wouldn't have happened."
I take the helm as Grossman dives in the water to disentangle a dolphin caught in a shrimp net. "I used to be afraid of the water," he says back on deck, slipping the four jewel-encrusted SB rings back on his fingers, "but things change, sometimes in the blink of an eye." He grins at this last thought, perhaps remembering his upset victory, edging out Dale Jr. at the 2011 Daytona 500, perhaps reflecting on that night when the paparazzi left Jessica Biel and Justin Timberlake alone on the rooftop garden at the Gansevoort deciding to pay all their attention to Rex and his wife, or perhaps thinking of poor Peyton, stuck chaperoning a "Safe Sex, Frank Talk" workshop in the dorm commons somewhere. But more than likely, he was just recalling how good it felt when reporters gathered around his locker that first time in Miami, not to question but to listen, on bended knee. "Hard to believe it's been 10 years," he says, casting a keen, cool eye out over the Atlantic. "Feels like I'm just getting started."
Eric Neel is a columnist for ESPN.com. Sound off to Page 2 here.

Also See
ESPN Top Headlines